Intro
The main reason why I got this laptop was because Alienware offered me credit from the return of my previous m5550. I chose the m15x because I am a college student, and I don't want a big huge desktop to carry around. The m15x was perfect because of power and portability. The m9750 was the only other choice I had. But, I didn't want SLi 8700's. The 8800m GTX was more appealing to me.
Specs:
Purchase date was 4-10-08
It was shipped to me on 5-1-08
Here are my specs that I originally configured from Alienware. The only thing that I upgraded myself was the ram to 3 gigs.
Invoice | SI224998
1 |
AREA-51 M15X1 |
AREA-51 M15X 15" WXGA+ W/CAM SIL-RIP-PNT
1 |
CPEN,INTEL T8300 CPU,2400/800,3M,FCPGA62 |
Y9525 QIMONDA 512 MB PC2-5300 SO-DIMM REV. EDL1 |
M15X PRIMARY 6 CELL BATTERY-ACCESS1 |
M15X PRIMARY 120WATT AC ADAPTER-ACCESS1 |
M15X ODD SMARTBAY KIT-SILVER-PNT1 |
M15X NVIDIA 8800M-GTX 512MB
1 |
M15X THERMAL MODULE 8800 GTX1 |
SEAGATE 200GB 7200RPM 16MB FREE FALL SENSOR HD1 |
8X DVD+/-RW NEC AD-7590A1 |
M15X ALIENFX KEYBOARD US1 |
INTEL PRO WIRELESS 4965 A/B/G DRAFT-N MINI-CARD
1 |
INTEL MOBILE INTEGRATED HIGH-DEFINITION AUDIO1 |
VISTA PREMIUM COA 32 BIT1 |
ALIENRESPAWN V2.0 FACTORY INSTALLWhat's in the Box:
120 Watt AC adapter
Alienware Mesh Cap
Alienware Binder
Touch pad stickers (2)
Vista OS recovery DVD OEM
Nero Software
M15x Drivers CD
invoice
Alienware Stickers (2)
Notebook Sleeve
m15x notebook w/ 6-cell battery
Design
When I first took the m15x out of the Alienware sleeve, I was stunned by the subtle yet sophisticated design. Alienware has really done an excellent job designing the chassis for this notebook. This chassis is really firm, rigid. And it in no way resembles "cheap plastic." Infact, it seems a lot studier than my previous m5550. The glossy silver finish of the case will easily attract smudges from dirty, oily hands. Again, it isn't really a big deal. It's the same silver glossy finish of the m5550.
The speaker design to the air vents look really sophisticated. Six narrow lines with three on each corner of the system. My m15x came with no cracks on the chassis.
I really love this ripley design and I have no regrets at all of not waiting for the skullcap.
Screen:
I chose the 1440x900 Clearview technology. The screen is bright and colors are very vivid. I don't have any dead pixels. I don't know what Clearview Technology does but this screen is a glossy one. I can still read text clearly on the screen from different angles.
The screen hinge is tightly screwed on. So, as a result, there is a creaking sound. But, It doesn't bother me since I don't close and open the lid too much.
The black glossy Border surrounding the screen is a fingerprint magnet. But, it really isn't too bad. I can live with it.
Keyboard
This is my favorite part of this review. OH MAN!!! How I LOVE this keyboard. Every stroke is precise and the keys are really crisp. It reminds me of my m5550's keyboard, but this one is a lot better. No keyboard lagging issues at all. And I do not notice any keyboard flex at all.
Touchpad
Honestly, the touchpad is horrible without the sticker that Alienware provides to stick on. After putting the sticker on it was smooth sailing for me. At first I had some trouble accidently scrolling vertical and sideways, but I soon got used to it and everything became second nature. The touch buttons are an excellent idea. Turning the m15x on the for the first time was a breeze. The only function that gives me trouble is the Volume Slider. Seems like all m15x users are having this same issue. Again it will just take time to get used to it.
Wifi
–
I had no trouble at all connecting to our wireless internet at home.
Speakers
The speakers are clear and loud. There was no distortion when I turned my favorite tunes all the way up. The only thing it is lacking is bass. But, these are laptop speakers. For gaming you will want to plug it into a stereo subwoofer system, or headphones for a better experience.
Webcam Pictures
The webcam on the m15x is also a nicely added feature from Alienware. It can take pics and video. The m15x comes with software that you can easily use to upload your homemade videos online.
Benchmarks
With stock drivers 167.55 & BIOS v30 I got a 3dmark score of 9734.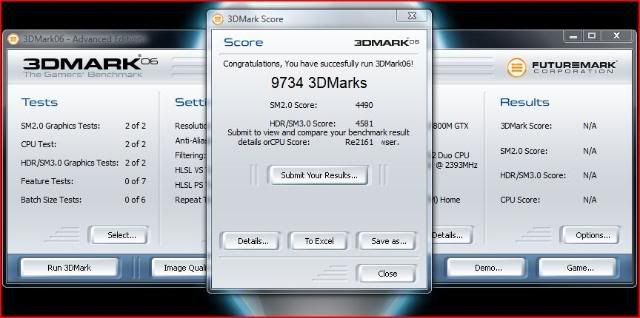 Vista Experience Score

So far the only games I've installed are Gears of War, Halo 2, and Call of Duty 4. I can play all of these games at max resolution and max graphic settings with full anti-aliasing. The 512MB 8800m GTX is a gem indeed! A big change from my previous go7600 256MB GPU.
Size and Weight
The m15x is not heavy at all. I've even brought it around to my friends and the first thing they do were to test the weight of the notebook. They all say that it's reasonably light. It's very easy to carry around in a notebook sleeve. But, becareful the thickness of the m15x is a little thicker than most conventional 15" notebooks so it won't fit certain cases made for mainstream 15.4". It doesn't fit in my targus 15.4" sport slipcase.
Heat and Noise
As an owner of a previous m5550, I know how very uncomfortable heat can be to the notebook user. The m15x never has gotten hot to the point of uncomfortability for my hands. And this holds true as well after keeping the notebook on for a couple hours at a time. (something that I would think twice before doing the same thing to the m5550.) There is virtually no noise, except light puff of air blowing to keep the system cool. While gaming its a different story. You can definitely hear the powerful fan spinning to get rid of excess heat from the GPU and CPU. But, it's not annoying. You're to busy fraggin' to notice it.
Instead having only the one fan to keep the system cool as in the past Alienware 15.4" models (m5500,m5550) Alienware has taken a step up and equipped the m15x with two powerful fans to keep the system running cool during rigorous and intensive uses.
CPU temps on idle are 50C while typing this review and watching a video at the same time. Max temps while gaming are 71C.
GPU temps on idle are 64C (according to GPU-Z). Max temps while gaming around 80-85C.
Battery Life
With integrated graphics, power saver settings, and lowered LCD brightness, I was able to get over 3.5 hours of battery life (with casual web-browsing and music) on a single charge with the stock 6-cell battery. This is more than enough for carrying to my classes and taking notes. And it's great for taking out to free public wifi areas. I did not order my smart-bay battery yet. Please see other 15x user's reviews for more info regarding battery times with smart-bay.
Software
My m15x only came loaded with Nero 7, and the factory installed AlienRespawn, Vista Home Premium 32 bit Service Pack 1.
NO Bloatware.
The first thing I did was to install all of my own favorite programs:
IoBIt Smartdefrag v5.1
AVG anti-virus Free v8
S&D Spybot
Microsoft office 2003 & OneNote
K-Lite Mega Codec Pack
CCleaner
Winwar
Fraps
3Dmark06
The sleep and hibernation options in Vista OS work fine on my m15x.
THe only problem is that the touch buttons die after waking the lappy from it's sleep. But, I'm pretty sure Alienware will have a BIOS fix for that soon.
Conclusion
:
I don't regret at all going for this m15x. I was pretty put down reading about all of the negative comments about the m15x. I even thought of going for an Alienware Desktop. But, I took the plunge because this is what I always wanted the most powerful graphics power, and portability in a 15.4" And I am not disappointed at all. If anyone is thinking of going for this m15x. I really recommend it.
I hope that all of you enjoy the review and pictures.