OK, so I finally recieved my M5550 last Thursday, the 21st of September. I was exstatic! The lappy looks awesome! Everything came the way it was supposed to, and I found no physical blemishes from shipment. It was packaged very well, and looked very safe for shipping. It booted up fine with no problems to start. However, once I started putting my programs on it I noticed a significant performance drop and strange things started to happen. Things like taking forever to go through tabs on a properties window, and taking forever to close a program, or the program just not responding. I also wound up with more than a few times of losing my wireless connection and the only way to get it back was to shut off the lappy then power it back up. And even then, I would lose it again after about an hour. (I will discuss more about this later, and how I finally fixed it).
System Specs:
Processor: Intel® Core 2 Duo Processor T5600 1.83GHz 2MB Cache 667MHz FSB
Operating System (Office software not included): Genuine Windows® XP Professional with Service Pack 2
Display: Alienware® m5550 15.4" WideXGA 1280 x 768 LCD - Saucer Silver
Motherboard: Alienware® Intel® 945PM + ICH7 Chipset
Memory: 1GB Dual Channel DDR2 SO-DIMM at 667MHz - 2 x 512MB
Hard Drive: 120GB Serial ATA 1.5Gb/s 5,400 RPM w/ 8MB Cache
Primary CD ROM/DVD ROM: 24x10x24 CD-RW / 8X DVD Combo w/Software MPEG2 Decoder
Video/Graphics Card: 256MB NVidia® GeForce Go 7600
Sound Card: Intel® 7.1 High-Definition Audio
Wireless Network Card: Internal Intel® PRO Wireless 3945 a/b/g Mini-Card
Communications: Integrated 10/1000Mb Gigabit Ethernet & 56K V.92 Modem
Warranty: 2-Year AlienCare Toll-Free 24/7 Phone Support w/ Onsite Service
Mobile Bags: Alienware® Odyssey Backpack
Desktop Enhancements: Exclusive AlienGUIse Theme Manager
Total Price: $1953
Shipment/Ordering
For those worried about wait times, I ordered mine during a backorder time for the LCD screens. From the time I placed my order on the 6th of September, it took a full 11 business days to get to my home. When I ordered, the sales rep was very helpful, and knowledgeable. Of course so was I, so it helped everything go smoothly.
Look
This is the hottes laptop I have ever seen that didn't cost an arm and a leg to look so good. It's not a fancy paint job, but it definitely stands out. I am one for always looking for something different, and I think I definitely made a great choice. And the light up alien head is awesome!!
Heat/Noise
Noise wise, this lappy is pretty quiet in my opinion. I don't find any of the noise that comes from either the HDD or the Fans at all distracting. This being my first laptop, I really have nothing else to compare it to, but it seems relatively quiet. The heat was giving me a small cause for concern. I haven't played anything intensive on it yet (DVD's, games), but having it on and running for a few hours while plugged in, the bottom of the rig, to the right of the touch pad gets quite warm. Though I don't think that it will get much warmer than what it did. And I don't think there is a cause for concern of heat issues unless you are going to be doing gaming on it, in which case I would advise a laptop cooler.
Audio
For a pair of really small laptop speakers, they are pretty damn good. They are louder than I expected. And the best thing is that they don't distort sound with the volume all the way up. They win me over just for that. As for the so called "sub woofer", I don't hear any bass at all. So it is either for decoration, or it doesn't work worth a damn.
Keyboard/Touchpad
Keyboard is nice and sturdy. The touchpad is very accurate and sensitive. The On/Off button above it is very handy, and the user program for the touchpad is very easy to use, and is loaded with customizable features like being able to adjust the sensetivity level to the point where you are typing and if your hand brushes the touch pad, it won't register it so as not to interfere with your typing. I like it.
Screen
Wow!! The screen is fantastic! Crystal clear and picture perfect. And for those wondering, yes the screen is very reflective. However, when it's on, and the screen brightness is up, you hardly notice any reflections at all. But when it's off, you could almost groom yourself in it. That kind of cleanliness on a screen makes for a better picture I think, and the M5550 is awesome.
Benchmarking
Ok, so here is the section everyone scrolls down to read. And especially so in this case, since I've got the core 2 duo and a go 7600. Here are the numbers from alienware:
Burn-In/Benchmarks
Doom 3
Doom 3: 132.3 fps
3DMark 2005
Game Tests
3DMark Score: 3,477.00 3DMarks
GT1 - Return To Proxycon: 15.16 FPS
GT2 - Firefly Forest: 10.66 FPS
GT3 - Canyon Flight: 16.64 FPS
CPU Tests
CPU Score: 6,164.00 CPUMarks
CPU Test 1: 3.23 FPS
CPU Test 2: 5.23 FPS
Not bad for a lappy I think. And Doom 3 is off the charts!!
Gaming
OK, so I intalled/updated FEAR and played it for the first time, on this laptop. First off, this game is freaky as hell!! The screen looked awesome! Nice and clean. Clear picture, and the settings were "customized" for max performance, and when I ran the "test settings", 68% were between 30-40 FPS, and 31% were above 75 FPS, with 1% lower than 25 FPS. It played fantastic, with no slowdowns at all. No shutdowns. I played through the first 2 intervals without incident. It does get warm on the palm rests, but not too warm to touch. So I would say heat is not an issue. I played it for about 45mins-1 hr. I think this lappy can handle more than I am throwing at it, which means it surpasses what I need it for easily. If it plays FEAR with no problems, it should handle mild gaming quite well. I would have to say that for the price, size, and weight, this is about as good as it gets for mobility/gaming.
I have now played Need for Speed Most Wanted on this laptop also, and let me say, it plays this game better than my desktop. It doesn't slow down at all, even during police chases. I must say I am genuinely impressed with this laptop's gaming ability. It's everything I have looked forward to for myself in a laptop.
Odyssey Backpack
Some people are wondering if this backpack is worth the price. In my opinion, absolutely. Without a doubt, it is rugged and can take a beating. It is made from ballistics nylon, and won't tear easily at all. It should give years of use and abuse. All the straps are well placed to distribute carrying weight perfectly. Outside of having the laptop in it, there isn't too much room in it, however, if you were to use it for school, as long as your books aren't too thick and you don't over stuff the backpack, it should be fine for both. The plethora of pouches on this thing is amazing. And inside the main compartment is a sleeve section for cd's/dvd's, or whatever you could fit in them. The sleeve for the laptop, inside the main compartment, is padded on both sides and has a velcro closure. All to minimize shaking and impact. It is a fantastic design for a laptop backpack IMO.
Pics
OK, you asked for them, now here they are!!!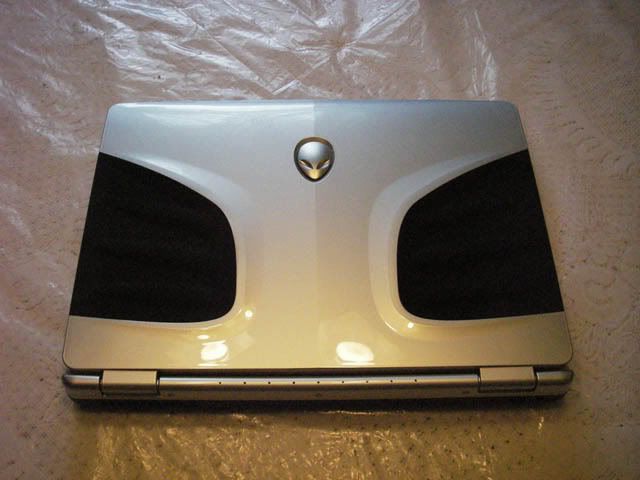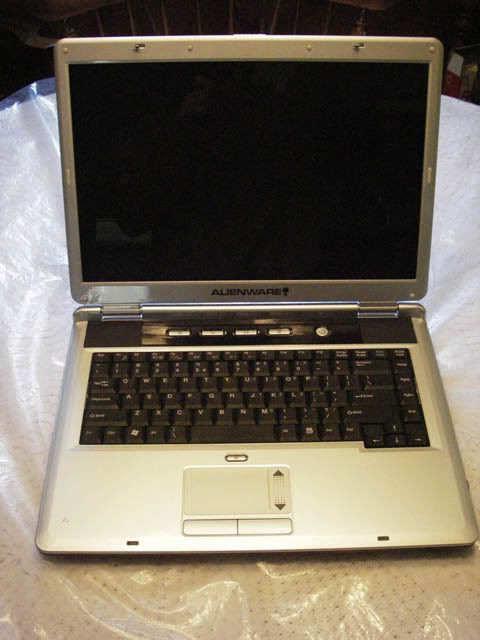 See how reflective the screen is? It's not bad when the computer is on though....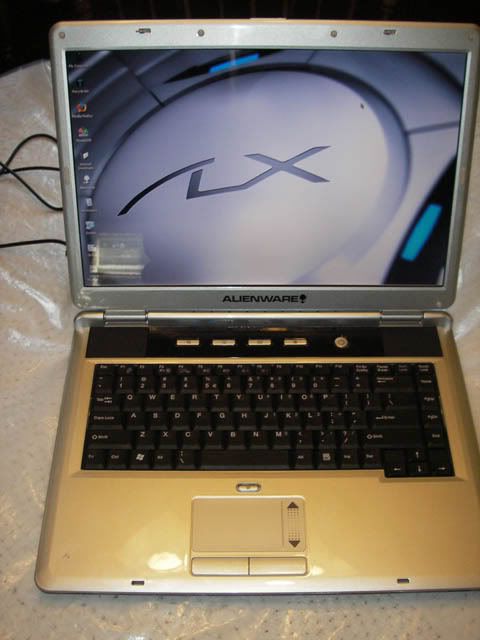 See, I told you. Pay no attention to the lines, it is either camera shake or something wierd..... I don't see those with the computer on.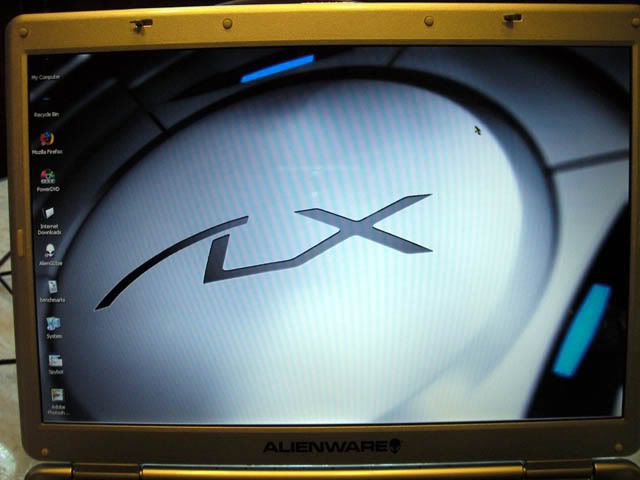 Inherent Problems
I saved this part for last so as not to discourage anyone from this laptop. It is a fine piece of machinery, and should be considered. Now as to the problems I mentioned earlier, I will address the WAN problem first. The biggest problem with the WAN is that it continued to lose conncetion. Found out that both the windows wan manager AND the intel wan manager were running at the same time!! Easy fix. Uninstall the Intel wan manager, and just use windows to manage your WAN. Easy. Now, compounded on that was also a performance issue. I don't know why but, once I started to put programs on it (ie firefox, firewall, antivirus, etc..) the performance dropped dramatically. Don't be discouraged! A clean install of windows was all it needed, and the laptop humms now! For everyone out there, I would consider doing a fresh FULL format of the hard drive and reinstallation of windows and other programs in one of two instances:
1. As soon as you get your new machine, wipe the hard drive and install everything fresh, just to make sure everything is the way you want it. Or...
2. As soon as you see any performance drop on a newly ordered system.
I don't know everything they do to these systems to test it, but obviously, outside of a test enviroment, it impacts performance drastically. As soon as I reinstalled windows, everything worked fine. No problems with connectivity, or performance. I Love my new Alienware!! Gotta do the dance for my first lappy ever, and my first alienware ever:
Performance
So far performace is outstanding. I have been running this machine a few hours a day since I reinstalled windows and have had no problems with her. I just did some small photoshop elements photo editing and it was pretty fast. I didn't do anything really intensive, but I don't see why this machine wouldn't handle it. I will put a game onto it this weekend and see how she fares. But so far, this machine is everything I expected and more. Like I posted a little further up, the pics will be up later today. Hopefully, when I get a break at work, I can work them into this review.
I have also installed photoshop elements on my machine. It runs with no hiccups whatsoever. It's clean and fast.
I have purchased and recieved the new 9 Cell battery for this laptop. Read my review on that here:
http://www.notebookforums.com/thread180121.html
OVERALL


Overall, this laptop is fantastic, IMHO. You really can't beat it. For the price, portability, weight and performance, this machine shines in all aspects. With the power, I wish the battery life was better, but since I use it plugged in most of the time, it doesn't bother me. I totally recommend this laptop if you are looking for an all around gaming/internet/portable/word processing power house. If you are looking for extreme portability, coupled with excellent battery life, you need to look elsewhere because you will be severley disappointed. I am 100% pleased with my purchase, and would do it again. I want to thank everyone in the forums that helped me make this decision, I couldn't have made it without the help of these forums, I would have been lost. THANK GUYS!!! If anyone has any questions about this machine that I haven't covered please feel free to leave me a message, either in the thread, or by PM'ing me. I will answer them to the best of my knowledge.