Alright, i'm finally home, and I'm finally writing the review :P
I don't think i need to post any pictures of the box it came in or the various peripherals it came with, although I will mention that I did not get a spare SLI cable.
Well, before I go talk about the performance of this monster, lets take a look at its size and appearance.
While it is large (17"... duh) it is fairly light for its size. I love the signature alienware styling and I think the head on the lid is f'ing awesome.
There are a few pics attached, one of which is next to my SLI pc, (which is actually only slightly better than this machine O_O)
Sorry about the size, but I'm just a little lazy and didn't feel like resizing them and hosting them :P
As for the heat the system puts off, It can be hot at times, but often I find that it is actually somewhat comfortable to use on my lap. Only if the area around the vents in the back touch bare skin is it ever really uncomfortable.
(I have the ML40 instead of the ML44 that most members here seem to have chosen)
And... On to the Performance!!
On AC power this thing is a beast, however on the battery, it still holds its own. I don't know how much I'll be gaming on the run with this, but it does everything i need it to do plenty fast.
It did extremely well in FEAR, scoring slightly under my desktop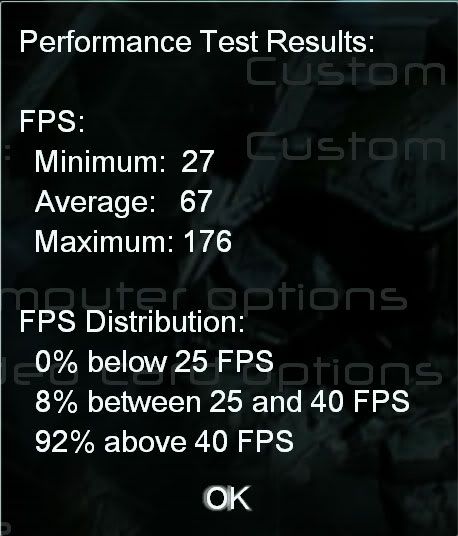 I was very, very impressed with this score. This is running at 1600x1200 with 4xAF and no AA, with everything but soft shadows maxed out.
Also, it consistently scores just under 9,500 in 3DMark05, which I am very happy with, as it is higher than Alienwares quoted score of 9,388.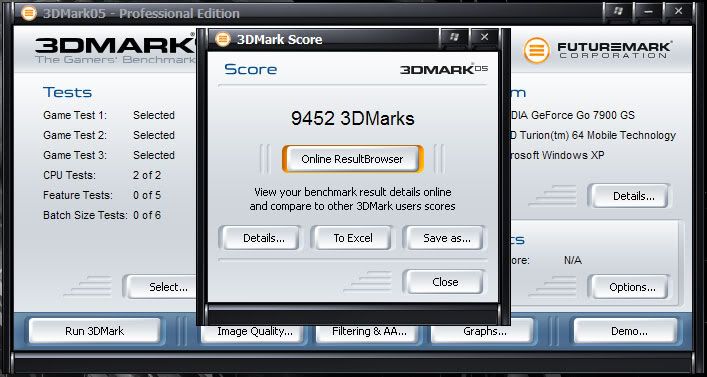 If you ask me, this is money well spent and technology that will last.
I love damn near everything about this notebook, the only thing that I wish it had was longer battery life, but for all the features that it packs in, I can get nearly 2 hours on battery power with the power setting set to max battery life.
All in all, great notebook, awesome styling, amazing performance, and a newly spawned Alienware follower :P
any questions, feel free to ask, and I haven't installed the AMD dashboard, so I don't know what temperatures my gpus and cpu are running at yet :P
will update after I do that