Let my first say, that I'm not good at doing this stuff (reviews , english, reading...) so dont exept much.
Short review: Sgt.McRuff recomends this laptop.
Longer review:
I love this thing! I'm upgrading from a 1.5 year old laptop (Gateway m460) which was never ment to be gamin mechine. Even when it arived, it was lackin in some new games.
I started to look around for new computers Gateway NX860XL, Alienware m9700... after looking around I decided i wanted a Turion X2 mechine. Going against the crowd of Intel, and never owned a AMD befour. After some searching... Asus Z92T apeared on my screen, WOW
! Just what I was looking for!
Specs:
Turion x2 TL-60
2 GB 667mhz ram w/ dual support
100gb HDD at 7200 RPM(hitachi)
Nvidia go 7600
for only $1800 GenTech has the best prices I seen. It only took them 1 day to build and ship it out.
Packaging:
Normal brown box with a notebook bag and another box. Opening the other box you find the computer and all its wonders, taken everything out i found a problem...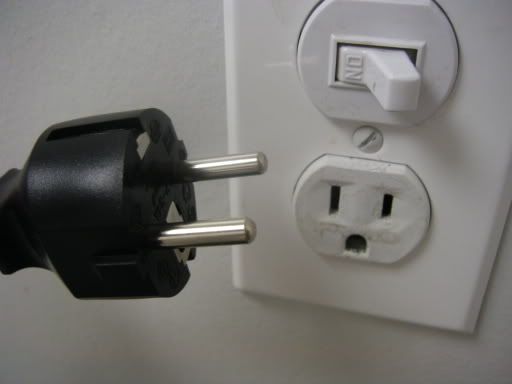 OMG MY POWERCORD AINT AMERICAN! ITS A FRENCH POWER CORD!
Luckly my gateway had same type of cord, plugged it in(Hoped nothing happend) it was all fine.
Asus sent out some boxes with french power cords and offering to send people who got them new 1's, so if i ever go to france i wont need to get an adparter.
First Impresions:
This computer is a beast, it will eat the compition! Really! My Gateway m460 was eaten.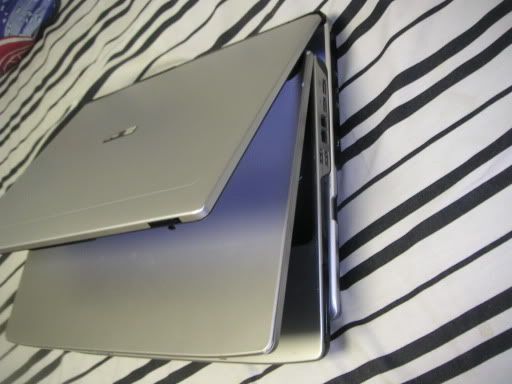 Anyways... Its fast! Everything goes so much quicker, i dont know how to describe it in words. Now I'm used to Gateways touch pads (which in my oppion are the best) I had to do some work to move my finger on the touchpad. I got used to it after 1 hour of using the touch pad. Speakers are very good for a laptop, but they can get muffled if on your lap. Keyboard is basicly the same as my last 2 laptops, other than Fn+ keys, no trouble adjusting. The web cam is nice little addtion, but it dosn't come with any software that allows you to take pictures, and movies. Only able to view what it shows, and even Printscreen dosnt work.
Glossy screen is just a plesure to look at, colors seem to be more well.. colorfull! Reflects are hard to notice when at max bright.(unless its a black screen) Viewing angles are great, it might dark out a bit form sides or below/above, but its still good enough that i could browse intrent like that.
Size/other:
Its bigger than my old laptop but its a bit lighter. I dont consider this to be a very big laptop but its not a small 1 either, i got for med-large. Easy to carry around. I dont notice it in my backpack, but i also got 15-20 pounds of other school junk in there.
The latches keep the screen nice and secure, push out on each one and it opens the screen.
It dosnt look as bad as I orginal thought, looks much better in person than the pictures.
Multi-tasking:
installing Nort internet security, 3D Mark 06, Steam with hl2,deathmatch... notebook control, itunes, ad-ware, couple other small things. Even with nortan doing its full system scan befor it finishes installing, and me having addtional 6 windows opening to adjust my settins, it was having no trouble. Swiched from window to window, with no slow down.
Gaming:
Half-Life 2: Loast coast: Video options MAXED OUT: Stress test: 43.2 FPS
Counter-Strike: Source:Video options MAXED OUT: Stress Test: 79.8 FPS
Battlefeild 2: MAXED settings runs silky smove with a 64 multiplayer.(need to get FPS)
Obilvion: Nagitive resolution(1280X800)/textures high/ HDR ON/ No AA/all settings on, exept tree,grass shadows off/view distance 100%/ Gras,tree fade 30+/-%/item objects fade 50+/-%: FPS: outdoors 25-40, indoors 40-65.
Overclocking my card to 500/407(stock 450/400) allowed me to turn grass tree fading to 50%.FPS: outdoors 23-50, indoors 50-70
I'm very pleased that my card can make oblvion run high settings. Only time i think that FPS was below to unplayable to me was next to an oblvion gate. I would get 12 FPS next to a oblvion gate, but going 10feet away puts my FPS back to playable levels. I know most people cant stand 25FPS but i'm not 1 of them.
(FPS=Frame Per Second)
Battery life:
Test 1: Full bright, wiresless on, speakers max, Watching movies on youtube: 2h 37mins. Aint bad considering when watching movies the prossesor got to some work.
Test 2: Med bright, Wireless off, Speakers max, Wierd lan, basic internet: 4h 9mins. Now That surpised me, i was expeting 3h 20mins.
Battery is good for an 8-cell, i like having the most battery life i can, i would love to get a 12 cell but there not offered right now. The graphic card goes in 2D settings when nothing intesnive is going on(when on battery). Now i can under clock those 2D settings to get more life, but how much more i havnt tested.
(still go to do underclock battery life test and gaming on battery)
Benchmarks:
Stock drivers, only started up and downloaded 3dmark06, 05.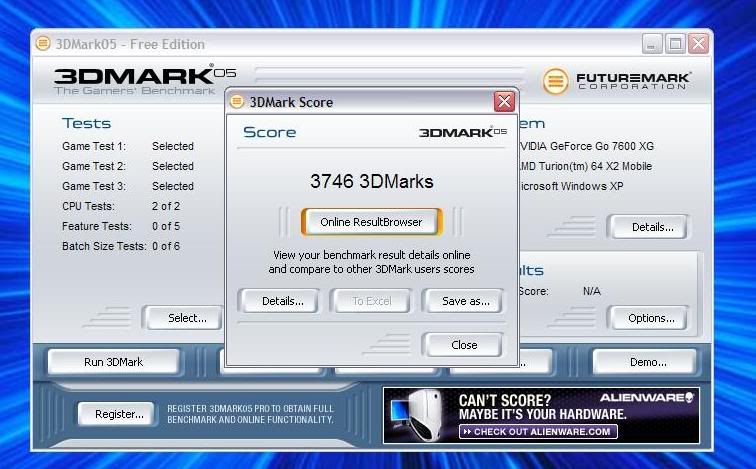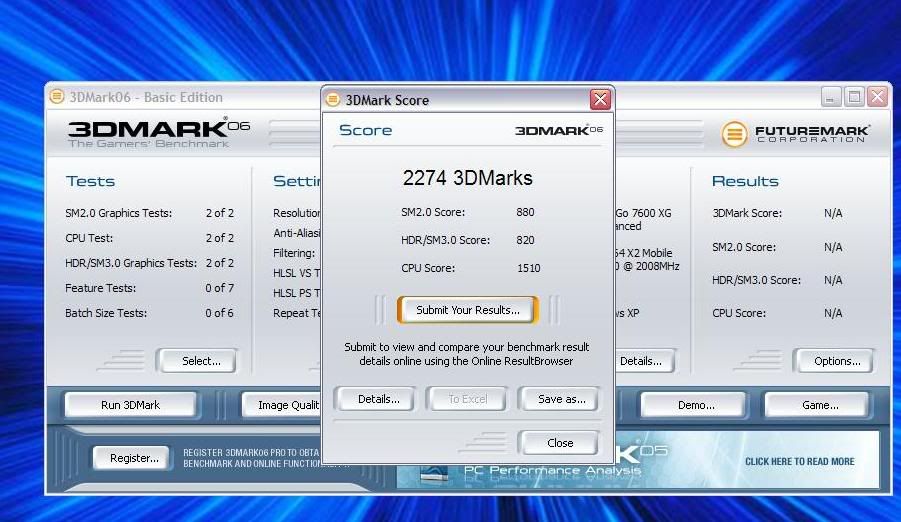 After installing new drivers(91.37):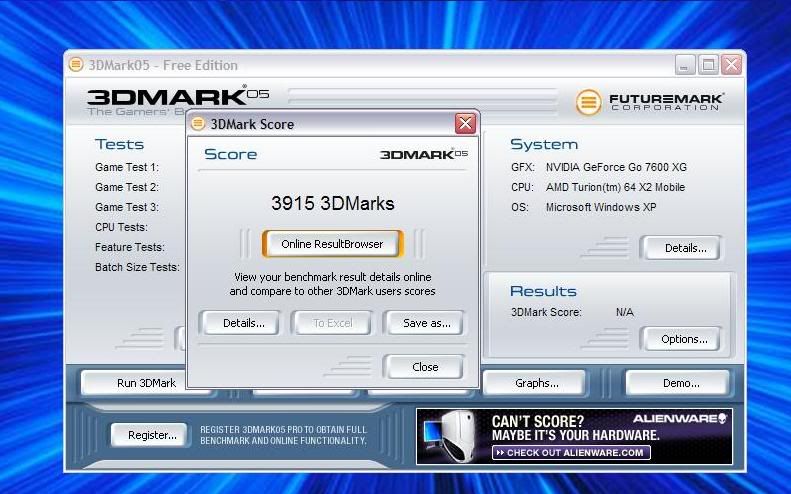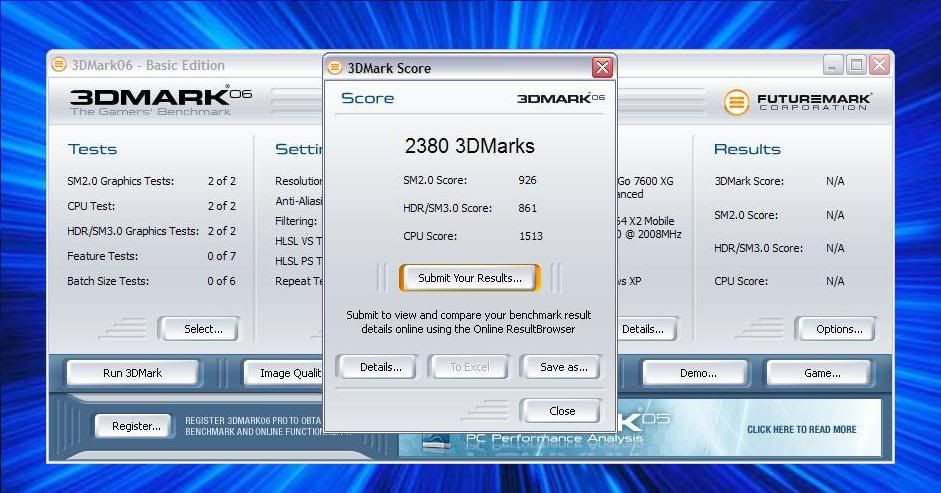 Overclocking core 486/mem 408 (stock 450/400) Havent bothered to much with overclocking but i do know that 409 for memory is the max, or
I beilve its just i got a card that dosnt like memory overclocking. Core clock i was upto 527 which is stable but limit, 530 works, but i saw 2 artafacts while doing 3Dmakr 06, even thow it did atitool artafact tool for 25+mins with no problems.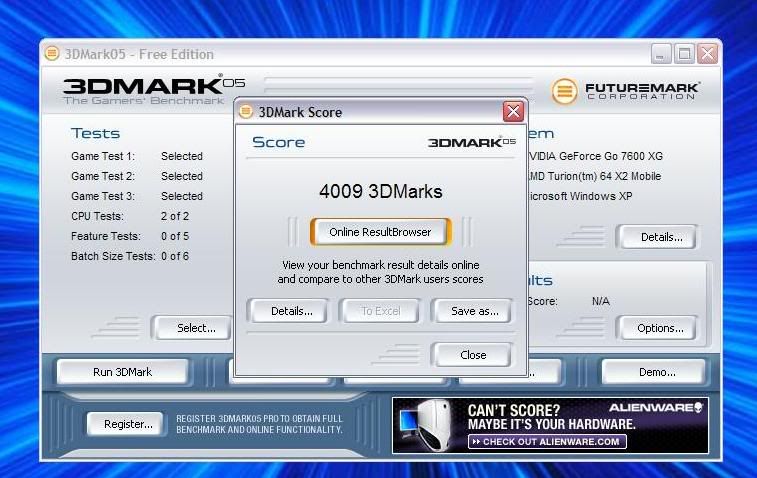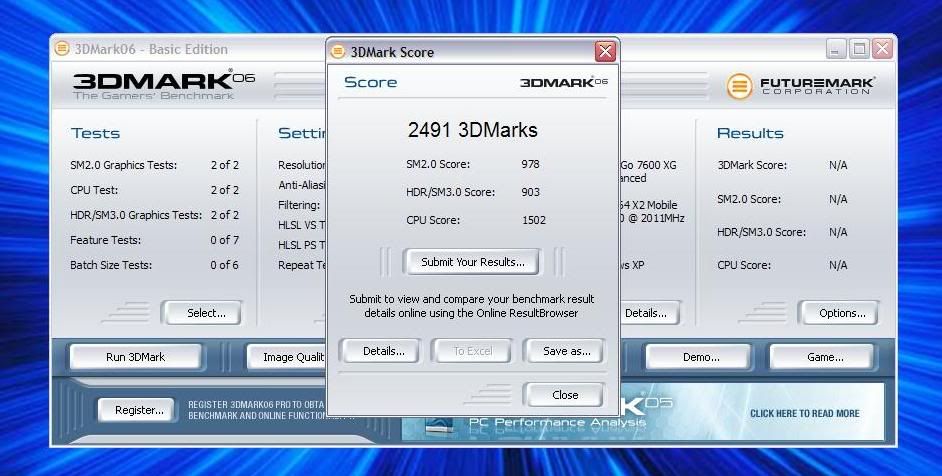 Pictures: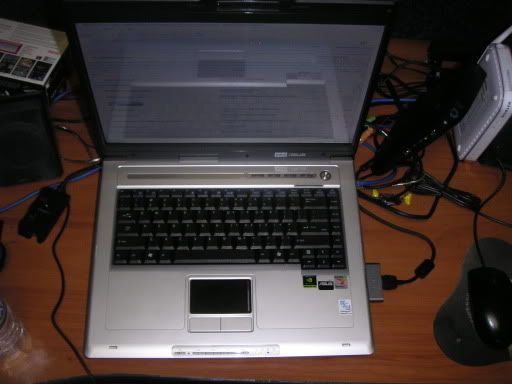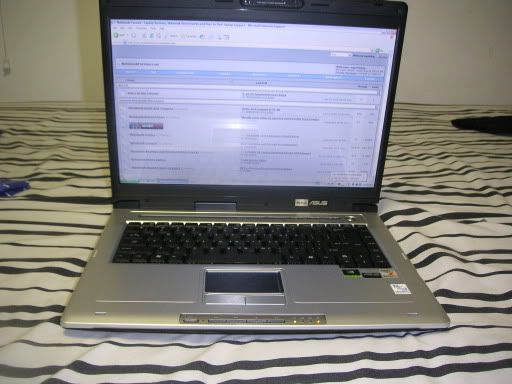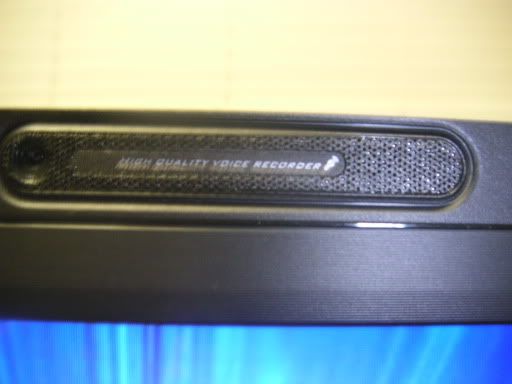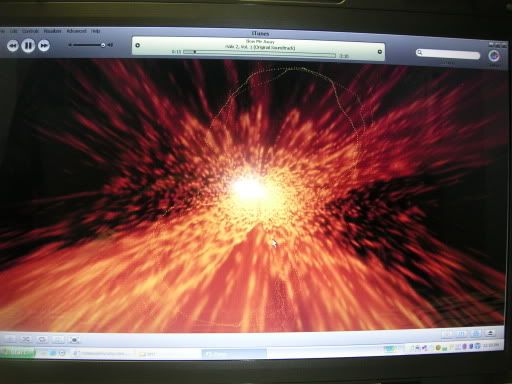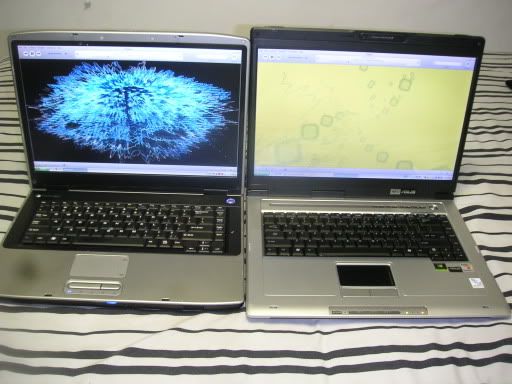 Forgot my old notebook hates ITunes