Pros: Fast, Reliable
Cons: Cost
Here is my quick write up of the Intel 320 Series 120GB SSD that I purchased as a replacement for my 500GB mechanical HDD in my AW M11X.
After researching hard drives, (Lots of info out there as to the performance of the latest drives) I found that if I wanted a fast, reliable Solid State hard drive one of the best places to look is at Intel's line of SSD's. I chose the 120GB model as a minimum capacity for my needs-It allows more than enough room for the OS and programs/software that I plan on using on this laptop, plus it has 'room to grow' should I need it. True, one could get away with a smaller capacity and save some money, but in my opinion the sweet spot is around 100GB.
Installation is a breeze, as long as you have that high tech tool known as a Phillips Head Screwdriver.
Pull off the back panel, undo a couple of screws, replace the mechanical hdd with the SSD, tighten the screws back up and put the back panel on, and you're done! If only life were so simple.
One thing that I need to stress before loading the OS and so on is that make sure you have all of your drivers handy, and if possible make a list of the order in which to re-install them. Some systems are finicky (Such as certain AW models) and they might not take too kindly to an SSD right away. Fortunately, I had a list and the process was buttery smooth as it only took just a little over 8 minutes to get Windows 7 Ultimate loaded onto the SSD from the DVD.
With that being said, all I have left to say is Wow! What a difference this SSD makes from the 500GB mechanical HDD.
Even though I read about the differences in speed, until you actually see it in person do you then realize just how quick and responsive everything is. I'm going to post a couple of screen shots of the benchmarking that I performed, comparing the mechanical to the SSD so that numbers-wise you can get an idea as to the performance of this drive.
Mechanical HDD first-
And here are the SSD's results-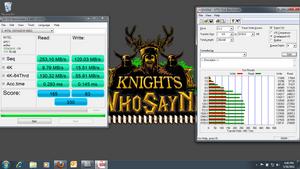 Also, I did a time comparison: From Power Off to Windows Login Screen took the Mechanical HDD 42 Seconds. The SSD did it in 24 Seconds. Keep in mind that your mileage may vary as my mechanical HDD is nearly full and the SSD isn't. As you can see, there is a dramatic difference in performance. But as with all things performance based, 'You Must Pay To Play'. Cost is still a prohibitive factor; you could get two (or even three) 500GB mechanical HDD's for the same price as one 120GB SSD.
So in conclusion, my take on the Intel 320 Series 120GB SSD is that I'm now hooked on SSD's for my main (OS) drive and I will never go back. One thing that I didn't mention previously is that an SSD will make you rethink how you store your extraneous data- I still use external mechanical drives for all of my media, as you can't beat the capacity/price point, but no longer will I keep all of that data on the main OS drive. In the near future I plan on consolidating all of that media onto a NAS that can be accessed from anywhere as I tend to travel quite a bit, but that will be a review for another time.