Finally, after saving up and doing extensive research to find the best computer to suit my needs, I have purchased a NP5460-V from none other than PCTorque. This is Sager's 14.1" model, designed for portability and raw processing might--perfect for a college student such as myself who hates waiting for things to load up.
The 5460 is identical to the Alienware Sentia m3450.
Here is what I ordered:
Quote:
5460 Series Notebook
Standard Dead Pixel Policy
Intel Core2 2.00 T7200 (4MB cache)
2048MB* DDR2 667MHz
60GB (7200rpm) SATA
8X DVD±R/RW/4X +DL MULTI DRIVE W/ SOFTWARE
SMART Li-ION BATTERY PACK (6 CELLS)
Free Notebook Carry Case
AC Adapter w/ Power Cord
Internal Intel 3945ABG 802.11a/b/g Wireless LAN
Internal Bluetooth Card
Sager 1 Year Warranty, Lifetime Tech Support
Sub Total: $1,189.00
Shipping: UPS Ground $20.00(CA reverse shipment $24.58)
Total: $1,233.58
I bought from PCTorque for these reasons:
1. The price for the upgrades I wanted were the best
2. They offered internal bluetooth with this model, while other resellers did not
3. I have had good experience with them in the past and trust the name
A little story: I am a California resident, and CA tax laws demand that if I were to recieve my laptop directly from Sager, which is also located in California, I would be charged regular state tax at a rate of 8.25%. Yeah...Ouch. Since PCTorque is out-of-state, what they do for CA residents is have Sager send a computer to their office in NY, then they ship the computer back to CA, to avoid CA tax. It does take longer for this process, but as a college student, I highly appreciate the effort to save me over $100 in taxes.
Charles from PCTorque was kind enough to call me not 15 minutes after I had placed my order to inform me of this service, and to confirm that I wanted them to do this for me. I was very impressed with such a quick response to be sure I knew what was going on.
Great job, PCTorque!
------------------------------------------------------------------------------
It's here!
Alright, here is that review I've been promising some of you. First I will list the pros and cons for the tl;dr people, and next will go into more detail. Please let me know if you'd like to see more additions to the review!
PROS:
Build quality, sleek design, battery life, high-performance processor and memory, tabbed optical drive instead of button-push, touchpad, price.
CONS:
No extended battery available, some screen bleeding, no quick key programming utility, no custom power-saving utility, somewhat loud fan
What it came with: A very nice laptop bag, drivers and software (Nero, PowerDVD, Intel's ProSet Wireless utility, detailed manual, warranty information booklet.
Pics!! Apologies for the blurriness and horrible lighting. I'm never home during the day anymore.
The box:
Apparently this is what a box looks like when it travels completely across the US...twice.
The laptop: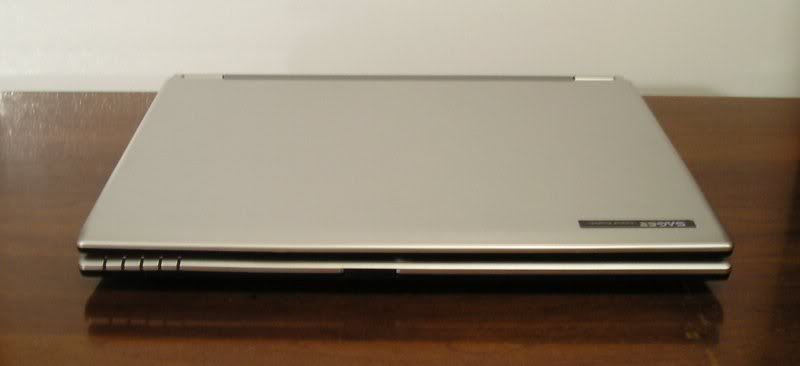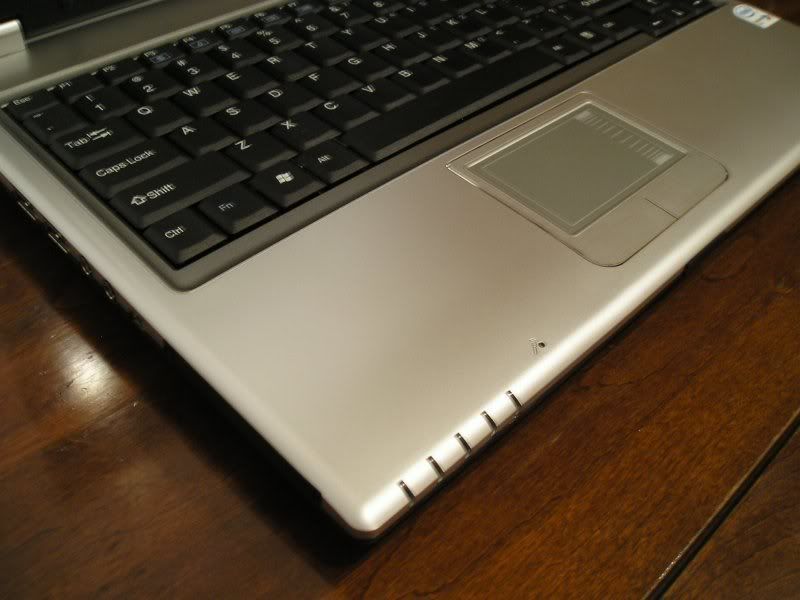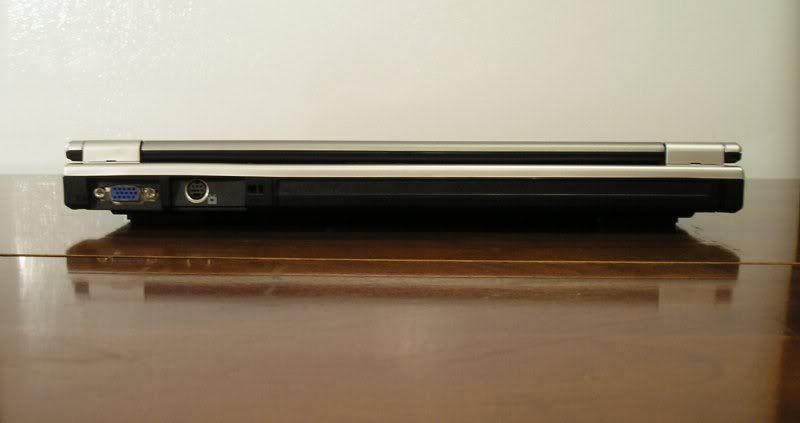 See how thin it is compared to my main machine?
In its natural habitat: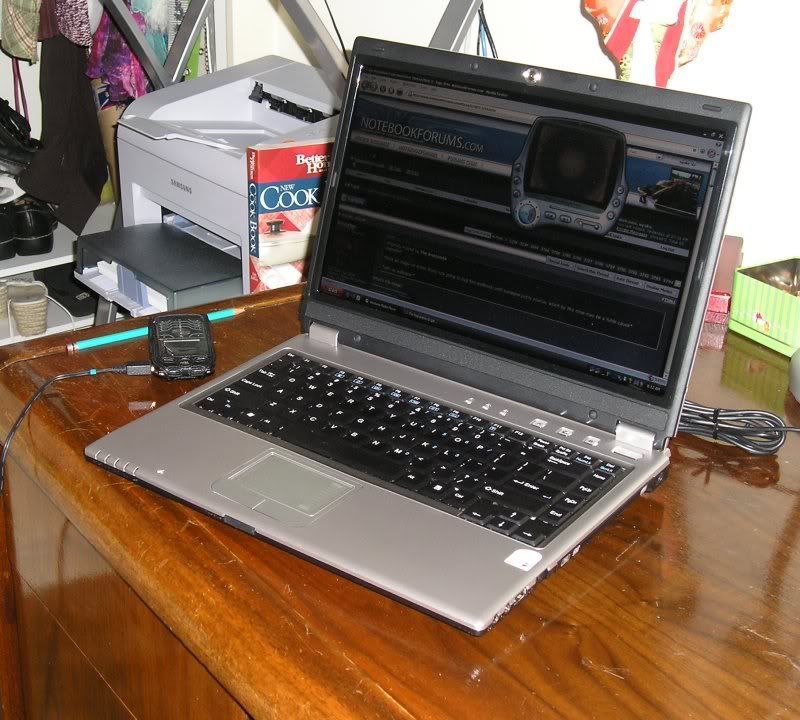 Overall build and design:
The laptop is slim, yet very sturdy. The chassis is mostly plastic, but it does not creak, bend, or give in any way when picked up with one hand. The design is very simple and refined. The laptop is a clean-looking combination of light, mid-tone gray, and black. I like how the base of the laptop is slightly wedged, which creates a very comfortable typing angle. Airflow below the laptop is very efficient because of sufficient venting and raising feet. The headphone and other sound jacks are all on the sides towards the front, and most other plugs are on the sides as well. The heatsink vent is on the left side, which is a good place for it. The 3-in-1 card reader in the front may come in handy one day, and I can't wait to use the ExpressCard slot. My -only- complaint about the design is the laptop feet do not sit totally evenly on a flat surface, which can be seen in the pics. It is not dramatic, however, and does not affect performance.
The screen:
I'm glad I went with a 14.1" screen. I am comfortable with a smaller screen, but the bigger the screen, the nicer, and this size does not compromise mobility. The quality of the screen is above average, but not the best. It is better than a Dell, Acer, or Toshiba screen, but not as crisp and rich as a Sony or Fujitsu screen. There are no dead pixels or blemishes, but there is light bleeding on the bottom of the screen from the backlight, which makes things noticeably lighter compared to the top of the screen. It's not bothersome though.
The lid and hinges:
It stays shut using magnets! They are pretty strong, so if I'm not careful it will close a little hard, but on the flipside, the lid will probably never be accidentally opened. The hinges are also very well-built.
The keyboard:
The keys are very sturdy. The whole keyboard "gives" slightly when typed on, which could be annoying or worrying to some, but it does not affect typing performance.
The touchpad:
I love it. This touchpad is perfectly comfortable. It is not too sensitive, and has a convenient scroll pad built in. The buttons are wonderful—they're made of metal, so there will be no paint wear, they make a very quiet clocking sound, and since they are levered, they are easy to click with minimal effort.
The speakers:
Well, they're laptop speakers. Not much of a surprise that they kinda suck. The volume is good—they can get very loud if needed, and the sound actually fills the room, which is surprising because they have absolutely no bass.
The webcam:
Great for a built-in webcam! There is not a lot of lag, and it works well in low light. The design is nice, too—I enjoy the flashy metal embellishment around the lens. It's too bad I will barely use it. -_-
The built-in mic:
It's above the status lights, which is a great place for it to be when using for online chat, unless you happen to be typing as well, which would then place it under the wrist just like the status lights. I doubt I will ever use it though.

The power button and quick keys:
They're metal like the ones on my 8790. Also like my 8790, I have to hold down the power button for a full second for it to turn on, which is slightly annoying. And, just like my 8790, there is no utility to actually program the quick keys. The internet quick key works fine, but the e-mail doesn't since I don't have Outlook set up, and I have no clue what the other one is for, but I would probably make use of it if I could program it…
The status lights:
As a design element, they look pretty cool at the bottom of the left handrest area. The location is also useful when I am across the room and need to know if the battery is finished charging yet. But when I am using it, I can't really see them without moving my wrist.. They show power, charge, mail (which doesn't work for the same reason as above), hard drive and wifi status.

The battery:
It's a 6-cell, and gives a decent amount of battery life. I haven't timed it yet though, and the battery charge status does not give a time estimate, only percent charged. One downside is that I have not found such a thing as an extended battery for this model, which would really come in handy. Another thing that would have been useful is a utility tailored to this model that would make it easy to conserve battery life. NHC works great, but it doesn't give you 100% control over power usage.
The optical drive:
It's loud when it's running (I'm not talking about the sound of the disk spinning, either). I haven't tested its burning performance yet. My favorite feature of the drive, and one of my favorite parts of the whole laptop itself, is the tab to open the drive. Instead of the regular button on most laptop and desktop drives, it's a little "lip" that sticks out from underneath, and all you have to do is effortlessly flip the tab to pop out the drive.
The bluetooth:
Works like a charm. The program to run it is great. I already have it synced up to my L6 so I can transfer pictures and ringtones.
The internal workings:
The processor is fast! I have had no problems loading programs instantly. The computer boots up in about 25 seconds. On battery, at half the clock speed, programs still load almost instantly. It survived Prime95's torture test, which I ran overnight, without overheating or dying on me. Memtest also passed as well. One pass took about 35 minutes for 2GB, give or take (I was getting ready for work so wasn't paying that much attention). Using Notebook Hardware Control, I have noticed that the laptop runs a little hot (40 C) under a full load. And the fan…I love Sagers, but it seems like every one I have ever seen has to make sure its presence is known. The fan is not quiet, and in a vacuum it would probably drive me nuts, but with normal background noise, it is only really noticeable when it first revs up. And it doesn't run constantly with normal usage (yay!). I have yet to crack the laptop open to make any changes, but when I do I will add some notes to this review.
Three main points:
Portability:
For its size, its weight is average. I have felt much heavier 14" laptops, but some lighter ones as well. It's definitely not excessively heavy though. As stated, the laptop is nice and thin, so it fits in my school bag nicely, with plenty of room for books and notepads.
Performance:
Core 2 Duo was all I had hoped it to be. The processor is fast, cool compared to my egg-frying Pentium 4, and doesn't drain the battery. I'll add more to the performance part of the review later on, after I see how it handles multitasking, a performance test or two, and (
) games. Let me know what tests people would like to see run (no, I'm not going to run 3DMark :P).
Value:
You decide – Cutting-edge processor, 2 GB memory, fast hard drive, and excellent build quality for $1,200? I'm very happy with my purchase.