This is my first review/guide so please keep that in mind if you find my post lacking in any way. Thanks.
S270 Review-
The Choice-
Like many who are about to become college freshmans, I found myself in need of a laptop. To be honest, I knew absolutely ZIP about laptops at that time. My first stop was at dell after I heard about the $750 off coupon and without giving it a second thought, I purchased the Inspiron 6000 and soon returned it because of its weight, bulkiness, and mediocre performance and screen. Then, after a month of researching and comparing, I finally narrowed my choices to the s360 and the Asus w3v. Both were so evenly matched in my mind that I only chose the s360 because of its better touchpad.
The buying experience-
Now that I've decided on a computer, it's time to actually buy it. As most of you know, the s360 went out of stock in most retailers a long time ago. I finally stumbled on a site called
www.euclidcomputers.com
that still had a few in stock. However, I saw that they had the s270 as well, which only varies from the 360 with a DVD RW drive, but has a slower CPU at 1.6 GHz and a smaller harddrive at 60 gigs. It was cheaper as well and without any more thought, I purchased the computer. The computer totaled to about $1620 after shipping and was tax free. It took only 3 days to arrive, which is incredible for Euclid computers.
First thoughts-
Even though the wait was short, I second guessed myself about this purchase right up till when the delivery man rang the doorbell. Then, I eagerly tore open the box and got my greedy little hands on my new laptop. From that point on, all doubts were dispelled. Here's some quick specs-
Processor- Pentium M 725- 1.6 GHz
Display- 13.3 in TFT with XBright (glossy type)
Video- ATI mobility 9700
RAM- 1x512 MB Microdimm pc2700 ddr sdram
Harddrive- 60 gig 4200 rpm
Multimedia drive- DVD RW
Network- 2200 B/G internal wireless
Ports- 2x 2.0 USB, Audio, Microphone, Memory stick, port replicator, external monitor, PCMCIA, firewall
OS- Windows XP with SP 2
Design-
Just about everyone thinks this is one of the sexiest laptops and I would have to agree. The black exterior looks both sleek and professional and the shiny vaio letters add a touch of style to this already very decadent computer. Open it up and you'll find yourself staring at a beautifully designed keyboard and touchpad. The sides are filled with the standard ports, but there are a few complaints here. First, there is no multicard reader. Second, the little cap for the USP ports looks very cheap and doesn't fit in with the overall classy design.
Top View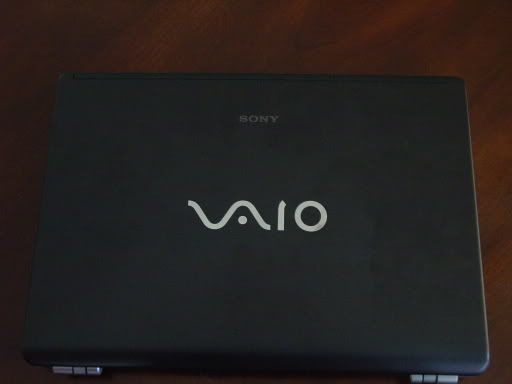 Front View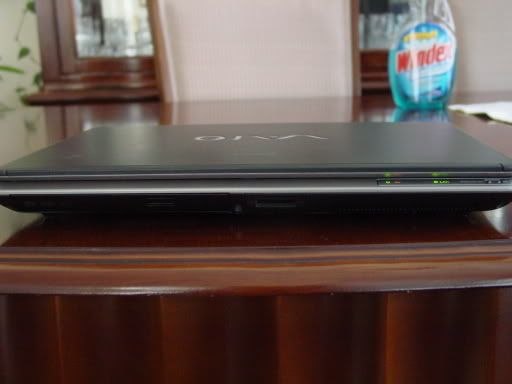 Right View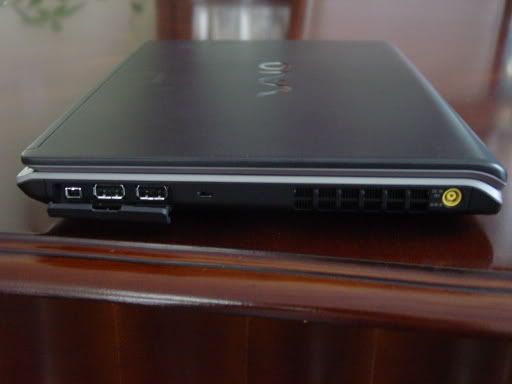 Left View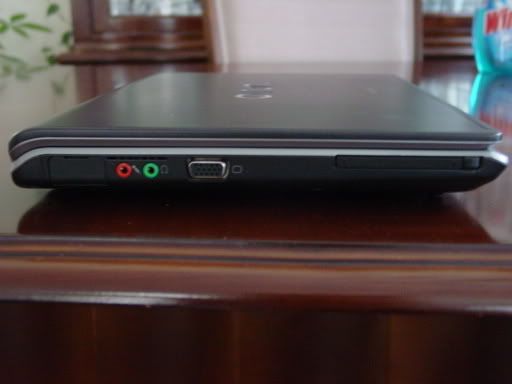 Screen-
This is why most of us buy this laptop. This screen can go toe to toe with anything in the market today. There is virtually no flex, but the screen will ripple if you push very hard. DVDs come to life on the 1280x800 screen. I personally find that resolution too high for normal use so I lower it to 1024x768 while typing and web surfing. The brightness can be adjusted on 8 different levels and can easily be seen outdoors and indoors. No complaints here.
Sound-
Granted I am not picky about sound, you will be surprised at the quality of sound outputted by these 2 tiny speakers. I've watched Matrix Revolutions and Spiderman 2 on this computer with no external speakers and I must say that I am extremely pleased. Although the volume should not be pushed and bass is virtually nonexistent, I find it more than adequate for a laptop this size.
Keyboard/Touchpad-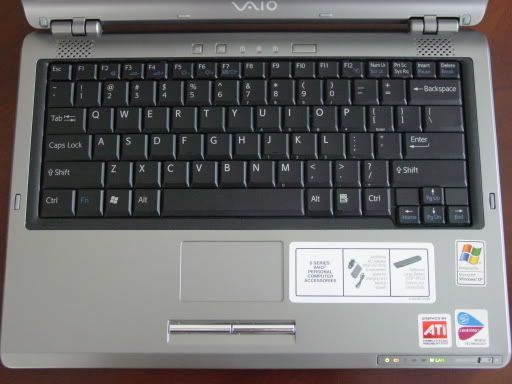 I've been typing this review the entire time on the s270's keyboard and although it's a preference issue, I believe it to be the best laptop keyboard on the market (including IBMs). The depth of each key is more shallow than the IBM's. I believe this feels more comfortable and helps me type faster, but that's just me. Two S buttons on the very top can be customized to do various things like hibernate and mute. A wireless switch on the lower right hand corner is easy access to the wireless. My only complaint here is that the directional keys are undersized, which makes games like Underground Racing 2 difficult. Of course, you can customize those controls to use other keys.
Like I said before, the touchpad was the only thing that tipped me over the edge into buying this laptop. I hate using a mouse during class because the desks are so small and there's absolutely no place to even put the mouse. Simply taking out the notebook and being ready to go is very important to me and the touchpad delivers here. The touchpad itself is very sensitive and does not need to be pressed very hard on. The 2 buttons on the bottom make very little noise when clicked so other people won't be bothered. No complaint here
Battery Life-
I must say that this is where the s270 falls short of my expectations. Right out of the box, the battery life was a little more than 2 hours, which really bothered me since I was expecting at least 4. However, like all computers, there was hope. With Centrino hardware control (undervolting cpu, dynamic switching, and underclocking gpu and lowest screen brightness), I got the battery life all the way to a little over 5 hours.
Heat-
YES, despite what people say, there is still a heat issue with the s270. Without centrino hardware control, this thing gets scalding when playing games and running demanding apps like 3dmarks. When I opened up the laptop to apply artic silver, I found the thermal tape completely melted! However, with CHC and Arctic Silver 5, idle temperatures dropped to 43 degrees, but still gets hot when gaming.
3dmarks-
3dmark03 on this laptop right out of the box was around 2600. Yes, I was disappointed as well since I was expecting around 3k, but there was still hope. After a fresh install of windows with bloatware removal and the latest modded 5.7 cat drivers, the 3dmarks jumped to about 2800. Then I ordered 1 gb of ram from ebay and with that, the 3dmarks went to about 2950. Finally, with overclocking at 430/230, the 3dmarks went to about 3200. Also, I bought the new hitachi 7k60 off ebay and installed it myself (great sense of self satisfaction LOL ), but suprisingly, no increase of 3dmarks.
Actual Gaming-
I mainly used Battlefield 2 as my benchmark while testing this computer. After installed the 5.7 Cat drivers and at 512 mb of ram, BF2 at lowest settings and lowest resolutions was averaging at 60fps!! I was suprised as heck, but the second the resolution was bumped, fps dropped to about 20-24 with 512 mb of ram. After I upgraded ram to 1.5 gigs, the game was playable at highest resolution, 2x AA, some medium settings with dynamic shadows and dynamic lighting turned off (averaging 25-30 fps). Finally, with the new 7200 rpm hitachi HDD installed, the game was playable at same setting with 35-40 fps.
CPU-
At 1.6 GHz, my cpu is actually slower than the stock s360's CPU, but for me, it is fast enough, because I use dynamic switching and it's underclocked most of the time anyways. With superpi, I calculated 2 million digits in 2 minutes flat, which isn't dissapointing.
Final thoughts-
I LOVE THIS COMPUTER! The only major flaw I can think of is the heat and I think of that as a challenge. Tweaking the CPU, underclocking the graphics card, and doing all the other great stuff really helped me learn a lot. Anyways, enough about my computer, lets go onto the guides.
Harddrive Guide
Before we start, here's some disclaimers. Read as much as you can before you attempt this. Make sure your harddrive is compatible. For s360s and before, make sure to get ATA-100 harddrives and SATA for latter ones. The connector plug has to be 2.5 inches as well. Do NOT read one line, do it, then go to the next without reading the entire guide first. Wash your hands, touch something metal to prevent static electricity and turn your computer off (DUH!).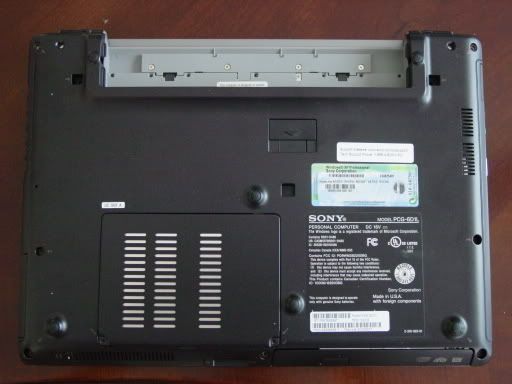 Turn over the computer to its back side and take off the battery. There's a total of 11 screws. 9 of them are long ones and the 2 holding the cover to the ram in place are short ones. Remove them all and take off the lid to expose your ram.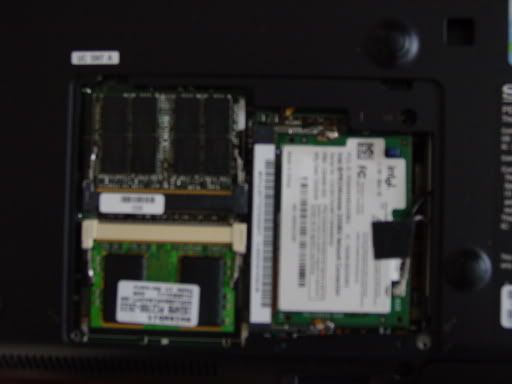 There's 1 more screw within that compartment and remove it. Flip the computer to its right side and open the screen. Now, look at your F4 and F12 buttons and you will see two small latches. Use a flathead small screwdriver and push them in and the keyboard will immediately come off.
Now, unclamp the ribbon cable that connects the keyboard to the rest of your computer and remove the keyboard.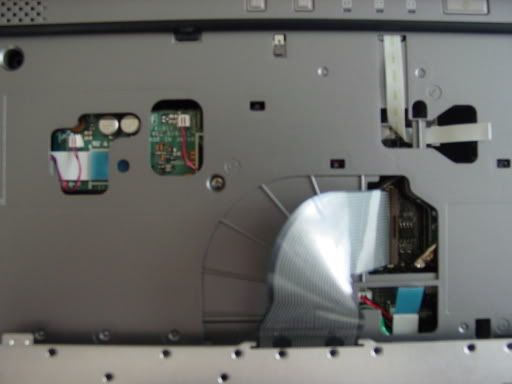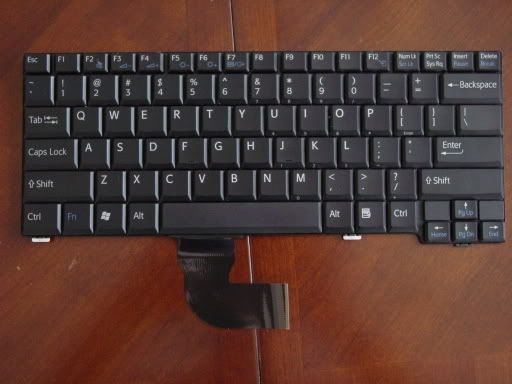 Next, there are 5 screws (all the same size) that need to be removed. Then you will see 2 ribbon cables and 2 white wire latches that need to be removed. The latches don't come off easily, but you can use your fingernails to pry at the side of them until it comes off. BE PATIENT.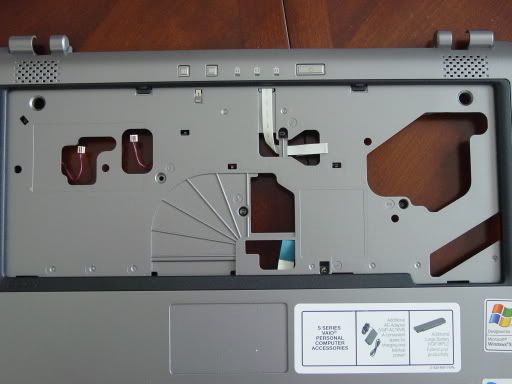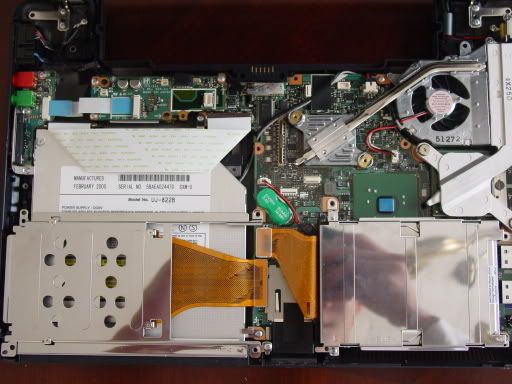 Now remove the entire top and you will be exposed to everything. Look around and you will easily see many holes without screws in them. I guess this is where Sony really got cheap!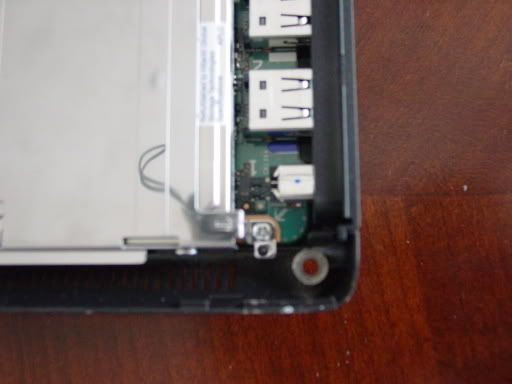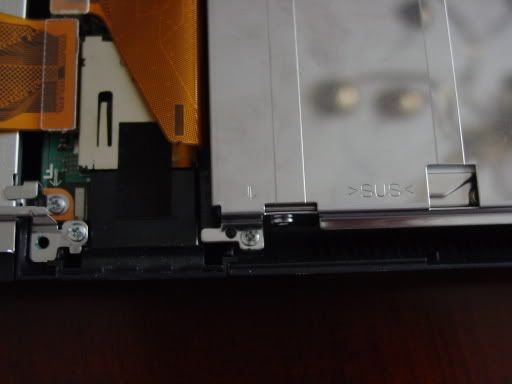 Oh well. Moving on, locate your harddrive at the lower right hand corner. First, unplug the ribbon cable that connects it to the motherboard. Next, unscrew the 2 screws at the bottom and your harddrive will come free.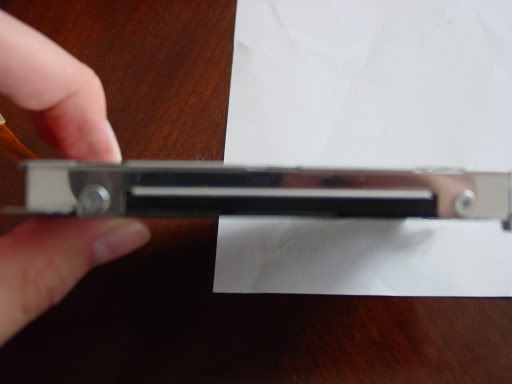 In order to put your next harddrive in, you must first disconnect the ribbon cable. Next, 4 screws at the sides hold the harddrive in place. Remove them and your harddrive will come free. Next, you will notice that at the bottom of your harddrive is a sticky black protective sheet. This thing insulates the heat produced by your harddrive from the motherboard. Remove it and place it on the bottom of your new harddrive. Put it into the case and install the 4 screws and connector ribbon.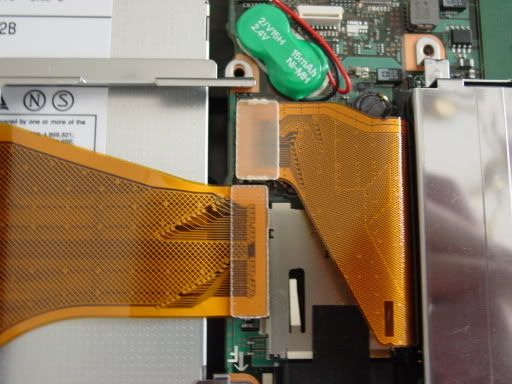 Put it back into place and connect the connector ribbon to the motherboard and you are done! (for more pics and info, visit
http://www.talkvaio.com/forum/index.php?showtopic=8
)
Arctic Silver/CPU Upgrade guide-
Arctic Silver 5 is a high density gel that contains 99.9% silver. It is used on CPUs and GPUs to reduce heat.
Read
http://www.arcticsilver.com/arctic_s...ions_small.htm
before attempting anything. To open your laptop, follow the instructions laid out above.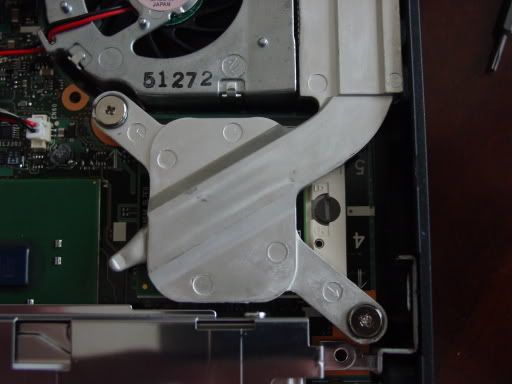 To get to the CPU, you must first uninstall the heat sink, which is held in place by 3 screws- 1 regular, and 2 spring loaded. After you remove these, the heat sink will come off and you will see your cpu. Using a flat head screwdriver, unlock the cpu by turning the screw to the side. Take out the cpu. Using 99.9 percent isopropyl alcohol (the kind that blinds if you drink it) and a Q-tip, clean the heatsink's mating surface. Next, you will notice yellow thermal tape on your cpu. Gently take it off with your fingernails and clean it with alcohol. DO NOT use alcohol on the silicone of the CPU, only the metal chip that comes into contact with the heatsink.
Now, using the paper bag method described by the arctic silver site (do not use bare finger since your fingers produce oil that would hinder the arctic silver's thermal conductivity), rub a small coat of arctic silver onto the heat sink mating surface. This is only to saturate the microscopic valleys.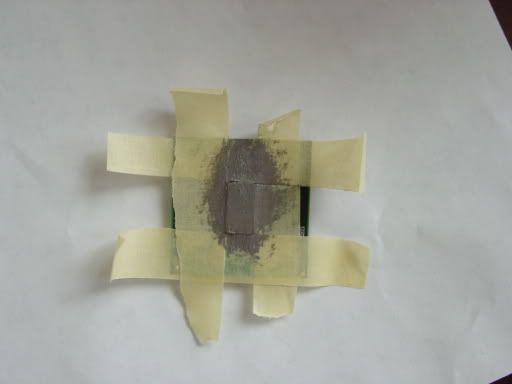 Now, use masking tape to tape the sides of the contact area. This is to ensure that the arctic silver does not come into contact with the silicone. Put a "rice grain" amount of arctic silver onto the mating surface and evenly coat the surface.
Now, remove the tape and put the cpu back into the socket. Lock the CPU and put back the heatsink along with the 3 screws and you are done.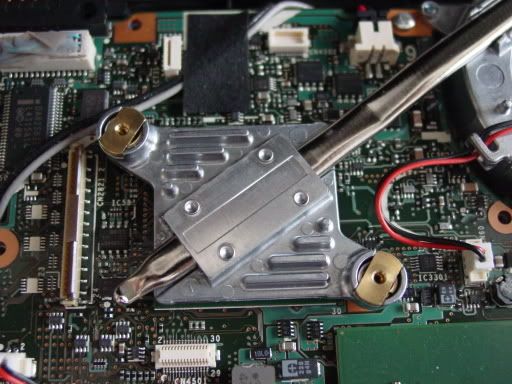 Most people who use arctic silver on their CPU does so on their GPU, but if you take a closer look, the GPU's heatsink is soldered shut and that will be another guide for another time.

CD/DVD Upgrade guide-
To open your laptop, follow the instructions laid out above.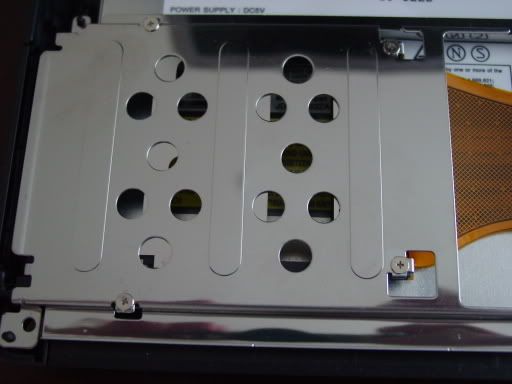 Now to your bottom left, you will notice your CD/DVD drive.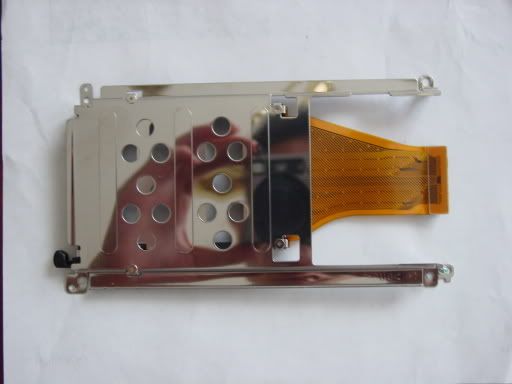 There is first a metal protective device on top and you must remove the 1 screw and 1 ribbon cable that holds it in place.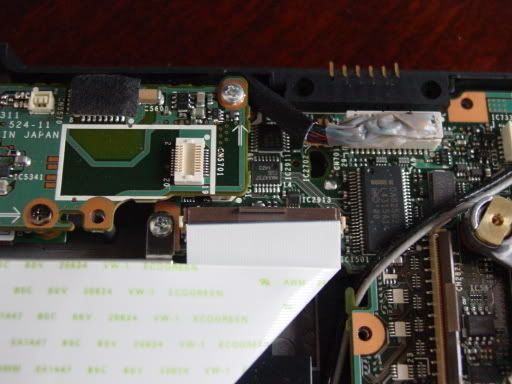 Next, there are a total of 4 screws that hold the drive in place. Remove them and the ribbon cable and you will remove the drive. Just like the upgrading the harddrive, remove the ribbon cable and the exterior shell and replace the drive with your new DVD RW drive.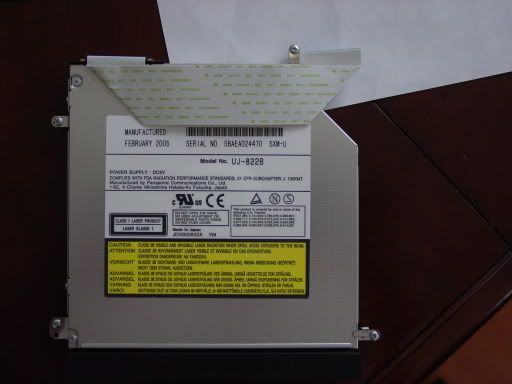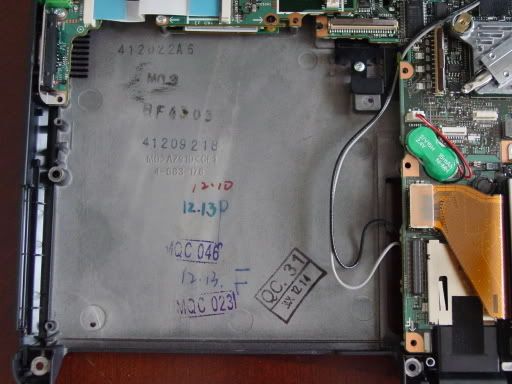 Reconnect the ribbon cable and the 4 screws and you are done.
How does it feel now that you have just beefed up your laptop and spent hundreds less? I know I sure felt great. Anyways, enjoy this review and any comment is much appreciated.