This guide shows you how you can surf the internet wirelessly even if you're on dial-up.
Skip the next section if you want to go straight to the setup.
Background
Some of us are satisfied with dial-up, can't afford a broadband connection, or it isn't available in our area to begin with and the satellite route is too expensive (and unreliable). But like broadband users with their wireless "broadband routers", we still would like to enjoy wireless technology to go online with our laptops without running wires. Well..we can
There are two basic ways to use your dial-up connection wirelessly:
1. Use a stand-alone wireless router or a similar device that supports a dial-up modem (either internally or externally)
There exist older wireless broadband routers (e.g., Orinoco RG-1000, Apple AirPort) that support an internal or an external dial-up modem. These modems are meant for backup in case the broadband connection goes out but can be used solely to share dial-up. You can still buy these routers but they are expensive, typically lack other important features, and are simply outdated technology.
There are also more recent devices geared specifically to dial-up users. The two most popular being
WiFlyer
and
Nebo Wireless
. They're also expensive, don't offer the latest wireless technology (802.11b at most), and have limited features.
=> Before you dump your money into on any of these, I have to tell you that I highly do not recommend this method. Even though this option may be more appealing at first because a singe small device is doing the job, the second option is much better because of its flexibility.
2. Use another PC to share the dial-up connection through a regular wireless router
This is the approach I'll be detailing below. Windows has a feature called Internet Connection Sharing (ICS from now on) that lets you share an internet connection with other computers. Together with a regular wireless router (that's marketed towards broadband users) it can be used to share dial-up wirelessly.
This is a good approach because Windows XP's ICS is very reliable, easy to configure and use. It doesn't tie up the desktop performing it nor does it bog it down very much so the PC can be used for other things. In addition and unlike the first option, you're not tied to using a specific router so you can upgrade to a different router in the future - say to 802.11n to speed up your internal network. And if later down the road you decide to switch to broadband, you'll have everything you need to share it wirelessly and the transition will be quick and painless.
=> The only major disadvantage with this approach is that if you don't already have one, need another PC that is running all the time or whenever you want to use the internet (or your internal network.)
(3).
You can also combine the above two approaches by connecting together multiple stand-alone devices. For example, connect an older wired broadband router that supports a dial-up modem, or a device such as WiFlyer, and share the internet connection to a regular wireless broadband router. This allows for switching to a better wireless router in the future and does not require running a separate computer.
Now on to..
The Setup
Here is a network diagram of the setup I'll be describing: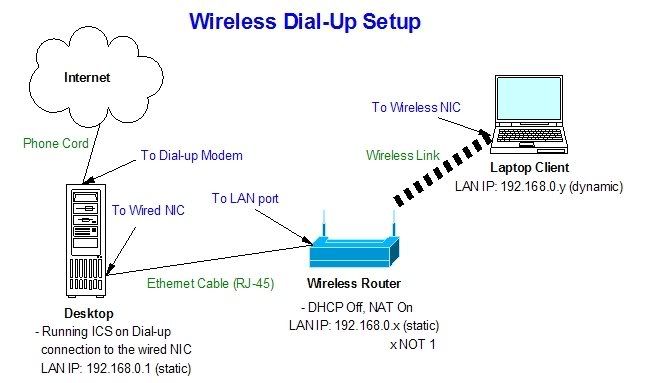 Requirements: A separate PC (other than your wireless one) that's running windows XP (a family PC is a good choice) has a wired NIC and is already setup for dial-up, wireless router with at least one wired port, an ethernet cable.
There are two simple steps to this setup and can be done in any order but I suggest you set the router first because you may have trouble logging into it with the desktop after performing ICS on it.
=> Bring down all of your firewalls (on the ICS server and the client machines) before doing the setup. You can later adjust them appropriately once everything is working. This is the main cause of problems.
Router Setup
Log in to your router and disable DHCP - that will be done by the desktop performing ICS. However, do NOT disable NAT as the router uses it to map the IP addresses. Give the router an IP address in the form of 192.168.0.x where x is any number between 2 and 254 (inclusive) -
make sure the router doesn't have the IP address 192.168.0.1
(the default on many routers) as this will conflict with the ICS Server's IP address. Write this IP address down because you will use it from now on whenever you want to login to the router.
As an example, here is a screenshot showing these changes on the popular Linksys BEFW11S4 router: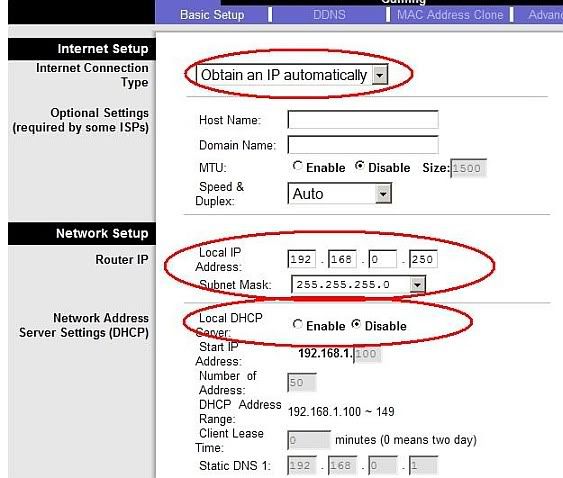 After you're done, connect the router to the desktop's wired NIC using an ethernet (cat-5) cable - as long as you don't have very old hardware either a straight-through or a crossover cat-5 cable will work here.
Make sure to plug the ethernet cable to one of the regular LAN ports on the router, not to the port labeled as Internet/WAN. If your wireless router doesn't have any wired LAN ports or you're using them all, you can still use the internet/WAN port but the router settings are more involved (email me for instructions).
Notes:
- Even though we're disabling DHCP, a wireless access point instead of a full wireless router will not work here because NAT is neecessary
- If you prefer, you can use a wireless card on the desktop instead of a wired NIC and a wireless router. However, only one wireless client will be able to share the connection and it will also need to have special configuration done. More information on this setup
here
.
ICS Setup on Desktop
Go to "Networking Connections" and right click on the dial-up connection you'd like to share. Select Properties, click on the Advanced Tab and check the first checkbox under Internet Connection Sharing. If you have more than one eligible network device which can be used to share the connection, you'll see a drop down menu to choose.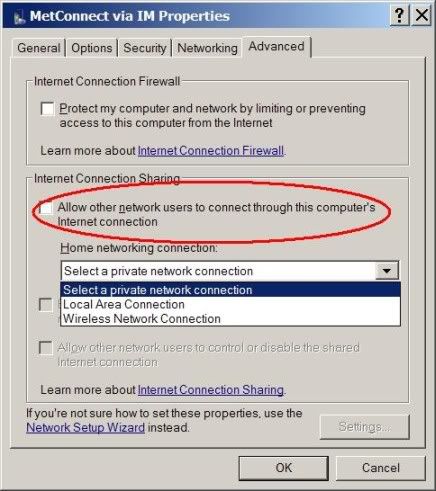 Notes:
- It's possible to share the connection through multiple network cards, but you have to bridge them before performing ICS.
- The ICS server will give out IP addresses in the form: 192.168.0.x with the desktop having the starting address 192.168.0.1 -
Unlike on other windows versions, it is impossible to change this value in Windows XP.
So make sure this range does not conflict with your other network addresses such as the one your ISP gives you (some ISP's give out
private IP addresses
to avoid running out of their share of global IP addresses and unfortunatelly for this set up the most commonly used private address block is 192.168.0.x).
- A part of ICS is a DHCP server. This means that activating it will also network your computers (possibility to share files), including the desktop performing ICS. And ICS works even if it is not connected to the internet so you can use your network even if you are not online.
- Windows 98 also has ICS but it isn't as reliable as XP's
On the Clients
No special configuration on the clients has to be made. Connect to the router as you would to any normal wireless access point.
Notes:
- You can add additional client computers to this network either wirelessly
or physically by connecting them to an available wired LAN port on the router
.
- The internet connection
will only be split when multiple computers are using it
so don't worry about having multiple computers connected to your network bogging down your already sluggish dial-up.
Telling the ICS Server to Connect/Disconnect
Once you can wirelessly surf with your notebook using the above setup, you'll realize a major hindrance to your wireless enjoyment - whenever you want to connect and disconnect to and from the internet you have to run to your desktop. To remedy that, there are a couple ways to tell the desktop to connect or disconnect from your wireless laptop.
Automatic:
You can let windows automatically dial the connection whenever it detects a computer on the network trying to access the internet. This can be set by checking the second check box in ICS settings. However, I strongly discourage this method because it can be extremely annoying. In addition, the complementary method for disconnecting sucks. You also set your dial-up connection to automatically disconnect after being idle for some time.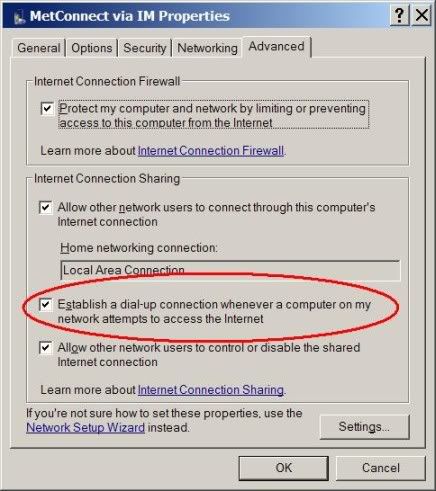 Internet Gateway Icon:
This is the way I recommend but be aware that it can be a bit buggy.
Windows XP (98 too) has a build-in feature called Internet Gateway that can be used to control the remote connection. In order for it to work, make sure the third checkbox is checked in the ICS properties on the server. In addition, you must save the username/password for the dial-up connection and indicate that it's to be used for "Anyone who uses this computer". Otherwise when your wireless laptop tells the ICS server to dial-up, the connection won't be authenticated by the ISP and the modem will hang up.
On the XP client machines it should show up automatically in the Network Connections folder: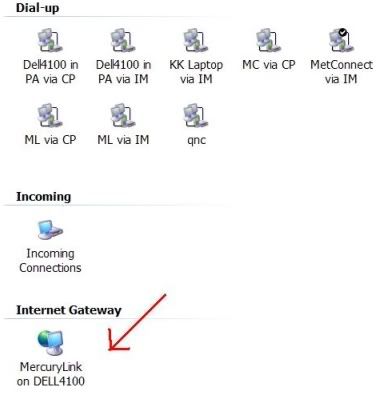 You can use it to connect/disconnect, check the status of the connection and its properties (actual dial-up speed and packets sent/received), and set other properties. For quicker access, you can set for it to show in your system tray as a networking icon:
Shortcut to Rasdial:
Another good way is to create two networks shortcuts (one for connect and one for disconnect) to a program on the ICS desktop that performs the dialing and disconnect functions. That program is called rasdial and you can learn how to use it
here
.
VNC:
You can also use a VNC viewer, such as
UltraVNC
or the one windows xp provides, to remotely control the desktop and simply connect/disconnect the manual way. This method is useful if clients don't want to bring down their firewall. But requires more steps and can annoy the person using the ICS desktop at the time. You also do not have to be networked. Even if you're not planning on using this method, it's a good backup and helps you remotely administer other things on the desktop.
Configuring ZoneAlarm Free Firewall for ICS and Networking
It's a good idea to have a firewall installed on the ICS desktop that's directly connected to the internet. ZoneAlarm free is a good one. It doesn't fully support ICS but well enough for most purposes.
First lower both the Internet (for sharing internet connection) and Trusted (for local networking) Security Zones to medium:
Now you'll be able to share the internet connection on the network but not yet files on the LAN. To do so, you must specify the IP address range in the Trusted Zone. Click on the Zones tab, click on the Add button, choose IP range, and enter the IP address range 192.168.0.1 to 192.168.0.255 into the trusted zone. Don't forget to hit the Apply button or the settings might not save.
If you need more detailed procedures, special configurations, or have other questions or problems, post a request here