Im a first time mac user, I have been using Pcs my whole life. I actually like the Mac OS and have nothing bad to say about the OS at all. I do think that it's better than windows for people that just want to use computers for everyday tasks, however as we all know the business world uses microsoft so I would say that for business and gaming windows would probably meet more needs (for now)
N-E Who. I just purchased an Imac with the intel 1.8ghz processor in it and it has 512 RAM. (17inch model)
The design of the unit is just outstanding. The LCD monitor is probably one of the best I've seen, for a 17 inch desktop monitor at a resolution of 1440 x 900 it is quite sharp. The brightness is also satisfactory, however I've seen brighter. Also the Viewing angle of the display is great for both horizontal and vertical. The only thing i found a bit weird is that the apple sign on the front panel of the computer doesn't light up.
Oh and just before I forget the little remote for front row is quite cool as well, it hooks onto the side of the screen magnetically.
Now one of the reasons why most apple customers get apple computers is because of the system design and in this case I would give system design a 9/10
The second reason why people get it is for OSX and stunning performance. However in this case I found that the intel core duo fell short of my expectations. I have never used a mac that would slow down so much when doing many tasks. I was simply trying to create a webpage on iweb and using iphoto to rotate some photos that I imported from a digital camera and the computer started slowing down. I couldn't believe it. while rotating the photo I got lag on a simple 90 degree rotation. I don't know if this has anything to do with the intel chip but I used my friends powerbook g4 and it felt faster to me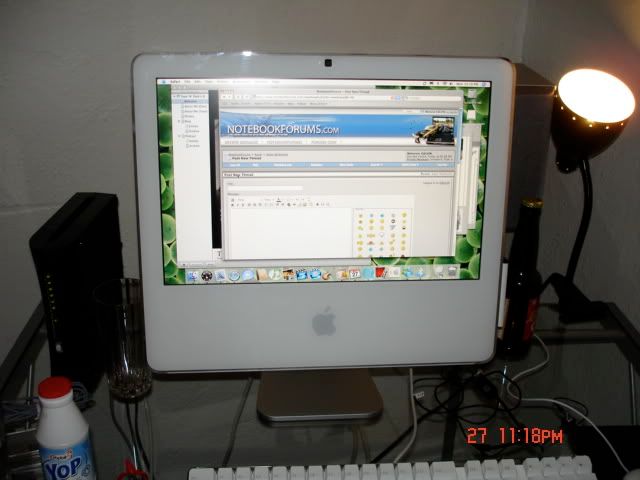 I bought the computer from "Futureshop" a store in Canada that allows you to return anything no questions asked before 30 days. I am contemplating doing so and going for the macbook, It may just be that I need more ram but I've seen 256 mb powerbooks just charge through tasks without hickups.
for performance I would give it a 6/10
maybe some of you that got the new imac can tell me if you are having similar problems.