Hi kids! Well, I've hemmed and hawed about this laptop, and it's now finally here.
Here are the specs:
Processor: Intel® Pentium® M 760 2.0GHz 2MB L2 Cache 533MHz FSB
Operating System (Office software not included): Microsoft® Windows® XP Media Center Edition 2005 with Service Pack 2
Warranty: 90-Day AlienCare Toll-Free 24/7 Phone Support
Display: Alienware® m5700 17" WideUXGA 1920 x 1200 LCD - Xeno Grey
Motherboard: Alienware® Intel® 915PM + ICH6 Chipset
Wireless Network Card: Intel® PRO/Wireless 2200 b/g Wireless Card
Memory: 1GB Dual Channel DDR2 SO-DIMM at 533MHz - 2 x 512MB
Hard Drive: Extreme Performance (RAID 0) - 160GB (80GB x 2) 5400 RPM SATA
Video/Graphics Card: 256MB NVidia® GeForce™ Go 6800
Sound Card: Intel® High-Definition Audio
Optical Drive: 8X Dual Layer DVD+/-RW / 24X CD-RW Combo w/Software
Ethernet NIC: Integrated High Performance Gigabit Ethernet
Modem: 56K Modem with V.90 Technology
Mobile Transport : Alienware® Odyssey Briefcase
Mobile Power: Belkin® AC Anywhere 300W
Headphones: Plantronics® DSP-500 USB Digital Headset w/MIC
Alienware® Clear Acrylic and Stainless Steel Tumbler
Desktop Enhancements: Exclusive AlienGUIse Theme Manager
I'm tellin' ya, this thing is slick. Here are some photos: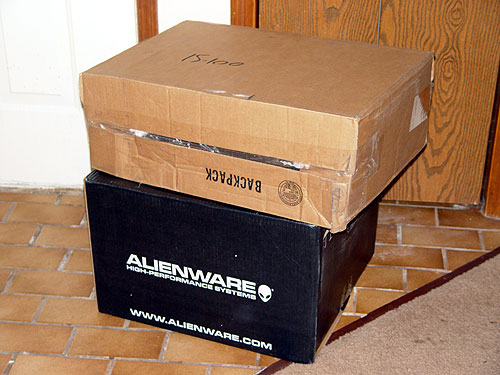 Here are the boxes. If you left them on your stoop, they scream "STEAL ME!"
The Accessories box is open. Here is the Belkin Plug, Acrylic Mug, the headset and the Briefcase. The briefcase is amazing. Lots of pockets!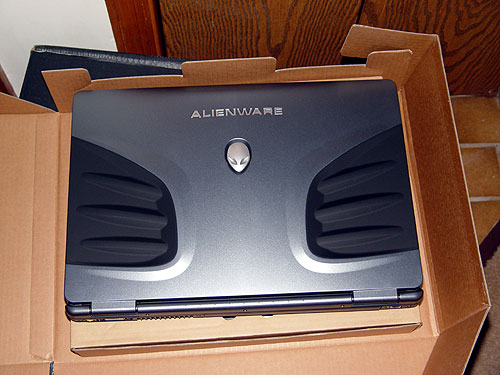 Here's the laptop out of the box. I didn't realize how friggin' huge this thing would be. It's like the size of a Trapper Keeper, except it's much more useful and items won't slip out of the middle of it.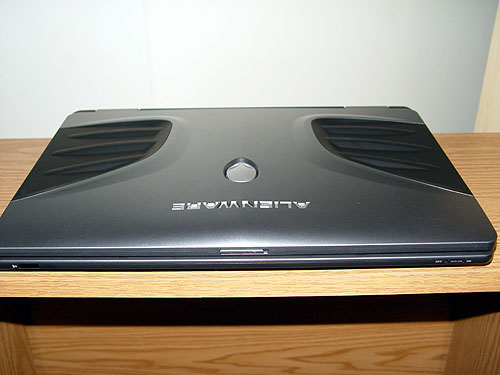 Here's a front view. It's amazing how this this sucker is. It's got a IR Port for Remote Control Goodness and a Wireless On/Off Switch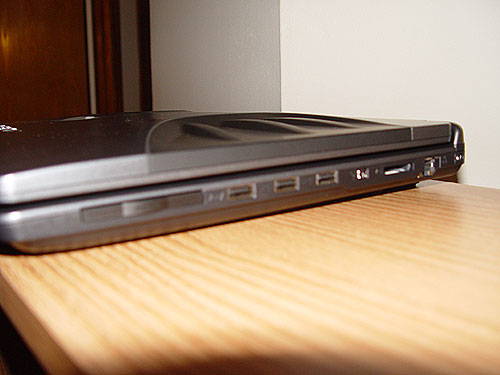 The right side with 3 USB 2.0 Ports, a Firewire 1394a Port, a 4 in 1 media reader, an Express Card Type II Slot and a 10/100 Ethernet Port. Or is it 10/1000? I don't remember. It's Gigabit Ethernet.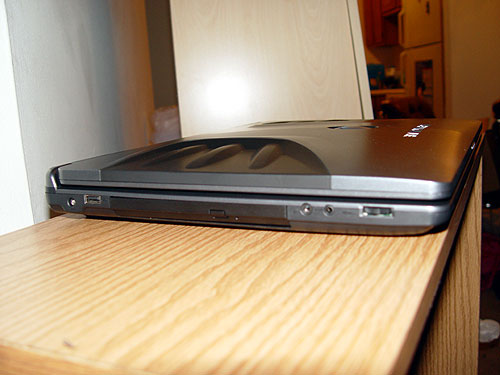 The left side with the DVD+-RW Bay, another USB 2.0 Slot, the power supply and the speaker control and volume control.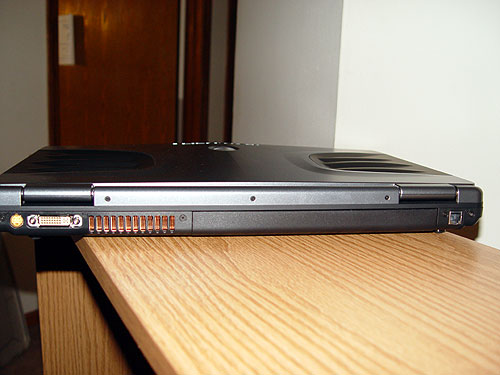 The back, with an S-Video Out, A DVI-1 Out, a Vent and a Modem Jack. What? Who uses Modems anymore?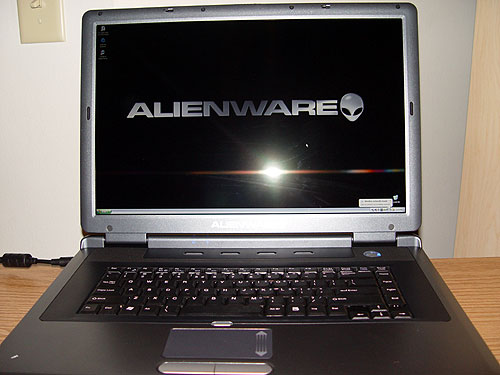 The badboy turned on. There are four Quick Keys on top for E-Mail, Internet Explorer, Media Center and A Silent Mode to conserve power. Two speakers on each side. Also, there's a little mic area on the bottom left. The touchpad is nice. I love the fact they've added a scroll area on the side.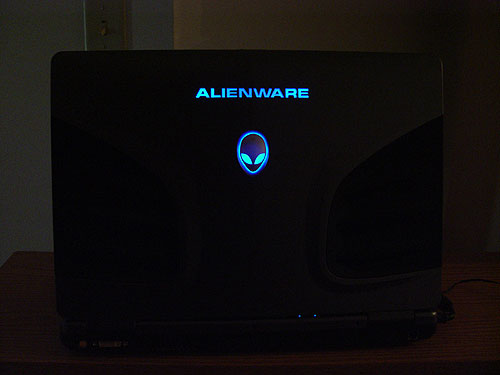 The backview when the laptop is on. Yes, it lights up blue.
So far, I've transfered all of my files from my old computer to the new one. It runs great. It has to be properly ventilated, though, because it does heat up witht he power underneath the hood. Wireless connectivity couldn't be easier. I LOVE WiFi!
Overall, this is the best laptop I've ever seen. It's thin and has the power of a desktop. You can't go wrong.