Totally revised and edited on June 4, 2007
Hey guys! It's been almost exactly
1 year
since I first received my E1705. This review has been up a long time, but I thought I'd do a total revision just to get you guys reacquainted with the value of this system. Look forward to new pictures and a new look on the performance and portability of the system. I plan on revisiting the topics I previously mentioned in my original review, but with a fresh look on it 1 year later.
Introduction
I'll start off by saying that my reviews are not solely based around numbers or benchmarks, but rather normal everyday use that a laptop endures in the life of a college student. I have completed my first year of college (passed all my computer engineering courses
) and this laptop has been through it all. I hope to instill a bid of confidence in those of you searching for a new laptop that are searching for the perfect fit for college, gaming, or just regular multimedia use. The E1705 is a great choice on many levels, all of which I will cover in the several topics below.
The Laptop

The laptop is a Dell E1705 with a 1.8Ghz T2400 processor (Core Duo, NOT Core 2 Duo), 2GB 533mhz ram, 100GB 7200rpm hard drive, WXGA+ display, 7900GS 256mb video card, advanced audio package, and 4 years at-home accidental coverage and 4 year extended warranty.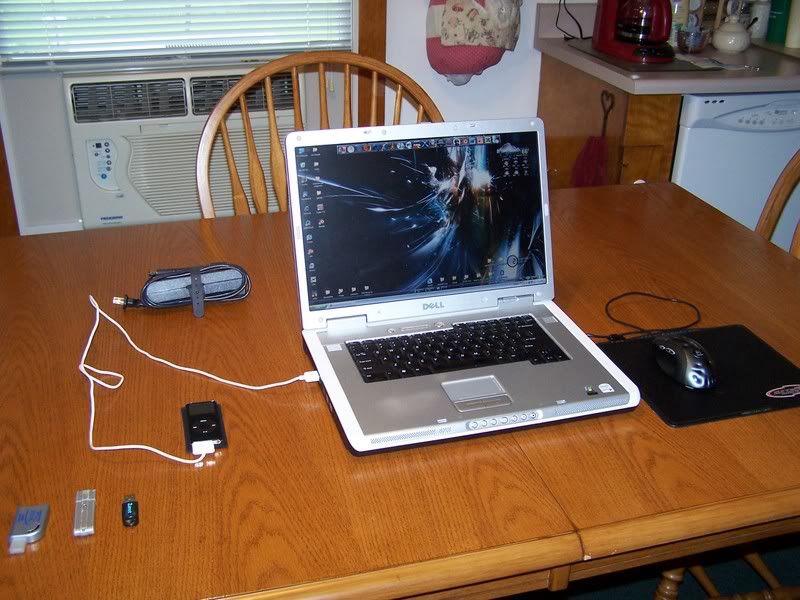 Construction
The E1705 is a solid laptop, no doubt about it. It has withstood me throwing it into my bag every day (several times a day) for 2 semesters, being dropped from short heights (inch or so) onto a hard surface, tilted and contorted while the hard drive is spinning, and suffering sweltering hot heat from being left on inside my bag a few times (oops!). This computer has impressed me to no end on how well it is constructed. The hinges on the screen still feel as sturdy as they did the first time I flipped it open a year ago. My girlfriend (who isn't
quite
as nice to her laptop as I am) has an E1705 and hers is still in great shape as well. Props to Dell for creating their products to last!
Mobility
Mobility is one of the biggest and most important issue to nearly anyone who buys a laptop. For college, mobility is a must for team meetings, frequent travel, and trips to the study lounge. For around the house, users generally like to sit wherever they feel most comfortable. The E1705 delivers on all fronts in my opinion. I never once had an issue with it's size due to my laptop backpack which I will discuss later on. I took the laptop with me on my 30 minute drive to Binghamton University every day for 2 semesters (mentioned previously) and I couldn't be happier. Of course, you are suffering from the added weight of a 17 inch notebook, however it is a worthy trade-off for the power the notebook delivers. At my meetings, I found my team wanting to use my laptop for often than not because of its capabilities in programs like Solid Edge and because of it's large display. Definitely well worth the extra weight for the added power and perhaps a little inconvenience in class if you use it on your lap.
Aesthetics
I said it in my review a year ago and I'll say it again; This is the best looking laptop I've seen, and I've seen plenty at college. Sure the Macbooks are pretty and slim, but there is just something eye-catching about the laptop that just makes you feel like a very proud owner. I will note that after a year, blemishes have started to appear where my wrist sits on the left side of the mousepad (barely visible in the above image). Also, two dots form just below the mousepad where the rubber bumpers rest when the screen is down, but they rub out easily and are not permanent. These are more visible in pictures further down the review.
Wear and Tear
The outside of the screen has suffered the biggest beating, hands down. Nothing has happened to the screen or the cover in terms of gigantic scrapes or dents, but the normal wearing of paint has started to occur. It is visible in the image above that the "Inspiron" lettering has started to peal off towards the middle. I accredit this to it simply rubbing against the padding in my bag. Also, light marks have appeared on the outside cover (barely visible in the above image [bottom right corner mostly]). Marks like these are to be expected after every day use for a year. Other than these two small issues, the only other thing I can think of is that dust easily shows up on the laptop. If you have a cat that sheds or a lot of dust in your house, the E1705 will show it if it is not regularly used. Dust forms almost instantaneously at my house on the lid and keyboard and it is very visible but comes off with a rag in no time. Just a small gripe. Overall though I am very pleased with how the laptop has held up over the year.
1.8Ghz Core Duo Processor
The Core Duo processor has served me very well and powers through all my applications. I generally run McAfee (a must for WiFi users on a campus by the way!), Objectdock, Yahoo! Widgets, and a few other programs like AIM and Firefox at the same time with no slow down. For the avid gamer, the processor does not appear to bottleneck the 7900GS, though since Dell doesn't sell this processor with it's E1705's anymore, bottlenecking will certainly not be an issue with the superious Core 2 Duo. This processor, however, blazes through and assists the other components of the system when I play games like Call of Duty 2 and Battlefield 2. I also did a lot of 3d modeling last semester for my engineering class using solid edge. I watched as other computers slowly turned the 3d model around when complex models were created while the E1705 tossed and flipped each model around just as fast as the mouse moved. Now that says something for the processor and graphics card combination.
By the way
, I would HIGHLY suggest getting the upgraded graphics card (7900GS) if you plan on doing 3d modeling or are entering into engineering, it makes life so much easier when things are smooth and easily operable.
7900GS 256mb Graphics Card
The 7900GS has been a real treat for me. Almost every other laptop at Binghamton University that I have encountered either has Integrated graphics or the x1400 HyperMemory graphics solution (factoring out the XPS's I've seen). The x1400 can hold it's own and will do what the average user will want, but gamers know that the 7900 is where it's at. I play Call of Duty 2
regularly
on my E1705 and get 125FPS CONSTANT with high details and 1440x900 resolution, a feat few laptops can claim (again factoring out the XPS). I also use Sony Vegas on the laptop to edit videos I make for Call of Duty 2 (if you play online on a team, you may know me for caleague.com). The processor is able to plow through rendering in about the same time as my desktop's 3800+ X2. Other games I play at exceedingly playable framerates include PREY, Counter Strike, Counter Strike: Source, Half-Life 2, Fear, Doom3, and the Battlefield series. The 7900 seems to be able to handle almost any game at it's native resolution of 1440x900 at medium/high settings and still deliver above 30FPS in most games. This is truly a desktop replacement worthy system. And just think, all of this on the go! (yes, I have loaded up a few racing sims during class [Flatout 2]) Please feel free to PM me if you'd like to know more about it's gaming performance, I'd be more than happy to talk to you about it.
Media Center
I really have not had all that much time available to me to sit down and use every gadget that this laptop offers, Media Center being one of them. On the few occasions that I have actually pressed the Media Center button (located to the left of the power button) it has worked flawlessly. I will say that if you boot up using the Media Center button, you may not have to boot into windows, but the load up time is about the same. It is, however, convenient to slap a DVD in without getting popups and dealing with McAfee trying to update every few seconds.
DVD R/RW Drive
I have used the drive on several occasions to create backup CD's and the burn times are blazingly fast. I have created 1 DVD thus far, and the burn time was respectable. I do not normally burn CD's, however, as I use thumb drives for almost everything anymore.
100GB 7200rpm Hard Drive
This is simply a must. The 7200rpm guarantees faster load times on applications and media while still maintaining a low noise level. For myself personally, it was nice to be able to install every program I needed for school as well as my entire collections of pc games, and still have room to swap TV shows with my dorm buddy with a flash drive to watch later. For a college student that likes games, get this hard drive and nothing else (at least 7200rpm if you do decide to wander though
)
WXGA+ Display
This display proved to be a great option that I thought I had made a terrible mistake on. I thought for sure since I didn't get the glossy finish that I would be missing out on a lot of great colors and effects. However, after watching people at college during large lectures, I have decided I made the right choice. It seems to be the norm that you need to angle the screen just right in a brightly lit room to not get glare directly back into your face with a glossy display, which is not the case with the regular matte display. Also, the glossy display is essentially a mirror, so unless you enjoy staring at yourself all the time, I would advice against it. One other thing I have noticed is that in an averagely lit room, text and certain colors are hard to see at an angle on a glossy screen, which is also
not
the case with the matte display. Unless you are a die hard gloss fanatic, I would personally suggest getting the matte display. Others I'm sure will disagree, but from seeing countless laptops at college, I have arrived at my own opinion from experience. The display is great for gaming and watching movies as well. The light leakage shown above is not nearly as bad as the image makes it seem. In reality, the light leakage is only along the very bottom of the screen and is never an issue.
Heat
The laptop, unfortunately, does get pretty warm. When I had a 7800Go in this baby, the temperature of the video card rose to ~85C and all that warm rests right where your right thigh would be if you use it on your lap. When the 7900GS was installed, the temperature decreased to ~70C under load, which is not anywhere near as warm. Still, it gets a little uncomfortable if you are taxing the video card while it is on your lap. The processor never seems to be an issue, however. When I am simply writing an essay or surfing the web in the livingroom with the laptop on my chest, heat was never an issue since nothing was being stressed. Heat is present in every laptop, however, so you are going to be hard pressed to find something that doesn't heat up to almost uncomfortable levels at some point.
Noise
This is a relatively quiet laptop. It generally makes zero noise unless you are playing a game or doing some 3d modeling, and then the fans kick on. When the fans are at full blast or the CD drive or hard drive spin to full speed, you are going to hear some light humming and whirring like with any machine. Overall, this E1705 has never been a annoyance to me or anyone else near me.
Transportation
The E1705 is a good traveler, like I mentioned, to and from college. I am a commuter to my university, so therefore I'm always on the go. I generally set up the computer several times a day, and I found out quickly my first semester that I needed a bag that would not look dorky and wouldn't say "STEAL ME." So I turned to Eddie Bauer and their 17inch notebook backpack.
As you can see, the E1705 fits perfectly inside the bag and does not slip at all. The bag is thin when no books are in it, but once you add a few books or notebooks, the bag becomes larger and much heavier. If you are about to head off to college (especially as a commuter) get used to a little extra weight on your back anyway.
I'm not trying to sell this particular backpack to you (it only retails for around 40 bucks!) but I'm trying to get the idea across that it's important to conceal that you have a laptop on you that's worth a few thousand dollars.
Do not
just sling the laptop into any old backpack that doesn't have a laptop sleeve with the smooth fuzzy material because it will instantly scratch the nice finish.
Dell Support
Dell support has treated me very well. Whenever I have had a problem with the laptop, there has always been someone available online to help me right away. They may be from another country, but they generally go out of your way to help you. I did, however, have one rude encounter with a dell assistant in an online chat when I inquired into getting a couple faulty fans replaced. I assume he didn't make it far into that job since every other Dell representative I have come across has been pleasant as can be. The fans I had replaced arrived in one business day and a technician was at my house the day after that to replace them. I call that
superb service
.
WiFi
WiFi! A MUST FOR COLLEGE STUDENTS!!! (and really, anyone anymore). WiFi is essential to effectiveness in schoolwork at college. Connecting to one of the millions of hotspots on a college campus is stupidly easy on this laptop, and it generally autoconnects to boot. Make sure you have an antivirus program, however, since when you connect to these public gateways, anyone can access your computer unless you have a firewall and security measures up. Just be careful.
Sound
The sound is generally fantastic out of the speakers and audio out on this laptop. For general listening or movie playback, the onboard speakers are ideal for quick listening and entertainment. I have a pair of Sennheiser HD555's that I use on a regular basis with my Ipod and the E1705 and it delivers QUALITY sound. My PC has an X-Fi Xtremegamer and I can't tell the difference in quality when listening to music or movies.
Battery Life
Battery life is a crucial point when deciding which laptop to buy for a user that will be constantly on the go. The E1705 with a 7900GS has an average battery life of around 2.5 hours after 1 year with general use. This is enough to get through a couple classes, and generally I don't use the laptop for more than a few minutes each class. Writing essays and surfing the web is ideal on this laptop since 2.5 hours is generally all the time I spend in one sitting working on a paper. This is a matter of preference, and obviously if the screen is dimmed and only word processing is done, the battery life can reach well above 3 hours on a single full charge.
Ports
Accessories
Accessories! There are a few essentials that I have found I use on a regular basis.
.
Other/Pictures
This laptop has been to numerous local LAN's at friends houses. It is a blast to play my friends while they use their PC's and still kick their butts
. Here are some other pictures you may enjoy: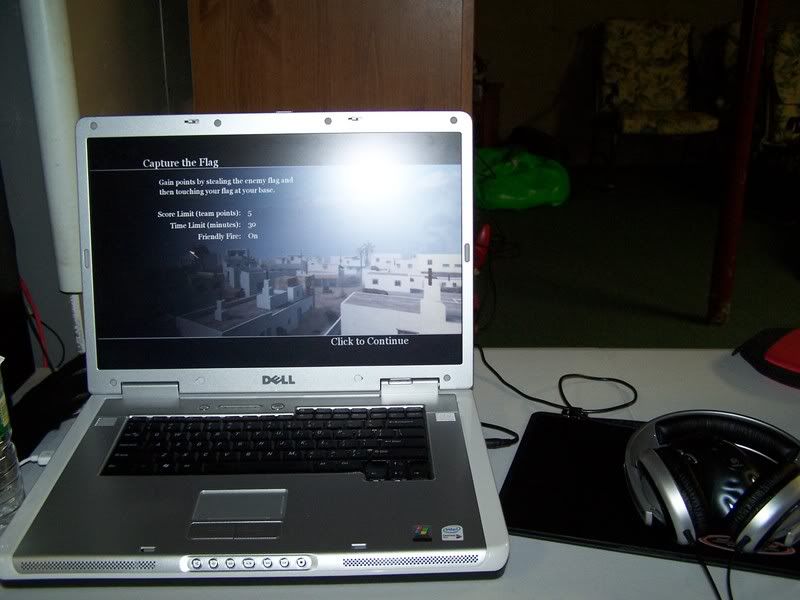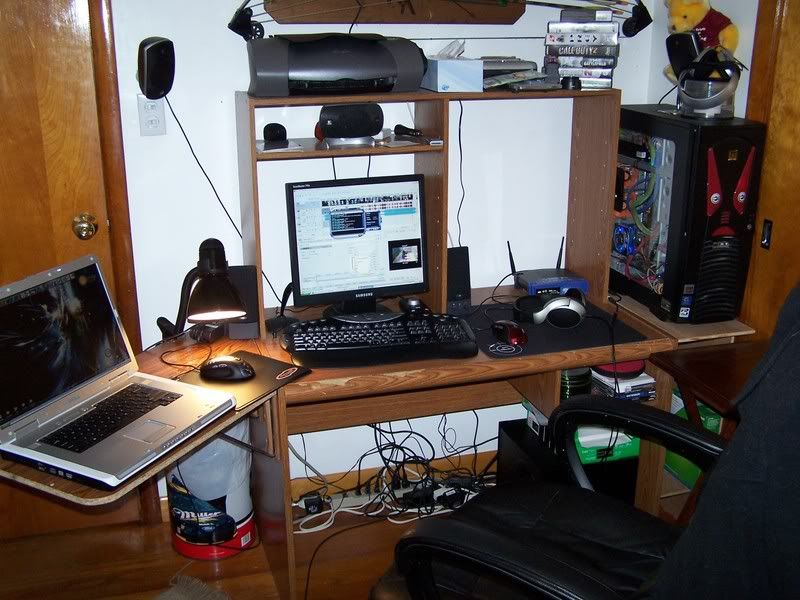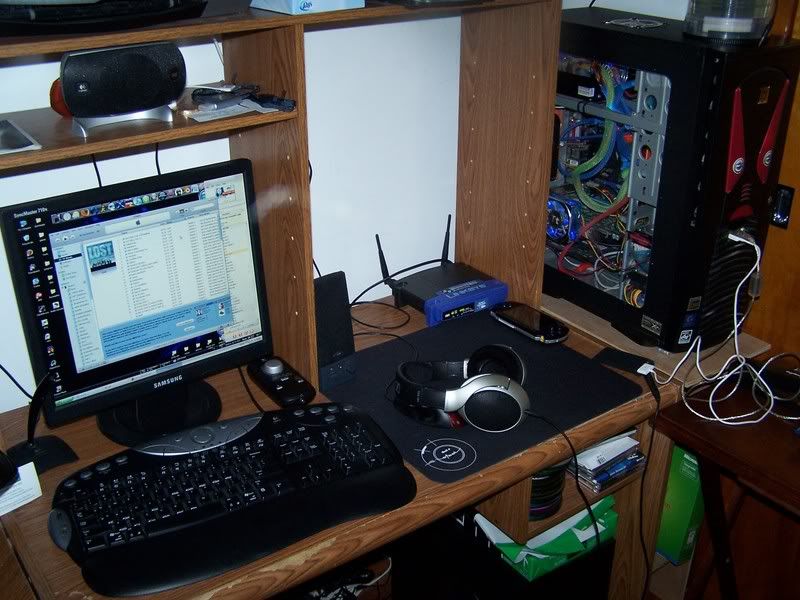 Just for giggles, this is my custom PC. It has changed a little from this picture, but it is essentially unchanged. The specs are:
3800+ X2, 2GB DDR2 800 G.Skill, 8800GTS 640mb, X-Fi Xtremegamer, 250GB 16mb cache Seagate, SLI Gigabyte mobo, etc. I plan on Sli'ing later this summer and upgrading the processor to a 6000+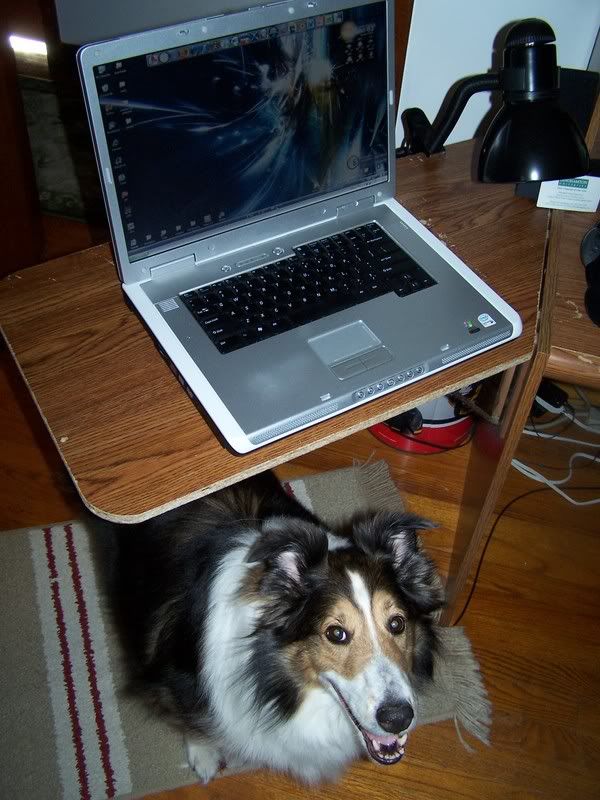 Isn't he cute? His name is Charlie. On the laptop, the light blemish from my left palm is visible below the keyboard.
IN CONCLUSION
I rate this laptop extremely high even after a year of brutal, experimental, and every day use. I would give the E1705 a
9/10
.
PROS:

Desktop-like power
Blazes through everything
Great gaming machine
Awesome for college students


CONS:
Heat
Shorter battery life than smaller laptops


I hope you enjoyed my revised review. Perhaps in the future I will update it once more to let you know how the laptop and I are doing in my 2nd year of college! Stay cool this summer everyone!