Hey guys, long time viewer first time poster.
Let me start off with a little copy. I've loved the Dell XPS Gen 2+ laptops since I learned of them. I've always been a heavy gamer but lately my desktop has been showing its age (Ti4600 OC'd, Barton 3200+ OC'd... it was time) and I'll be in college this fall. I wanted a mobile powerhouse that I could take where ever I went as a base of operations. I've been watching prices drop on them on eBay for awhile now and finally snagged one at $999. It's an XPS Gen 2 with the 6800 Ultra and the 2GHz Pent-M. I love this thing, it's the perfection of laptop. It only came with 512MB of ram but Newegg will be delivering two 1GB sticks Monday.
Now, onto the post.
I've been blasting through HL2:Episode One and wondering why my graphics seemed to be suffering. I downloaded 3DMark05 to see where she stood on the gfx department. I was depressed to find that she was only netting 3300-3500. I knew something was wrong at that point. I got i9kfangui running before I ran 3DMark again and found that it was hitting 95*C after completing only the first game test with both fans on high. Then I found out it was idling at 65*C!
I did note that when holding my hand behind the exhaust ports it seemed as if the CPU fan was much stronger than the GPU one...
I grabbed my handy small screwdriver and started looking into the problem. I won't bore you with a how-to on taking it apart, you can find that linked everywhere here. Here's what I found: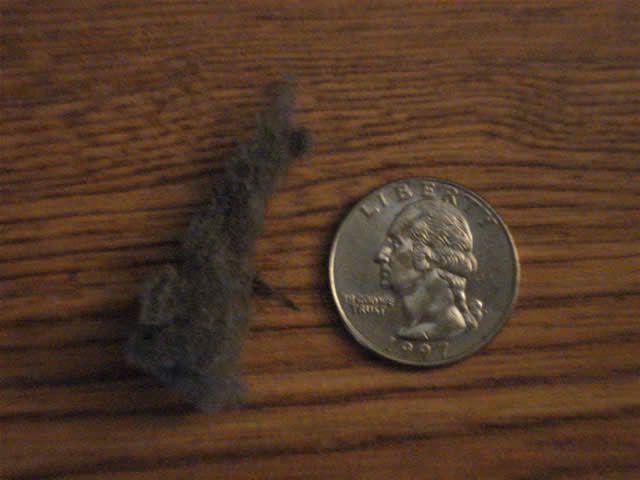 Wow, what a wonderful chunk of dust from my GPU fan. This bad boy was hanging out in the sweet spot where the air is moving the fastest. No wonder my 6800 is burning up.
While I'm there, I may as well do the same thing for the CPU because the internals of my laptop have obviously never seen the light of day...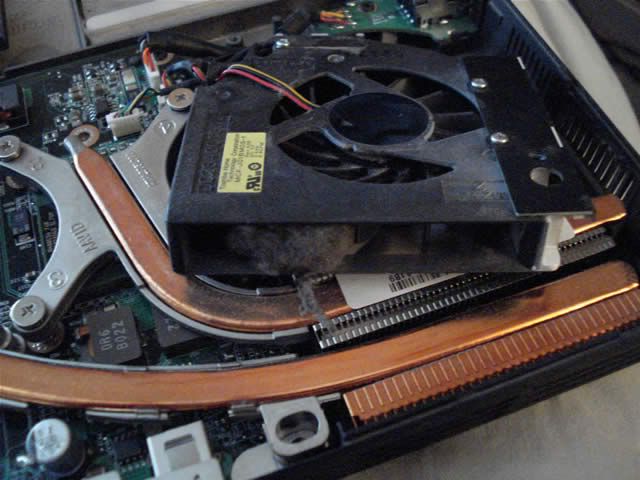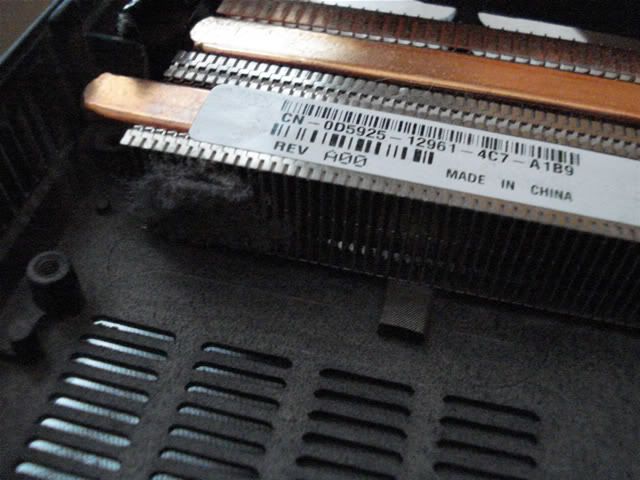 Again, wow. It looked completely clean from the outside of the laptop but there was a layer of dust almost cutting my heatsink's air supply off. You just can't tell without popping it open and cleaning it the hard way. Canned air wouldn't push that bunny out if it wanted to.
So, how do we fair now? The GPU is sitting much more comfortable at idle around 50-55*C. Under 3DMark05 it peaks at 79*C, and after two hours of HL2:Episode One (under much better conditions, I could play at native res now!) it had only peaked to 81*C. 3DMark05 hit 51xx on the first run. It performs better and runs quieter because the fans don't have to blow around those cotton swabs anymore. Couple this with a casual CPU undervolt of .7-1.0084v and I've got a nice cool running desktop replacement. I love this thing already.