Hey Apple fans, I finally got myself a macbook pro 17. I've been doing some research for some time now and after purchasing a Dell inspiron Xps M1710, I decided to give it back and go for the apple. I COULDN'T BE HAPPIER.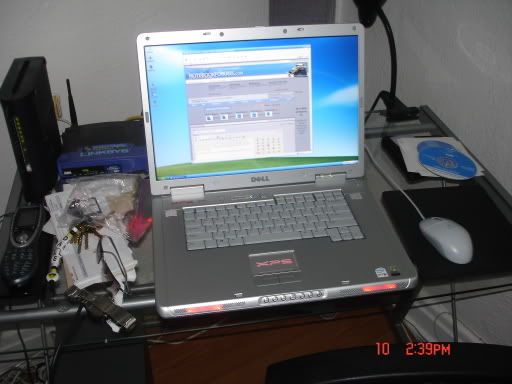 the reason why I took it back was because I kept on having problems with the speaker system, I know that notebooks are not suppose to have the greatest speakers but for some reason while playing games the two games that I like I was getting popping sounds from the speaker system. I got a replacement and still the same thing. I just don't think that I should have to deal with such things while paying $3000 CAD for a laptop. ( also when I called for tech support OMG, I was transfered to INDIA and couldn't understand a thing anyone was saying to me)
N-E Way, on to the apple. I have absolutley no complaints about this notebook. the core duo processor is great, much faster than my friends powerbook. I actually didn't get the glossy screen on this one because for me I prefer the regular screen configuration, so I'll be reviewing that.
The screen is great, it's VERY bright whites are white and blacks are black, I find i get more vibrant color from the apple screen than the dell screen. I tested this with the Xmen High Def Trailer from the quicktime website. The laptop is pretty much looks the same as the powerbook except for the fact that I have a camera on top of the screen.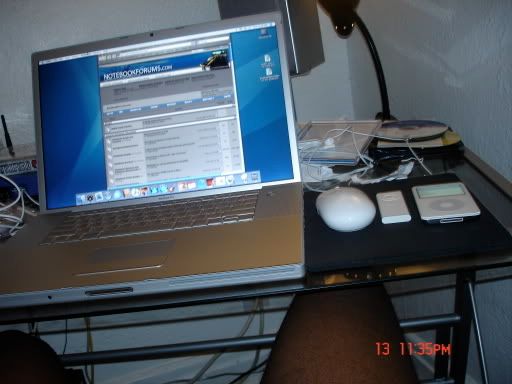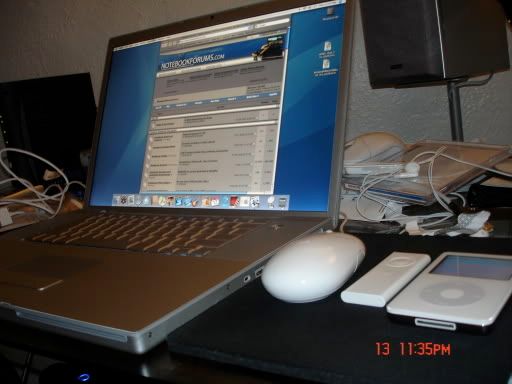 Another plus that I found great was the fact that I was able to boot windows Xp and play battlefield. (runs fine at medium settings)
if anyone has any questions at all about the computer, feel free to ask. I'll answer in the best way that I can.
Bottom line, after having both laptops I would say that the apple is a better buy ( for none hardcore gamers) because you can run both Operating systems. Also the apple has a better quality build.
(I think I'm the first to show off the 17inch mbp
)