Ok. Here we go.
First off I have to say, Hammerhead you are right, this computer rocks and is definitely worth the two months wait. To all those still in Phases just wait it out it is definitely worth it.
With one GPU and a re-installed Turion driver my 3dMark05 score is 6115. Not bad, I guess.. Was my first time using the program so I really dont know how to "optimize" it.
I will start from the top and work m way down.
The Camera
The built-in Webcam is actually really good. To view yourself in the webcam go into My Computer and go down to Bisoncam. This is your webcam to take pictures of your self.
The camera itself is a 1.3 megapixel. For those of you that did not know this already. The camera also doubles as a microphone. Yes you heard me right there is a built in microphone on the m9700. w00t!
To use it go into soundmax (the blue play arrow in taskbar) and turn up recording volume on the microphone and voila!
The Screen
I opted for the 1440x900. This screen is all that I wanted and it is perfect since I only bought one GPU. This screen is really nice and I am glad that they got everything right while we waited for backordered parts.
The 17" is fabulous! Almost beats a 19" 1440x900 (I have this monitor for an external)
The Keyboard, Touch buttons, and Touch pad
The Touch buttons take some time getting used to because of the ease they have. I keep wanting to push a button when I go to reach for the internet one. Hehe. These things are very handy and make it easier for access to the Internet (Mozilla for me) and for Music and watching DVD (TV I will get to).
The Keyboard is fantastic. This is not one of those typical laptop keyboards. The actions and spacing are perfect. For me it is. (My hands are kind of big.. well so is the rest of me, 6'2" - height) I actually am so glad that there is a number pad. I've been using the top number keys for so long and I still cannot get used to them.
I love the Touch pad. Alienware knew what they were doing when they made the touch pad glossy. For me at least it glides along way smoother than any other touch pad I have ever used. (To get the best performance out of the touch pad gently put slide your finger with out any pressure and it should move without flaw while for you it feels smooth as glass). The one button gets some used to but it is excellent also. The scrolling is real easy too!
The Optical Drive
Now there is a little bit of flaw in this. First the drive opens very smoothly. Which is great, but once it is open the drive seems to wobble just a bit. This is not too bad as long as you make sure when putting in the CD/DVD you hold it while doing so. Also when the drive closes, it closes very smoothly with barely even a click at the end.
On the bottom left of the optical drive (for those who got MCE with theres and a remote) there is an infared spot that you should aim the remote at. It is also in the manual.
The Right side
I'm glad that Arima decided to have USB ports on all sides of this computer, it comes in handy when you have things on different sides of you.. Such as a left handed computer user.
The volume control is very handy. On my last laptop there was no exterior volume control. So going on the computer and using the volume control there became a little old.
I do not really see much use out of the microphone jack since there is a built in one anyways. I guess for a better mic. The headphone jack is well.. just a headphone jack.
Now the 4 audio ports. Optical, surround, front, and center.. how do you use these.. When I plugged in my speaker sets they worked great.. then all of a sudden a loud fuzzy noise, then back to normal. It only does it sometimes. Are these three ports to be used in conjunction with the Optical port? Please tell.
The Left Side
Two more USBs an IEEE 1394 4-pin Firewire and an Ethernet port. I like firewire.
The 4-in-1 Memory card Reader.. umm I really do not think I will really ever use this, but!! it is always good just in case.
The Backside
There is one more final USB port back there.
I am glad that this computer came with a DVI-D and a VGA port. I just recently bought a 19" monitor that uses DVI-D and I have my old LCD that uses VGA.. Can you say Tri-Monitor setup!! W00t! Also there are both S-video In and Out. Handy for those with Projectors for presentations. My ports all seem to be working fine. No problems at all.
Now.. the TV-Tuner..
It was my understanding that this laptop came with an Optional Coaxial TV-input. Well technically it did, but it is not the standard Coaxial that can hook-up right to the TV. There are no threads on it at all meaning that you need something that looks like one of the (Red, White, Yellow) cords without any threads. The Coaxial is also smaller than standard inputs. sigh.
If you take a stripped coaxial cable and put it into the tv-input, it works fine, but it is very wobbley and unstable and very very blurry. I am going tomorrow with my laptop to best buy and Radio Shack to find the correct fitting for the Coaxial input. I will post more about this tomorrow during the day.
Other than the Coaxial thing. This Laptop is perfect. (It will be completely perfect soon)
For me atleast bottom of the m9700 does not get hot at all. You can feel just a tiny but of warmth. It has been on all day on my lap with no heat problems what-so-ever. I keep checking the NVidia temperature monitor and it stays at a steady 60C.
Well that is all for now. I will post pics of the parts I am talking about tomorrow, when I get some batteries for my Camera.
P.S. My m9700 came with this cord.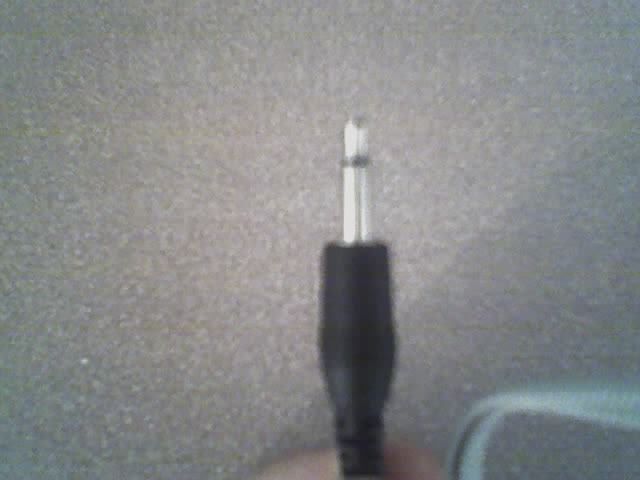 Anyone know what that is? Bluetooth antenna?
EDIT
: Coaxial problem fixed. To fix this you must use this adapter -
http://www.radioshack.com/product/in...entPage=search
Now the smaller end to this fits completely flush with TV-tuner. No wobbling or anything. Take this adapter and get a regular RG6 coaxial cable and put the bigger end of the adapter on the coaxial and keep pushing it through until it is about a little less than an inch away for the edge. And Voila!