*Review is still in the works, i just uploaded a FEW pics and I have barely explored it enough to write a decent review. I will be updating this very shortly!*
Hey! I'm Allyson, im 17 and I'm a mainer! I'm bringing you the first review of hte area-51 m5550! Hope you like my review. Please comment! Ask me ANYTHING and ill let you know whatever you want. Hope my review persuades you to buy one!
AREA-51 m5550
Processor: Intel Core Duo Processor T2300 1.66GHz 2MB Cache 667MHz FSB
Operating System: Genuine Microsoft Windows XP Media Center Edition 2005 with SP 2
Display: Alienware m5550 15.4" WideXGA 1280 x 768 LCD
Motherboard:Alienware Intel 945PM + ICH7 Chipset
Memory: 1GB Dual Channel DDR2 SO-DIMM at 667MHz - 2 x 512MB
Hard Drive: 120GB Serial ATA 1.5Gb/s 5,400 RPM w/ 8MB Cache
CD ROM/DVD ROM: 24x10x24 CD-RW / 8X DVD Combo w/Software MPEG2 Decoder
Video/Graphics Card: 128MB ATI Mobility Radeon X1400
Sound Card: Intel 7.1 High-Definition Audio
Wireless Network Card: Internal Intel PRO Wireless 3945 a/b/g Mini-Card
Communications: Integrated 10/1000Mb Gigabit Ethernet & 56K V.92 Modem
Warranty: 1-Year AlienCare Toll-Free 24/7 Phone Support w/ Onsite Service
AlienRespawn: Alienware Respawn Recovery Kit
Alienware Exclusive Offers: GameFly - Unlimited Game Rentals for 15 days - FREE TRIAL
Productivity Software: Microsoft Works 8 Productivity Suite
Desktop Enhancements: Exclusive AlienGUIse Theme Manager
Total cost with shipping and instant savings:
$1,484.38TIMELINE7/12 - Wednesday - Ordered
I ordered via phone because I had recently applied for Alienware financing. Pedro was the alienware rep I spoke with. He was very helful and make me proud to choose Alienware. He told me the financing papers would be sent for my father to sign and once they were returned my system would be built.
7/17 - Monday - Recieved Paperwork
Monday we got the paperwork in a neat little alienware envelope... but the name was handwritten. I like that. I like my stuff to be personal. Knowing someone took the time to write my name instead of just typing and printing makes the whole experiance better
7/18 - Tuesday - Sent Paperwork Back
Yeah, that.
7/24 - Monday - Called Alienware
I called Alienware Billing because I was concerned that I was still in phase 1. I spoke with Gabbi. She said the information had not been recieved and to call back the next day.
7/25 - Tuesday - Called Again
Luckily I got Gabbi again on the first try. She said that she needed to speak with the woman in charge who was "in a meeting". She told me she would call me back afterwards. I doubted that...
7/26 - Wednesday - Alienware Called
Gabbi called me back around 10am! I was VERY suprised. She told me that she spoke with the woman (I still dont know what the problem was) and that everything was fine and I would be entering the production phase that day. I was on phase 3 that afternoon.
7/26 - 8/2 - Many Parts Backordered
My RAM and processor were backordered with no estimated time. Phase 3 was my fate for a very long time.
8/3 - Thursday - Phase 5
Finally, I went into phase 5!
8/4 - Friday - Phase 10
I went from phase 5-10 in one day. 3-10 in two days is another way to look at it. I was very excited about it. I got my fedex shipping links and everything.
FEDEX LOG
Aug 7, 2006
6:14 PM - Picked up - MIAMI, FL
5:02 PM - Package data transmitted to FedEx
Aug 8, 2006
9:41 AM - Departed FedEx location - ORLANDO, FL
12:47 AM - Arrived at FedEx location - ORLANDO, FL
Aug 10, 2006
1:39 PM - Arrived at FedEx location - WILLINGTON, CT
Aug 11, 2006
7:30 AM - On FedEx vehicle for delivery - LEWISTON, ME
6:43 AM - At local FedEx facility - LEWISTON, ME
12:13 AM - Departed FedEx location - WILLINGTON, CT
LOOK
It's a beautiful laptop. Everything is laid out so nicely. Case color is lovely though it would be awesome in gray too. Two complaints, the glossy shine make me feel like im always getting print on it though I can't see any and 2) No alienware text logo. I needa give an 8 for that haha. The buttons above the keyboard are great and VERY convinent. Under the status lights are: Media player, internet, mail and silent mode. Above the touchpad is a button to disable the touchpad. In the front where the m5500 graphics switch was is a cool wireless on/off switch instead. USBs are on both sides so that makes it nice, though one is very lose to the CD drive, they could move it away a little in the future.
FAN/HEAT/LOUDNESS
It is a lot warmer than I expected. Not hot but VERY warm. I think that a cooling pad will fix this for the most part. My fan went on after about 10 minutes and all I did was go to internet explorer. It kinda reves up for a second then quiets down a little. When the fans not on, you can barely hear it. The CDrom drive is very loud though but thats alright I suppose. To the right of the touch pad is the hottest. The longer you have it on the hotter it gets and if you close the lid for a few minutes its even hotter there. What can you expect?
AUDIO
It's pretty nice. The volume knob on the side of the case is great! LOVE that! It gets pretty loud and I think its ideal for gaming as well.
KEYBOARD/MOUSE
The mouse is very nice. The settings need to be altered a little bit but I like the scrollbar feature. The keyboard is great. Very comfortable like a desktop and I prefer that. I have a few keys that stick or sonud like they are sticking but its nothing major. You have to expect some flaws here and there.
SCREEN
The regular XGA I think is fine. It didnt come in its native resolution whiched freaked me out. Then, I changed it and its crystal clear. Beautiful. Not too small or too big. It is a glossy screen but very nice. If you are looking into upgrading your screen I don't advise it. Put the money into something else like your processor. The XGA screen is beautfiul and just perfect. You wont be sorry.
BENCHMARKING
OK I don't know much about this. But, it said that my 3D mark score was 1,698 and my CPU Score was 4,967. Doom 3 ran at 70.4 fps. Feel free to tell me what this means and if its good haha.
GAMING
Playing Halo on this baby is awesome. I know its an older game but at max settings it just flys and looks great. I was out today checking out some games, I might try Quake 4 or WoW. Titan Quest looks cool too... either way I'll be sure to update once I try out a more 'modern' game. Oh and I have Sims2 and that game is huge, I will probably try loading that in here today.
OTHER
I will add more to this later. MUCH more. Once I play a few games and notice more things on the lappy. I just wanted to get this up so I could be first and so I can have something to add too quickly.
PICS!
Heres the packages... dont laugh at my purple rug! lol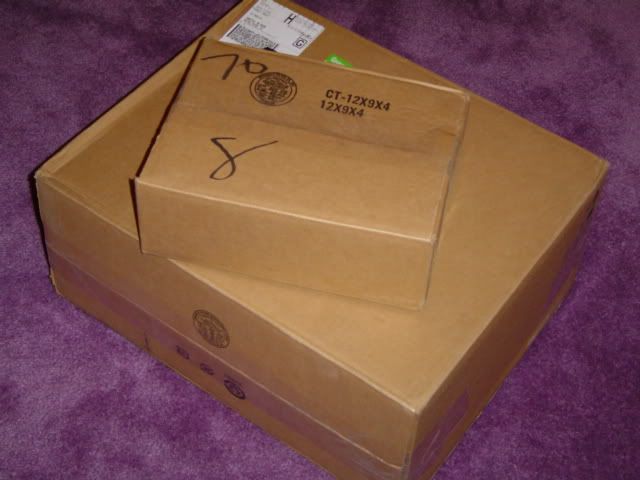 The small box. I had to laugh. All that box and peanuts for one CD!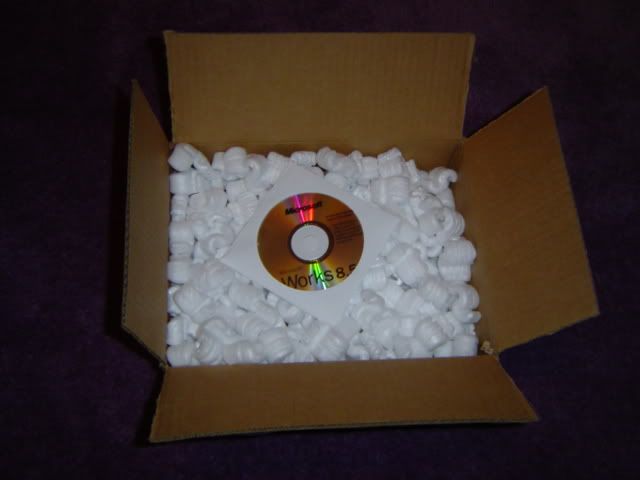 Everyone takes pics of this so I did too lol.
The perdy black alienware box!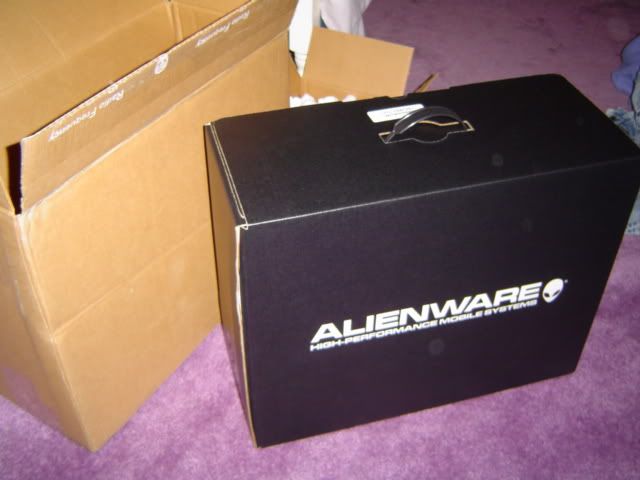 Opening hte alienware box...
This was inside with the powercord, repawn etc.
My Alien!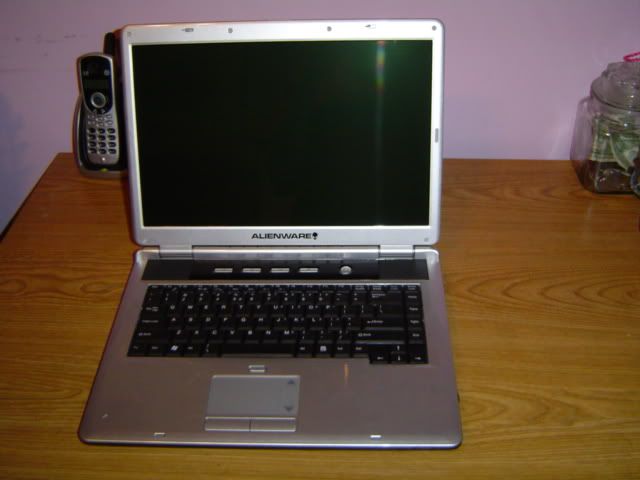 I love the layout of hte buttons on this lappy. Very nice!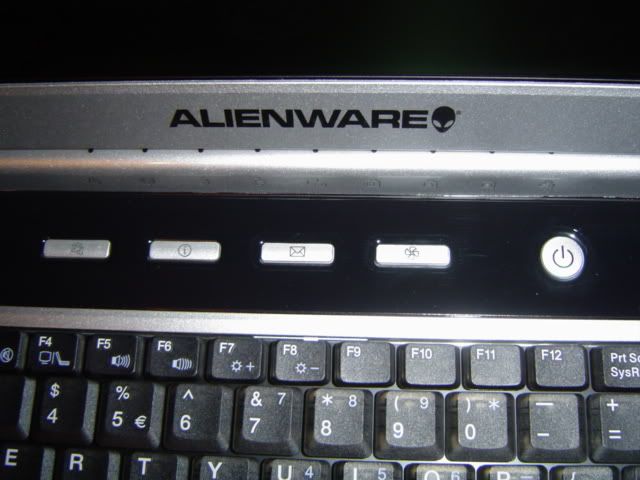 And of course... the best part!
OVERALL
I love it. I recommend it. Its the perfect size. Perfect amount of power. Its overall a great lappy! I will add MUCH more to this possibly tomorrow morning! And TONS more pics eventually. I just took a few sloppy ones as I went.
Oh an something funny... my stats on my icon from Alienware say I have a 1.83 ghz processor when I ordered a 1.66... same this happened to snookiez. Wonder whats up with that but as long as I wasn't charged... thats cool!
Ask anything, ill try to answer the best I can! I know I forgot stuff to say so ill be adding lots more to this. Stay tuned!
PLEASE STICKY for everyone to see forever and ever and say, That allyson, shes pretty cool she was the first to review! Let my name be known! lol! Enjoy!