Well, on Friday August 11th, I recieved my mALX. Its a gorgeous machine and the screen is absolutely gorgeous. Because of work related issues, I don't have the time to give a proper review right now, so I'll try to do the best I can with what time I've got.
For all the benchie oriented people:
3D Mark 2005:
Game Tests
3DMark Score: 10,209.00 3DMarks
GT1 - Return To Proxycon: 35.77 FPS
GT2 - Firefly Forest: 28.48 FPS
GT3 - Canyon Flight: 66.85 FPS
CPU Tests
CPU Score: 4,187.00 CPUMarks
CPU Test 1: 2.05 FPS
CPU Test 2: 3.79 FPS
Doom 3: 98.5 fps
My thoughts on the machine itself? Incredible.
Keyboard: Not much flex to it, very solid and easy to use. I agree with 357Magnum's review, most of the 'center' keys feel a little hollow, but its something I'll get used to.
Sound: Beautiful. Without a doubt the best laptop speakers I've seen, the only laptop speakers that might compare are the Harmon/Kardon used by Toshiba. They could use a little more punch from the subwoofer, but they're still very clear, and plenty loud for use in all normal enviroments.
Screen: Gorgeous. Huge, plenty of real estate, crisp, and very bright. Mine has no dead pixels, and movies and games look incredible on it.
Performance: I've played Doom 3 at maximum settings, 1600/1200 resolution and I never saw a stutter. Even BFG blasts in crowded rooms did nothing but look gorgeous. Oblivion is an absolutely stunning world on this machine, even the inside of those ****** gates is a pleasure to see on this machine. World of Warcraft is absolutely beautiful at max settings, my swift white steed and level sixty warrior actually look like the champions they are on this beauty of a machine. Civilization 4 plays perfectly at full settings on every map size. Both Knights of the Old Republic games play flawlessly (not that thats a surprise..) Spec and performance wise, this machine is excellent, though she is a little... touchy. Thats probably more me getting used to a new machine then the computer's fault, though. It runs much cooler then my last laptop, the only real 'hotspot' is on the right palm, but it never gets uncomfortable.
Touchpad: Eh... Its a touchpad, and I despise them. Fortunately, it gives you a 'disable while typing' option that I love.
Razer Diamondback Mouse: Wow. Just wow. Its the most sensetive and responsive mouse I've ever used, and even after two days of limited use, I find myself extremely annoyed at the response of a normal mouse. The extra buttons are hard to get used to, especially as the two buttons on the left side will act as 'forward' and 'back' buttons during internet use. I've bounced around pages SO many times accidently in the last couple of days. The two buttons on the right side act as a scroll bar, which is cool I guess. I give the mouse two thumbs up. My only real complaint with it is its very picky about what usb port you plug it into. Whatever port you plug it into first is its home, and it won't even begin considering running off another one.
Webcam: Eh... As soon as I brave looking at my ugly face on my own screen, I'll let you know.
Ozma 7 Headphones: These I love. The sound out of them is incredible, with very little outside interference. The Jer likes his headphones very much.
Backpack: All I can say for this is THANK GOODNESS they give it to us. There is no way to fit this machine in a seventeen inch bag, its just too big. I also got this really neat soft pillow-case type thing to put my mALX in before putting it inside. Its very cool.
Cleaning Cloth: A necessity as the slightest dust is perfectly visible on this machine.
Keychain/Pen/Folder: All very cool, for trinkets anyway. The pen is nice and smooth with a nice feel to it, if I was in college again I would love the folder/binder, and the keychain has already moved in with my keys.
Nameplate: Very cool, and mine did come attached to the machine. It adds a very nice personal touch, I think.
Shirt: Nice shirt, but there isn't much I can say about it.
Overall? I love this computer. Its fast, responsive, powerful, and an audio and visual treat. It annihlates every game I've thrown at it without even hesitating and wants more. For everyone in queue for an mALX, do yourself a favor and wait for them. They're stunning machines, they do anything you ask, and they look cool doing it.
Here's a couple pictures of it, and before anyone complains, yes, I know I'm horrible photographer. I could probably do better, but I honestly don't have the time and I need sleep very badly.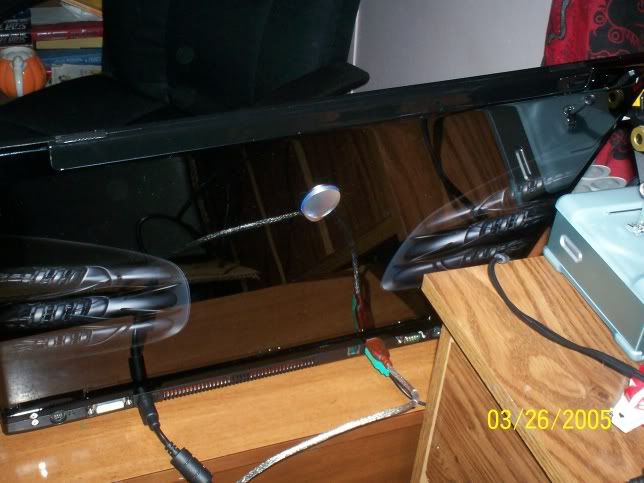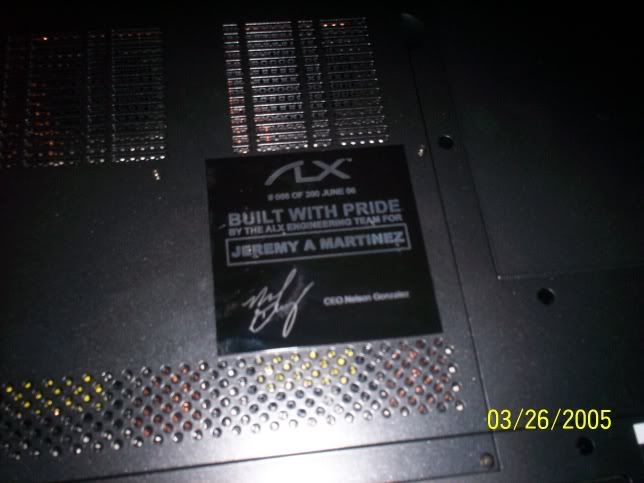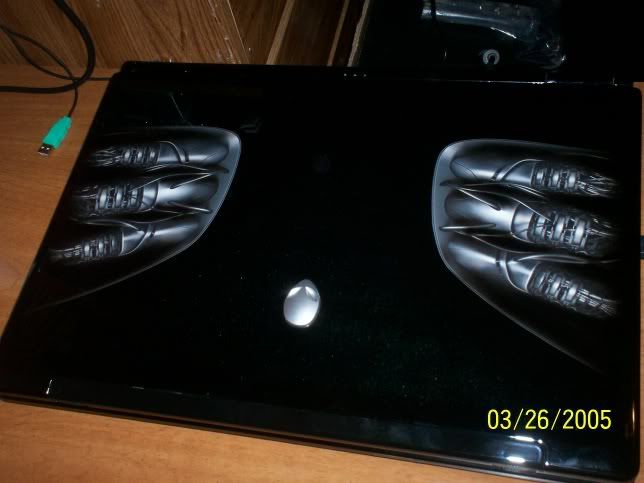 *Dies laughing* I forgot to reset the date on my camera! Oh thats embarassing... Gotta change those when I get some time... *goes off to crawl under a rock*