Hey, I'm Brandon. I'm 19, and I'm starting my first year in college to hopefully one day be a police officer. Now that that is out of the way, I'll continue with why you're REALLY reading this. My M5550.
Initially, I wanted nothing more than something I could do work on. School work, web browsing, email - you know...simple tasks. I've always been fascinated by Alienware's products. I first heard about them back when I was a sophmore in High School. The electronics teacher would brag constantly about them. Anyways, when I first considered getting a laptop, I was thinking about a Dell XPS. The local mall we have here has a Dell sales dpt. and they have alot of laptops on display. I must've talked with those guys for hours. Being the curious person I am, I decided to look around after the Dell sales person said, (and I quote), "Alienware isn't something you'd want. They are made extremely cheap, and you'll be lucky if it ships to you in perfect working order". After hearing how much my friends Dad liked his Alienware, I wanted to tell that Dell dude to just STFU!
So, after that, I went online and looked heavily into Alienware. I mostly looked at the M5550 and the Sentia 3450. The Sentia 3450 fitted my every need PERFECTLY...(Except for the non-upgradeable Graphics card). But, after many long nights studying the Sentia 3450, I ended up ordering one. Was in phase 2 I belive that same day. Well, that same night, I saw that Alienware lowered alot of prices for the M5550 (my other interest). With the same specs as my ordered Sentia, I could upgrade to the M5550 with a bigger screen, 256mb graphics card, and some free software for only approx. $170.00 more. So next day I cancelled my Sentia 3450, and replaced it with my second choice - M5550
Area-51® m5550
Processor: Intel® Core™ Duo Processor T2300 1.66GHz 2MB Cache 667MHz FSB
Operating System (Office software not included): Genuine Microsoft® Windows® XP Home Edition with Service Pack 2
Display: Alienware® m5550 15.4" WideXGA 1280 x 768 LCD
Motherboard: Alienware® Intel® 945PM + ICH7 Chipset
Memory: 1GB Dual Channel DDR2 SO-DIMM at 667MHz - 2 x 512MB
Hard Drive: 80GB Serial ATA 1.5Gb/s 5,400 RPM w/ NCQ & 8MB Cache
Primary CD ROM/DVD ROM: 24x10x24 CD-RW / 8X DVD Combo w/Software MPEG2 Decoder
Video/Graphics Card: 256MB NVidia® GeForce™ Go 7600
Sound Card: Intel® 7.1 High-Definition Audio
Wireless Network Card: Internal Intel® PRO Wireless 3945 a/b/g Mini-Card
Communications: Integrated 10/1000Mb Gigabit Ethernet & 56K V.92 Modem
Warranty: 1-Year AlienCare Toll-Free 24/7 Phone Support w/ Onsite Service
AlienRespawn: Alienware® Respawn Recovery Kit
Alienware Exclusive Offers: GameFly - Unlimited Game Rentals for 15 days - FREE TRIAL
Productivity Software: Microsoft® Works 8 Productivity Suite
Desktop Enhancements: Exclusive AlienGUIse Theme Manager
[1] Special Financing Offer; No Interest for 6 Months! - Valid only with the Alienware Credit Card
[1] $200 Instant Rebate; On Select Systems
SubTotal: $1,718.00
Shipping: $99.00
Discount: $200.00
Tax: $0.00
Order Total: $1,617.00
Well, here we go
Quick look at the phases...
*Phase 1 - 7/23 - *Phase 6 - 8/07
*Phase 2 - 7/24 - *Phase 7 - 8/07
*Phase 3 - 7/24 - *Phase 8 - 8/07
*Phase 4 - 7/26 - *Phase 9 - 8/07
*Phase 5 - 8/04 -
*Phase 10 - 8/08 - SHIPPED! - Recieved on 8/11/06! Wee!
This is by far the best screen I've ever seen on any laptop. The 15.4" WideXGA 1280 x 768 LCD is perfect. Whether you're watching movies, or just surfing, you'll find that it is suitable for any occassion. It's very clear and has a glossy effect that I happen to like alot. It clears up everything that it displays. I would honestly see no reason to get anything bigger, or smaller. Even with gaming, it (in my opinion) out does my 19" moniter on my Dell.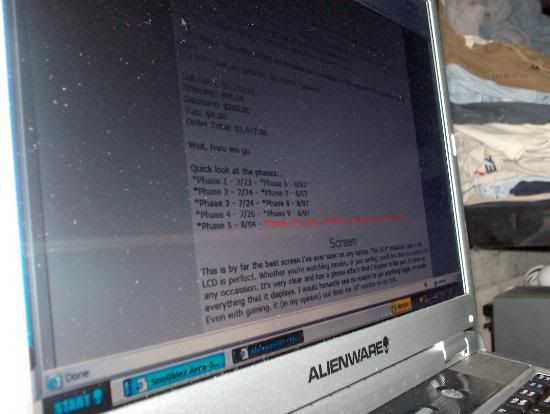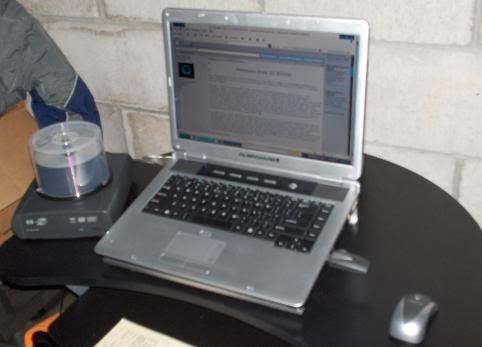 What can I say? It's your basic keyboard layout. I like how you can adjust some settings using the Fn key + F1-8. For me, when I type, I'm constantly hitting the touchpad surface with my palms, but Alienware solved that with putting a touchpad On/Off button right below the space bar. Thanks! The short cuts that are on top also come in handy. The keyboard looks a bit transparent, or transluecent...idk. It's black, but in bright lighting it looks like a clear/black. It's nice looking though. I haven't had any problems with any keys sticking or a button not working.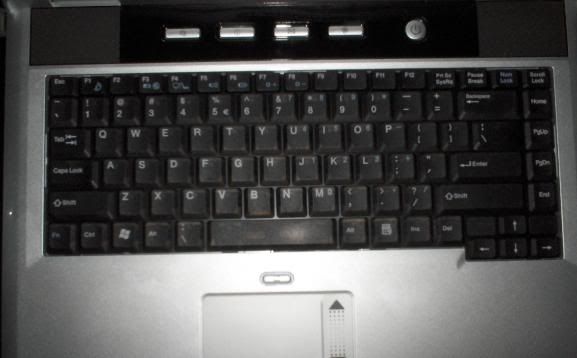 I've never used a touchpad with a scroll bar on it. I like it. And the fact that it has an On/Off switch is also a nice feature. I mainly use a wireless optical mouse instead of the touchpad only because I'm faster with a mouse...and you can't game with a touchpad lol!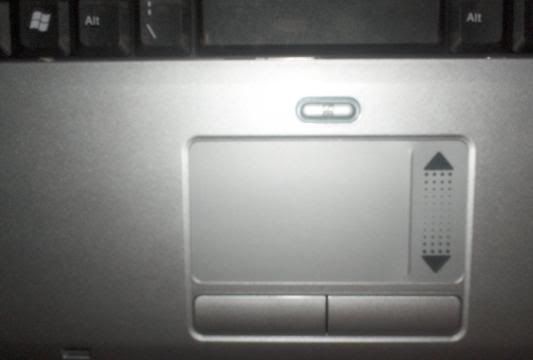 Although ALOT of people will bash almost all laptop speakers. I don't see a problem with these. I like them. If Alienware offered a cheap upgrade, I'd take it, but other than that, I'd leave them how they are. With Windows Media Player open, and some songs playing, it gets loud enough for me. It isn't that loud with a DVD, but I generally don't use my laptop for movies, othert than burning DVDs (I have a HP external dvd burner). The only game I've played on here so far is Halo (I'm an addict), and with the volume all the way up, it's loud. I can game perfectly on this. The volume control is on the left hand side of the laptop, making it easily controllable. The speakers are on the base of the laptop, not on the screen.
Ahh, one of my favorite things about my laptop. I have the Internal Intel PRO Wireless 3945 a/b/g Mini-Card. This thing picks up another signal that my old PCI card on my desktop didn't. I believe it has a range of 500 ft. Impressive enough for me. I also like how it connects automatically immediately after Windows loads. It's also displayed in the taskbar next to the clock, so you always have view of your strength, and connection status. My laptops location is in the basement where my room is, and I get excellent signal strength from two stories below my wireless router. I'm also on Cable, so maybe that helps too! I'm at 54Mbps.
Wow...this is the one thing that I'm extremely unhappy with about my laptop. With the wireless on, just surfing the net, and with the screen on a mid brightness contrast, I can roughly get 1 hour and 40 mins on a full charge. I think that is terrible...am I right? I'm considering calling Alienware to see if this is correct, otherwise, I would like a new battery, or to send my system in to see what the real deal is. In sleep mode, and the screen closed, it charges pretty quick...so that's a plus. I haven't tested the battery life yet while gaming, because I usually always have the charging adapter in.
Here's something that might show what I'm talking about...
I'm very happy with my graphics card upgrade. It's so nice. This, and the alien eyes are my favorite things about my laptop. I was on a game advisor site that allows you to see what games your system could play. It was showing that I could play all of the ones they listed. And they had some very new games there. It's the 256MB NVidia GeForce Go 7600. Had they offered the ATI, I would've choosen that one, but they only offered a 128mb one. Reason being, my Dad's friend has the ATI in his Alienware desktop, and I think in gaming it does out perform NVidia. But, I'm not that hardcore of a gamer, so I'm extremely pleased with the NVidia.
(I don't benchmark or anything, but on the desktop where Alienware gives you info on your system, I benchmarked...
Doom 3
Doom 3: 124.7 fps
3DMark 2005
Game Tests
3DMark Score: 3,233.00 3DMarks
GT1 - Return To Proxycon: 14.84 FPS
GT2 - Firefly Forest: 10.65 FPS
GT3 - Canyon Flight: 13.68 FPS
CPU Tests
CPU Score: 5,053.00 CPUMarks
CPU Test 1: 2.56 FPS
CPU Test 2: 4.44 FPS
I don't know if those are good or bad. I messed around with the settings for NVidia, and while playing Halo, I haven't noticed lag or anything. If I'm on a bad ping, then yes, but so far, so good!
Here's a SS off Halo I took the other night. They look pretty good...yes?
This thing gets warm. The lower right and left hand corners get pretty warm. Not an uncomfortable warm, but it's noticeable. The bottom gets pretty warm as well, but that's expected. I noticed something odd the other day tho. I was charging my battery (Weird, huh???), and I didn't have any windows open. In fact, I was laying in bed watching a movie on my Tv. Well, I heard the fan kick in, and just outta curiosity, I checked the temp settings on my graphics card, and it was in the mid 90's C! I don't know what that is in F but I know that's not normal. Not for haveing all the windows closed, charging, and my screen saver was even on. Due to the heat, I recently bought a cooler of
http://www.newegg.com
for $24.98 (Shipping included). When I'm browsing the net and chatting my temp is about 72 C, but since I've added that cooler, I'm running usually about 68 C. I had a targus laptop cooler, but that thing honestly sucked. And with the one off NewEgg, it has a Y-port USB, meaning it plugs into your USB, but there is also another USB inlet, so it doesn't take up a USB port. I also plan on contacting Alienware to ask ?'s regarding my 90 C charging heat. Does anyone know how I can check the temp of the actual laptop? I think it's only showing the Graphics card temp. Thanks
The case on this laptop is smoother than that of my car! It's smoother than a marble countertop - no joke. It's like a warm velvet...I love it. It's the Saucer Silver color, and with the black grips, it's so0o0o good looking. Had they offered the Conspiracy Blue, I would've went with that, but my second choice - Saucer Silver! I'd put money on the fact that it could handle a couple falls or drops onto carpet - but there is no way in hell I would be a sucker for testing that
!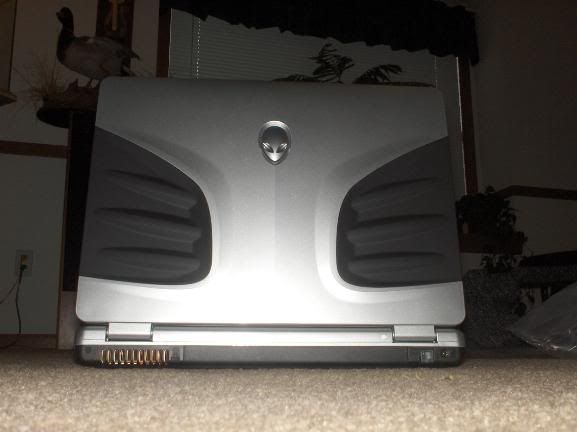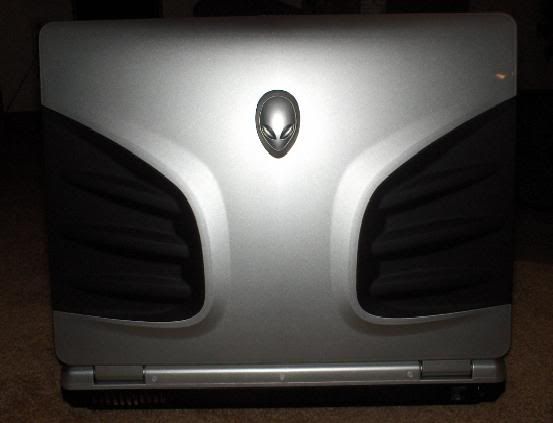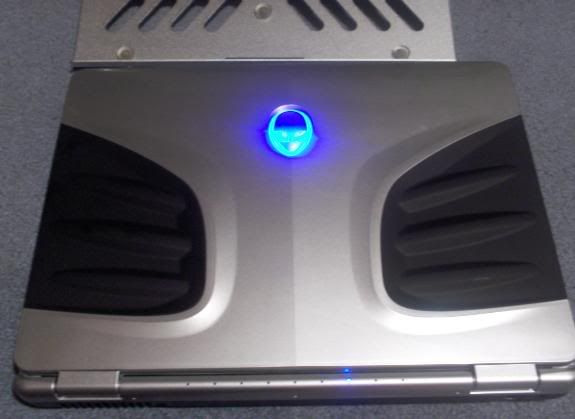 The absolutely most defining thing about the laptop. The minute you start up, they're glowing blue. And the Alien head is a bit bigger than what I originally assumed. I like the fact that there is no ALIENWARE logo on the back. I didn't at first, but with just the head there, it's basically saying that looks can kill
, and no words needed! I haven't brough this laptop into public yet, but I know when I do, all the other laptops will fold themselves down and then back up, as if in a "bowing" motion to my almighty Alienware (atleast that's my hopes - lol)!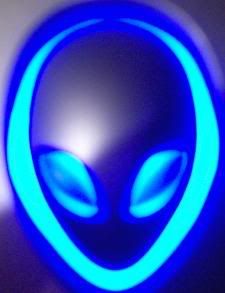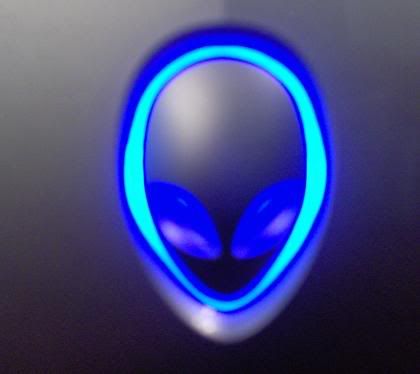 Like I said earlier, I bought the BYTECC Notebook Cooling Pad ( Aluminum ) Powered by USB port off
http://www.newegg.com
The link to the cooler is
http://http://www.newegg.com/Product...82E16834999336
I also went to WalMart and bought a Targus laptop backpack. It hold the laptop perfectly, and it supports it very well.
And lastly, off eBay, I won a Creative wireless optical mouse. I love it. Extremely fast and suits me AND my laptop perfectly!!!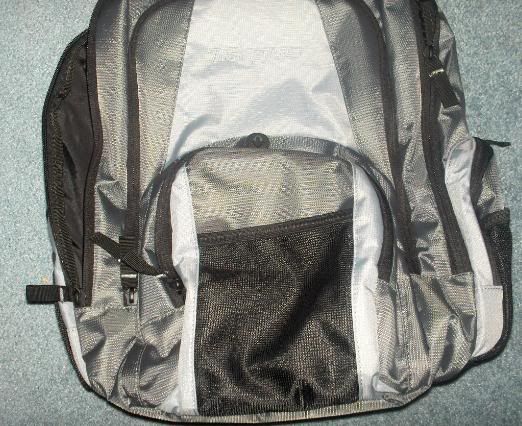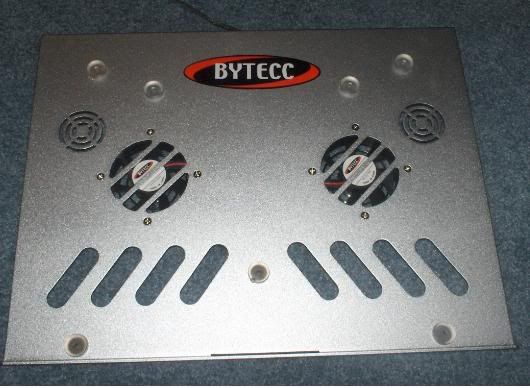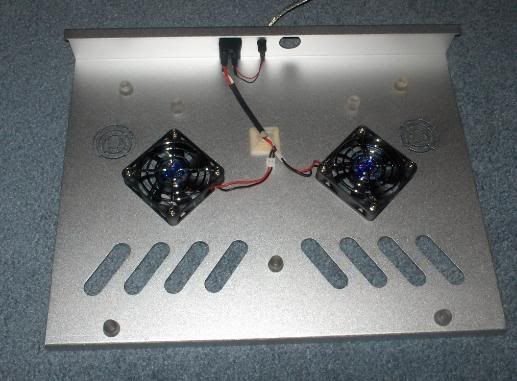 I am very pleased with my purchase of the M5550 over the Sentia 3450. I don't feel that I've overpaid for anything (Although upgraded warrantys are a little costly). This laptop meets and excedes every expectation that I orginally had. The only two negatives I had were the heat and the battery issues. I hope I can get something cleared up about those with Alienware.
Thanks for reading my review. Hopefully it sent out a bit of knowledge about the M5550.
Random pictures...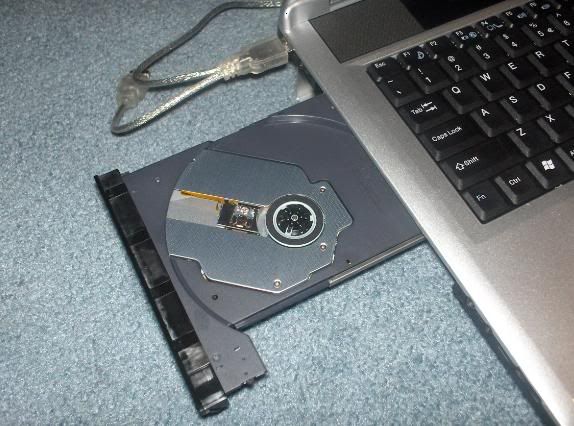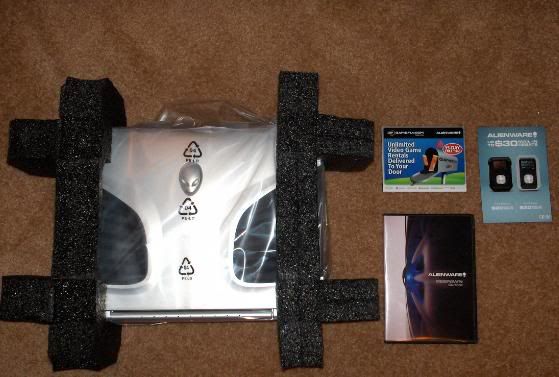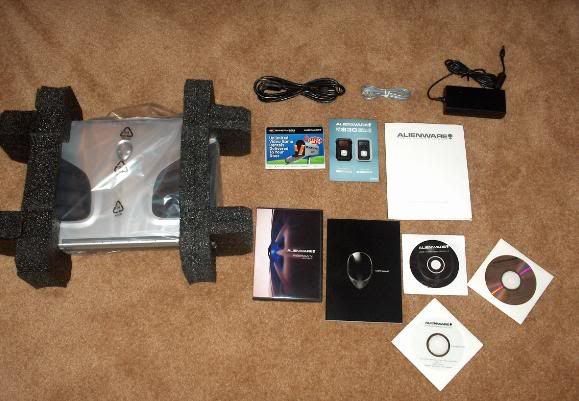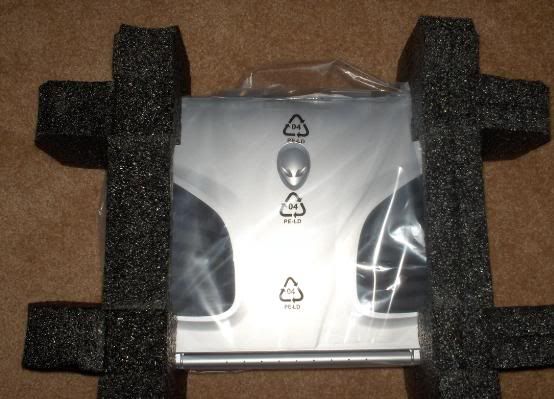 Thanks again for viewing!