ME and WHY!
My name is Gianni, Im 21 years old and im on an internship year as part of my degree course from the UK. Im working and living in NJ with my farther and needed a computer for both pleasure and work and so decided to start looking. My main objectives were to get a portable computer for personal and work use, so decided on a laptop. I then decided that as i was a keen gamer I wanted a computer that could handle such tasks otherwise the machine would be a bit redundant. That was when i looked to alienware
I have always been a keen admire of Alienware ever since i saw one at a Lan event called I-series in the uk (which is the largest lan event in the UK). It was beautiful but being only 15, 2000 BP (about $3500) was well to much for me and my parents to justify spending so it would remain a dream and till the time came. 6 Years on and im working and have good money coming in so decided to spalsh out on the machine i always wanted.
To the nittygritty
My Specs
Processor:
Intel® Core™ Duo Processor T2500 2.0GHz 2MB Cache 667MHz FSB
Operating System:
Genuine Microsoft® Windows® XP Media Center Edition 2005 with Service Pack 2
Display:
Alienware® m5550 15.4" WideXGA 1280 x 768 LCD
Motherboard:
Alienware® Intel® 945PM + ICH7 Chipset
Memory:
1GB Dual Channel DDR2 SO-DIMM at 667MHz - 2 x 512MB
Hard Drive:
80GB Serial ATA 1.5Gb/s 5,400 RPM w/ NCQ & 8MB Cache
Primary CD ROM/DVD ROM:
8X Dual Layer DVD+/-RW / 24X CD-RW Combo w/Software
Video/Graphics Card:
256MB NVidia® GeForce™ Go 7600
Sound Card:
Intel® 7.1 High-Definition Audio
Wireless Network Card
: Internal Intel® PRO Wireless 3945 a/b/g Mini-Card
Communications:
Integrated 10/1000Mb Gigabit Ethernet & 56K V.92 Modem
SubTotal: $1,789.00
Shipping: $39.00
Discount: $200.00
Tax: $0.00
Order Total: $1,628.00
Phase 1: 8/12
Phase 3: 8/14
Phase 5: 8/15
Phase 8: 8/16
Phase 9: 8/16
Phase 10: 8/17 Recieved: 8/22/06 10 DAYS FROM ORDER (I think thats brilliant)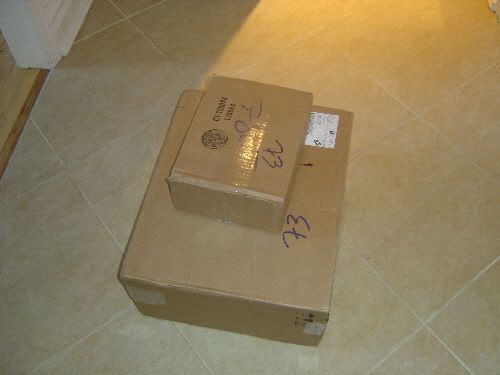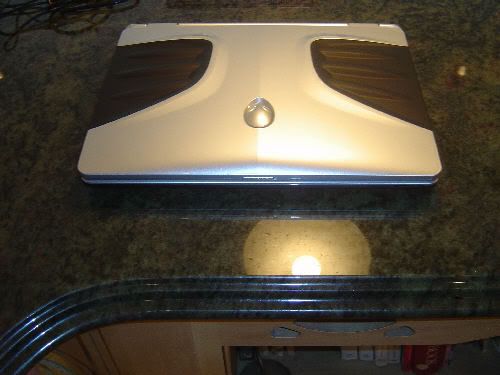 Screen:
This screen is gorgeous i love it and its perfect for me. Size, Look, Quality the whole package its brillant. Gaming, surfing, working it makes all these things just that little bit better as it makes everything look that little bit better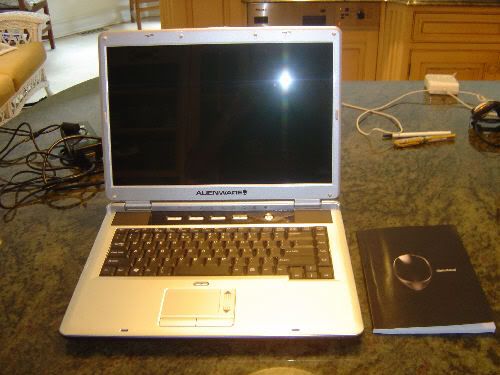 KeyBoard
Nice, basic to be honest its a keyboard if you class the Touch pad as part of the keyboard then the on/off switch is great and so is the scorll part. So im happy here.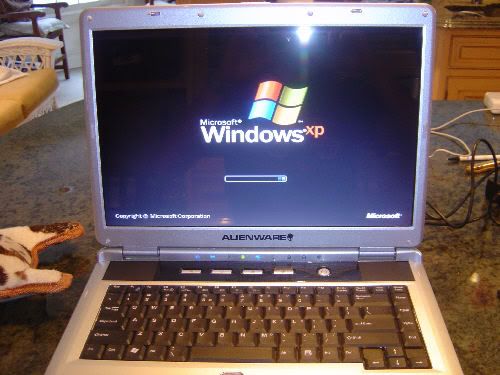 Speakers
The poorest part of the laptop not to my standard as i want better sound quality but in anticipation to that i had already ordered some logictech 2.1 speakers so its not the end of the world. Other than that there perfect.
Graphics
Now is this baby good or is it good, im over the moon with its performance as to be honest i was not expecting it to run as well and i still do not have my 2gb ram in yet, which is on its way. I mainly Play Star Wars Galaxies and CS:S, galaxies runs a dream in high settings and makes the game that much better. it shows a constant high FPS (which is 30 on the game) at all times and only drops if there is server lag.
On CS:S i get an FPS between 60-80 depending on server on high settings, which im more than happy with.
Here is the info provided by Alienware:
Doom 3
Doom 3: 128.1 fps
3DMark 2005
Game Tests
3DMark Score: 3,465.00 3DMarks
GT1 - Return To Proxycon: 14.91 FPS
GT2 - Firefly Forest: 10.69 FPS
GT3 - Canyon Flight: 16.70 FPS
CPU Tests
CPU Score: 5,450.00 CPUMarks
CPU Test 1: 2.84 FPS
CPU Test 2: 4.64 FPS
Heat
This machine gets very warm and as i had heard about this i bought a cooler before hand i went for the BYTECC Notebook Cooling Pad ( Aluminum ) Powered by USB port same as SnoOkiez. it does the job well and makes the machine alot cooler. Just so you know i found before i use my cooler my M5550 runs at about 49C with the cooler it runs 37C (that is idle by the way). So a huge difference and a noticable one also.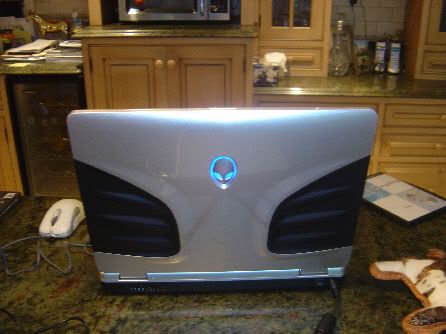 Conclusion
In Conclusion im very happy with this buy its everything i wanted and i feel the price was very good also. If your looking for a portable machine with a good amount of power then the M5550 is for you.
P.S I will be updating the review as time goes on, Any questions ask away!
Thank You
Here is the way my Set-UP looks with all my Accessories