Whenever I make a BIG decision such as buying a new computer, I ask people what they think. It helps me put things into perspective. I don't always go with said advice but, I don't know everything so it's good to ask the best and brightest in these forums for their opinions. Now with that said I'm going to stray away from Alienware for this NEXT computer and heres why.
Before I jump into my thoughts on this I want to be clear on a few things first. I do
not
in any way shape or form, want to turn this into a flame/bashing thread against the company
I love and will always love
. Lets face it, Alienware has been making great gaming computers for a long time now with a style and personality all their own! If someone has any doubts on this I suggest you take a look at their time-line on their web-site!
http://www.alienware.com/innovations..._timeline.aspx
They rock!! They, as I see it, were the
first
and have opened the respective door for these other guys who'll I'll mention later. I didn't feel they (AW) distinguished themselves from the (great) Predator case very well though. A nice case on it's own but, P2 didn't really fall too short of more of a 1 to 1.5 as far as creative originality. I don't see this as a really new case. P2 is what it says it is though,
P
redator
2
. I like how the improvements were made over the Predator. But sadly, in the outcome, P2 lost most of it's "coolness" in it's transition out of the old Predator. I have been on again off again with this new case since it's arrival. I was disappointed about one fact from the beginning. The size of the case, in my opinion, is not a good choice for a Gamer/moder/enthusiast. I just feel the lack of bays in the top is a poor choice for the future and me. With what I'll undoubtedly pay for a new box, I want to be happy all the way with it. I wanted to see more inovation too, such as a removable mother board tray and some kind of window. Also, to be fair, I've never had my hands on this new P2 case so this is all opinion and without any concrete user awareness. I don't really need to of had it to know I'd be unhappy with the lack of bays, smaller size, and rather "kiddie" (with the exception of black), new look. I'm not bashing, I wouldn't. I've remained mostly positive in other threads. It's just that, now that I'm ready to start looking for my NEXT computer, my feelings are coming out. I feel like I'll skip this round of Alienware in the end and I'm sure that I'll look to them again in the future.
So, having said all that above, where will I end up? Who am I going with?? I still don't have a clue yet. I have a few Ideas but nothing close to closure. I was looking at this bad boy today. What do you all think of Velocity Mirco??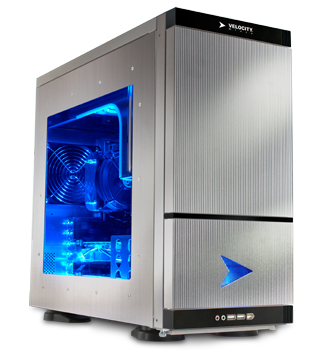 Either way, I'll be waiting till after Vista and DirectX 10 cards are out before I push any confirm buttons. I'm gearing up now for info though!! Thanks in advance to the best and brightest for any and all advice!!!