SILENTCHILD87'S MASSIVE AURORA M9700 REVIEW
First off, here's a shout-out to streetz, kazkek, and hammerhead. They've been very helpful these past few days. Thanks, guys. (However, I think hammerhead may be an undercover Alienware rep.
)
INTRODUCTION
Without getting too much into detail, I'm an 18-year-old guy, still living at home finishing my education. For the past few years, I've been totally focused on school – no job. My parents have paid for pretty much everything I own, including this computer. Just so the failure-to-launch crowd doesn't get too upset: I'll be working by March of '07.
I joined this forum after I ordered my notebook – been calling myself a n00b. I had a lot of questions about how the CPU, GPU, RAM, etc. affected performance. Even though I'm considered the "techy" of my family, I've learned much in a few short days. This is my first time posting pictures – hope it works!
I hope this is not a typical notebook review. You won't find much info on benchmarks, BIOS settings, or overclocking here. I don't have any computer games (yet), so I can't show screenshots or talk about how many fps I get. I'm sure you've all seen the other reviews on this site, so there's no point in me posting more standard pictures of the black box, the satellite tracking sticker, or the glowing blue head
.
What I will do in this review:
1) Show you the difference between my old set-up and the m9700 set-up;
2) Answer the nagging questions I had about the system;
3) Show some pictures of hard-to-find details on the notebook and peripherals; and
4) Give general impressions.
My main reasons in getting a new laptop were heat management, reliability (I got my old one in 2003), the bigger screen, speed, and upgradeability. Mostly, it has to be a solid tool for school. Now, having played nothing but Xbox since that thing's release, I am excited to play games on my computer, also. (I'll probably get a game on the 22nd of October, so I'll update this review around that time.)
At this point, I've already copied important files over to the m9700 and installed the software I use. This review has been put together over the course of these past couple days.
With that, let's get to it!
COMPLETE SPECS (Total cost was just under $2,700.00)
Processor: AMD Turion™ 64 Mobile ML34 1.8GHz 800MHz FSB 1MB L2 Cache
Operating System (Office software not included): Microsoft® Windows® XP Professional with Service Pack 2
Display: 17" WideXGA+ 1440 x 900 LCD with Clearview Technology - Saucer Silver
Motherboard: Alienware® NVIDIA® Mobile SLi Chipset
Memory: 1GB Dual Channel DDR SO-DIMM at 400MHz - 2 x 512MB
Hard Drive: Extreme Performance (RAID 0) - 160GB (80GB x 2) Serial ATA 1.5Gb/s 5,400 RPM w/ NCQ & 8MB Cache
Optical Drive: 8X Dual Layer DVD+/-RW & 24X CD-RW Burner
Video/Graphics Card: 256MB NVidia® GeForce™ Go 7900 GS
Sound Card: High-Definition Audio with surround sound
Wireless Network Card: Internal 802.11b/g WiFi Card
Communications: Integrated 10/1000Mb Gigabit Ethernet & 56K V.92 Modem
Bluetooth: Integrated Bluetooth® Device
Primary Battery: Alienware® m9700 12-cell Lithium-Ion Smart Battery Pack
Power: Vehicle AC Adapter - Belkin® AC Anywhere 300W Vehicle Outlet Adapter
Exclusive Back to School Deals!: USB 2GB Thumbdrive, Alienware Backpack, Sennheiser PC150 Headset
Warranty: 3-Year AlienCare Toll-Free 24/7 Phone Support w/ Onsite Service / AlienAutopsy / Respawn
Free Alienware Shirt: Free Alienware® T-Shirt - Black
Desktop Enhancements: Exclusive AlienGUIse Theme Manager
As you can see, I didn't max out much on this. This review shows how a "lower-end" m9700 operates.
ONE BENCHMARK
I found this info on the PC Information link that was on my computer. Doom 3: 85.1 fps. Compared to the standard 30 to 60 fps that's standard on the Xbox, this thing must be very fast!
THE WHOLE PACKAGE
Here's a picture of EVERYTHING that came along with the m9700.
OLD V. NEW
Computers
The specs on my old computer: VPR Matrix; Intel Pentium 4-M 2.2GHz; XP Home; 15.2" Widescreen (1280 x 854); 40GB Hard Drive; 512MB DDR Memory; DVD/CD-RW Combo Drive; 32MB nVidia GeForce4 420 Go Graphics; 2 USB Ports (in the back); 2 FireWire ports (left side). Having USB ports on the sides is really nice.
Power Bricks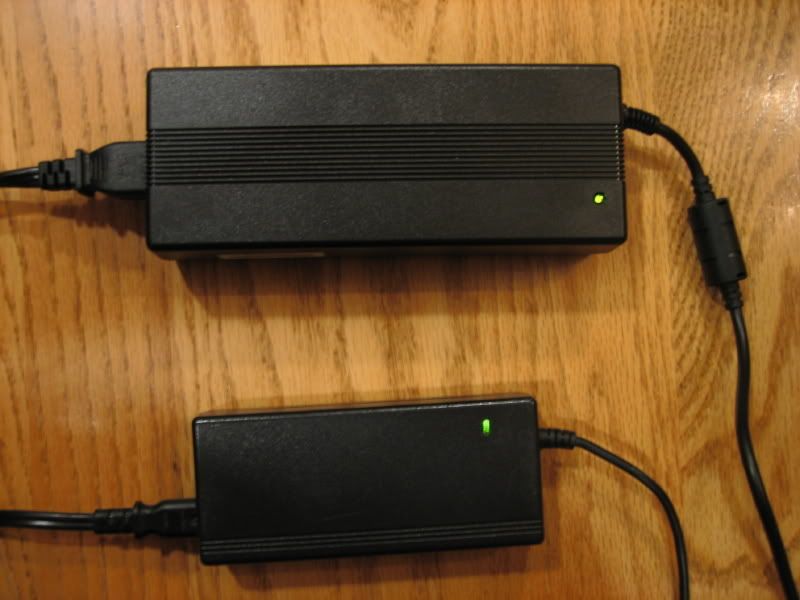 The Power Brick does indeed get hot – not burning hot, but you wouldn't want to put it on your lap.
Battery
Because my VPR Matrix got so hot, the li-ion battery is pretty much shot. The Alienware bat is a solid 2:30 with the screen dimmed. (Check my specs. I'm sure not having SLI has something to do with this.)
Backpacks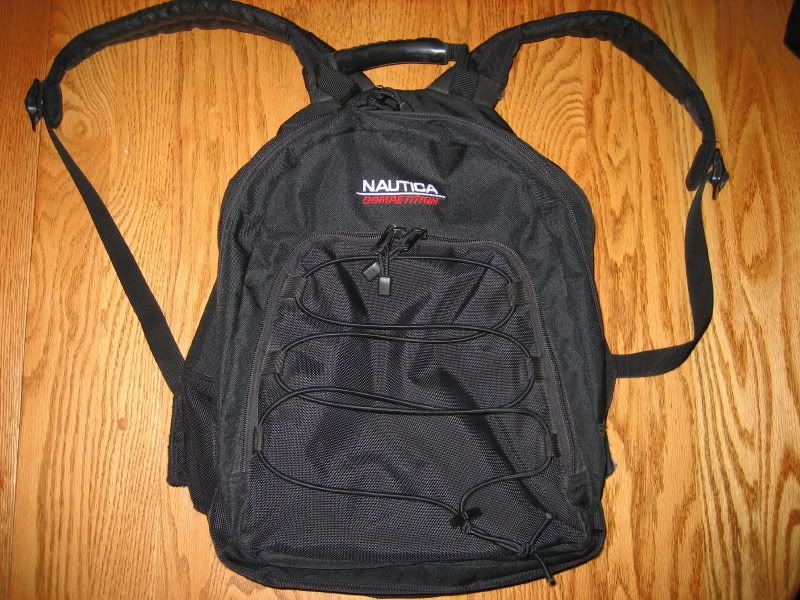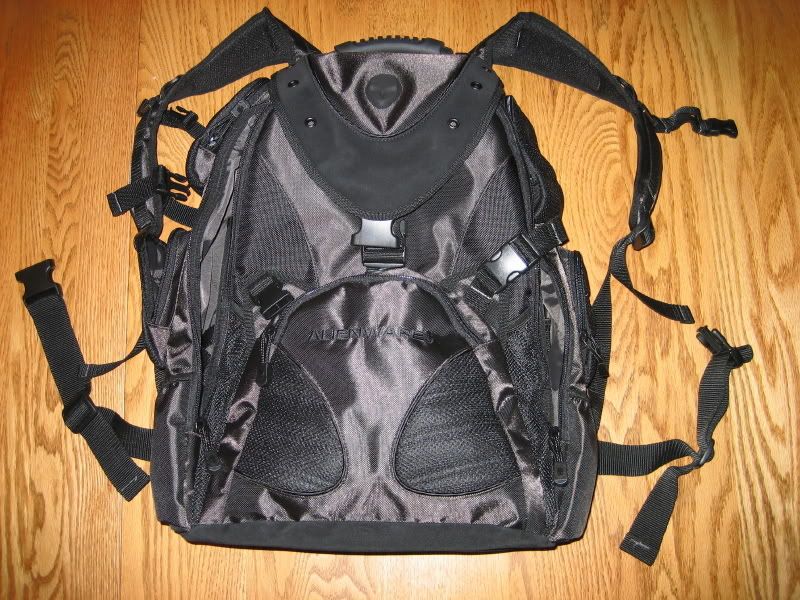 The new backpack is awesome. The side pouches are big enough for my cell phone or digital camera, but not big enough for my Creative Nomad Jukebox mp3 player (with case). It is very comfortable over one shoulder. It is a bit of a chore moving the computer in or out of this thing. It is just something to get used to. Lots of room is here for the power brick, my AC adapter, and ON TOP OF THOSE, a few big books. I've got more on the backpack infra.
Flash Drives ("64M-B" to 2GB… now THAT'S an upgrade!)
There's nothing to report here. This is a standard flash drive and it works.
THE NAGGING QUESTIONS
1) How fast does it boot up?
This thing boots up very quickly. With Norton AntiVirus and Windows Messenger on auto-start, it takes somewhere between 30 and 45 seconds to go from power-button-press to ready-to-use – Quite a leap from the 5-minute start-up time of my VPR Matrix.
2) How does WMP handle DVDs?
This thing is very fast. WMP handles music very well. I've used the CineLink PowerDVD that came pre-installed. The quick-start button (more on this later) loads PowerDVD very quickly and the controls are very quick (rewind, pause to play, menu jumping, full-screen to window, etc.).
3) Can I play DVDs without booting into windows?
No. All the DVD and music programs require Windows. With how fast the thing boots, though, this is not an issue for me.
4) How good are the stock speakers?
I was very impressed. You may have heard that the subwoofer makes a vibrating sound because it is under the keypad. This IS true, but I don't mind it much. I maxed the volume and played a loud rock song demo off the internet… it was cover-your-ears loud! And the sound was so clear compared to my old machine, it was beautiful.
5) How's the screen? Any "dead pixels?"
So…I put up an all-white background. Check it out.
I love the screen. It seems like it could be just a bit brighter on the highest setting, but it is plenty bright. No dead pixels.
6) Does moving from 2.2Ghz Intel to 1.8Ghz AMD mean a slower machine?
No. This thing is very fast for me. I experienced a little hick-up when I tried watching a movie in PowerDVD and downloading pics from my camera at the same time. The trouble came not when I was downloading the pics, but when I closed the camera app… the DVD stalled for a second or two. Internet, email, movies, music, opening and closing programs – all work great. I find this a little amusing: the Windows Task Manager shows the CPU operating at %100 a lot when doing multitasking, but there still isn't slowdown. I presume this is because of the 1 gig of memory.
7) Just how LOUD does it get?
Compared to my old machine, this thing is whisper-quiet. Even with the fans going full and the CD Drive revving, it is not loud at all. Under normal use (watching a movie, surfing the internet, or using Word), you can't even tell it is on – that's how quiet it is.
8) How HOT does it get?
To put it simply, it doesn't. On for hours and the whole top surface is room temperature. All the heat gets blown out the back. As I write this part of the review, I've got it on my lap – it's totally bearable. No problems. I had it on the table for a while and the bottom was a bit hot. I'll be looking for a cooling stand to prolong the life of the battery, but using this thing in a car isn't a heat problem.
9) And the unanswerables: How long will it last? How does it handle games?
All I can say on this is check other reviews or check back here in a few weeks.
THE HARD-TO-FIND DETAILS…
…on the notebook
I know this picture isn't very good. Sorry
.
The quick-start buttons: These are great. The internet and email buttons are programmed to the default browsers, so mine automatically open Firefox and Thunderbird. Music opens WMP. DVD opens PowerDVD. TV opens Documents and Settings. These are touch-sensitive – no clicking buttons. They are very fast, responsive, and cool. Since I use internet, email, and dvd very much, I love this feature. I would have liked one to link to Word. Maybe I can set the TV button to do that. The Play/Pause, Stop, and Skip back/ahead are all good. The Skip buttons won't fast-forward if you hold them down – they're "skip chapter" only.
AlienGUIse: The Darkstar theme gives black on black for the status bars on Firefox and Thunderbird. What a shame, especially since Darkstar is still my favorite.
The CD Drive: Very solid. It isn't flimsy like every other notebook CD drive I've used. I think it is a step down from my slot-loader, but for what it is, it seems top-of-the-line. It is also very fast and quiet.
…on the backpack
This thing is too hard to describe. Sorry. In short, I like it, but it only has one big compartment. What it lacks in depth… it makes up for with height and width. There is an open pouch for a bit of extra room (That's what I show in the pic).
ISSUES AND PROBLEMS
I'm sure these are just because I am getting used to the set-up and it is very different than what I've had in the past, but here they are.
I started my computer at about 50% battery and it turned on without booting into windows. I got a black screen. A DVD was in the drive at the time. I eventually just took the battery out. It shut down, I put the battery back in, and it started with the typical "there was a problem last time…" screen. It started up fine. This may have been due to an issue with a Windows Automatic Update (I wasn't paying attention to that).
This is a big computer. I feel like I have to be very careful with it, just because of how big it is. This makes it kind of annoying to use in the car.
Getting it in and out of the backpack is a chore. I decided to put the cover of the notebook area inside the sleeve and just slide the notebook in and out without putting the cover on. This totally works and it reduces the difficulty in putting it in the backpack. Nevertheless, it is still a while to take out and put in. If you close everything up, you're looking at the zipper and three buckles. I am sure this will become less and less of an issue as I get used to it. I might practice it a few times.
Another word on the backpack: this is intended as a notebook case. There are no pen holders. There are some mesh compartments on the insides, but not that much. There is enough room for everything, but you will probably have to dig if you access your backpack gear much. This is a downer for me, since I like to carry a lot of stuff in my backpack. The side pouches really help with this problem, however. They can hold the little things.
One DVD of 24 Season 3 would not play without subtitles. I turned them off several times, but it still played with subtitles. I switched the subtitles to Spanish, and they played in Spanish. I just couldn't turn them off. I put a different 24 Season 3 DVD in, and there were no subtitles. I put the subtitle DVD back in, and there were subtitles. My guess is this is a defect in the DVD. Not the computer's fault. I really don't care enough to try WMP… it is just the one disc (and I finished it).
GENERAL IMPRESSIONS
Computer: Fast, awesome-looking, quiet, and has a nice big screen. Has superlative heat management. Very high-quality build. Awesome quick-launch buttons. This is fantastic for my use, but look for a smaller screen if you plan on moving it in and out of its case several times each day.
Peripherals: The Sennheiser mic/headphone piece seems pretty standard to me. Nothing special, but the sound is good. They look kind of funny because the overhead bar sticks out, away from your head. The flash drive works. W00t.
Extras: The t-shirt has "Alienware the ultimate gaming machine www. Alienware.com" on the back, so I probably won't wear it. Just the head on the front would have been better. I haven't tested the Belkin AC Adapter yet, but it is light and the two outlets are far apart.(9/17 UPDATE: I used the AC Adapter and it works great.) Also, there are no sharp edges like most others I've seen – this is all smooth. I love the backpack. There was also a slow-internet cable, a fast-internet cable, and an S-Video converter cable (I'm not sure what it does).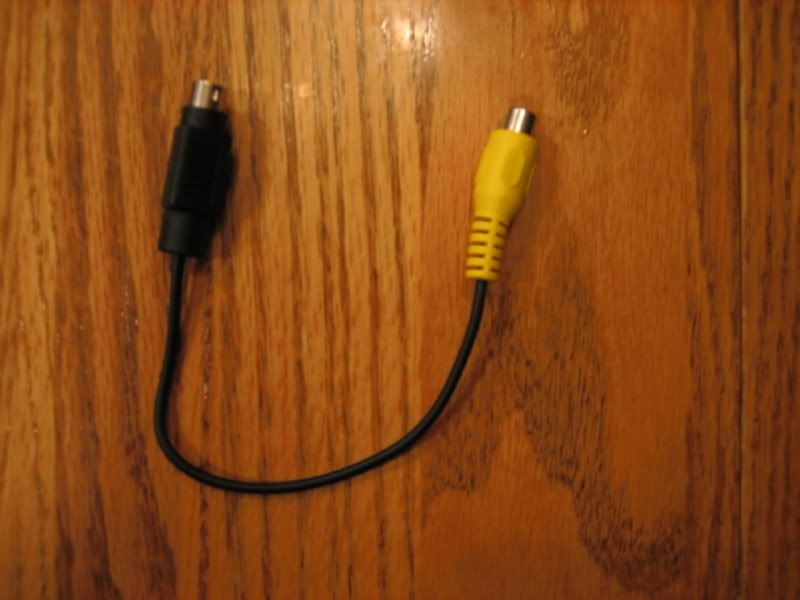 The flash drive comes with a USB Extension cable. There are like five CDs total. I'm not sure what they all do, but included are these: 1) two respawn CDs; 2) m9700a – R1 Series Support CD Revision 1.0; 3) Installation CD for Nero, InCD 4, EasyWrite, Reader Content + Templates; 4) XP Pro System Recovery CD. There was also a plastic card (credit card size) with no useful information except my name and some Alienware numbers – will not work as an ID.
Phases and Shipping: Great system for keeping customers on the hook. My only complaint here is, as you can see in my sig, there was a lot of skipping and stalling. I never even saw phases 2, 4, 6, 7, or 8… and I checked! FedEx kept the tracking up-to-date and the packages arrived on the initially estimated date. Good job, FedEx!
CONCLUSION
Well, that's it – my review of the Alienware Aurora m9700. I love this computer! If anyone tells you they have a low-end m9700, tell them they're being oxymoronic.
If I get a game, I will update.
Please give feedback, ask questions, and get this thread stickied!
Here's hoping that little alien head keeps on glowing for many years to come.