Specs Recap


Area-51® m5790
Processor: Intel® Core™ 2 Duo Processor T5600 1.83GHz 2MB Cache 667MHz FSB
Operating System
(Office software not included): Genuine Windows® Vista Ultimate - With USB Mini Media Center Remote Control and Single TV Tuner
Display: 17" WideUXGA+ 1920 x 1200 LCD - Saucer Silver
Motherboard:
Alienware
® Intel® 945PM + ICH7 Chipset
Memory
: 1GB Dual Channel DDR2 SO-DIMM at 667MHz - 2 x 512MB
System Drive: Single Drive Configuration - 100GB Serial ATA 1.5Gb/s 7,200 RPM w/ NCQ & 8MB Cache
Primary CD ROM/DVD ROM: 8X Dual Layer DVD+/-RW / 24X CD-RW Combo w/ Software
Video/Graphics Card: 256MB ATI Mobility™ Radeon® X1900


Build Quality
This notebook exudes quality. This is evident from the first time you pick the notebook up. The unit weighs in at 8 lbs but does not feel "heavy" at all. What it does feel, however, is very solid. You can tell that this notebook was designed with quality in mind. The next thing you notice is how firm the display mounts feel. You will have to be careful opening this notbeook up or you will literally lift the unit off of the ground when you try to open the lid. This certainl presents itself as a solid, sturdy unit.
The optical drive opens and closes smoothly, and makes very little noise when in use. The fans are really no louder than any other notebook out there, and actually quite quiet, even during gaming sessions. As a comparison, my work notebook is an hp nc6220 and even when sitting idel the fan(s) on it run louder than this notebook ever reaches, even at peak volume, which is amazing considering the performance hardware housed inside of it. You also have the ability to engage "silent mode" via a hotkey on the notebook which reduces power consumption and therefore reduces the fan's RPMs. I have engaged this a couple of times just to test the functionality, but I have not had a need to use it.
The heat dissipation is engineered quite well, and even during extended gaming sessions the exhaust vent in the back of the unit does not feel more than slightly warm to the touch. The only place where heat becomes at all noticable is on the wrist area, which if you use proper typing technique shouldn't affect you at all, but since I know we're all far from perfect in that regard I'll leave it as a slight negative, but only slight as the heat is barely noticable. The underside of the notebook also exhibits very little heat. Overall this machine handles the heat extremely well.
The keyboard is very solid and has a great feel to it. This unit houses a "full" keyboard and numeric pad The only downside being that some buttons are smaller and/or arranged in unusual locations. Once you get used to this, however, it is not a problem at all. I've seen a question about the transparency of the keys, and while they are slightly transparent, they are not illuminated or backlit, so the transparancy does not help with seeing the keys at night. This would be a very interesting feature to include as an option in future models, but certainly not necessary. That being said, I haven't had any problems seeing the keys in the dark because of the amazingly bright display.
The touchpad, ports, and buttons all feel good with no noticable problems. For me the only thing keeping this unit from a 10/10 for build quality is that there is a strange noise and slight give in the surface when you press down on the area directly above the express card slot. I'm assuming this is just due to the empty bay beneath. While this is certainly not a big deal, it does annoy me to some extent, but not enough to deter from the overall enjoyment of the unit. Verdict- 9/10
Asthetics
This is a beautiful, beautiful notebook. I spent several minutes just admiring the shiny "saucer silver" paint and enchanting Alienware logo on the back of the display.
The size is just right for a 17" widescreen notebook. It looks big at first but once you actually use it, it feels just right. The keyboard is wonderful after using more traditional smaller notebook keyboards. This notebook is not only an amazingly powerful machine, it truly is a piece of art, easily the most gorgeous and awe-inspiring notebook I've had the pleasure of using. Verdict- 10/10
Port Placement
Not a whole lot to say here. No ports on the front, but what you do get is an IR receiver and a wireless on/off switch. The back of the notebook houses the modem connection (RG11 port), DVI port, and S-video port. It also has the heat ventilation grill for the fan. The Right side houses three USB 2.0 ports, a firewire port, ethernet/LAN port, 4-in-1 card reader, and express card slot. This is also the side that has the Kensington lock key hole. The left side has one more USB 2.0 port, mic/SPDIF-out (headphones), and audio-in jacks, a volume adjustment dial, the power jack, and the optical drive. The ports are placed conveniently to allow a multitude of uses. My only complaint, and this is really with a feature and not the placement, is that the 4-in-1 card reader does not read xd cards which is what my digital camera uses. Fortunately, with the abundance of USB 2.0 ports I can quickly and easily transfer images using my external USB card reader. Verdict- 9/10
Sound
I have to admit that out of all of the features in the notebook I was expecting the sound to be the most disappointing (righter after the battery life that is). To my surprise, the sound is amazingly good for a notebook computer. The addition of the subwoofer in the underside of the unit provides a wider range and more impact than most notebooks are capable of. The primary speakers are housed directly below the display on the base of the unit and actually produce very crisp and clear sounds. I'd still recommend headphones for serious gaming and/or multimedia use, but honestly I don't want to carry my Sennheisers around with me everywhere unless I'm going specifically for recreational purposes. Notebook sound doesn't get any better than this. Verdict- 10/10
Display
This display is gorgeous. Absolutely gorgeous. I've never laid eyes on such a crisp, clear, and beautiful display on a notebook, or any lcd for that matter. A little background: I spent quite a bit of time trying to determine whether or not to go with the wxga or the wuxga. My initial decision was to get the wxga and go with the lesser resolution, however, I called in and had the order changed to the wuxga display. This delayed the order by a couple of days but I can safely say that I am glad that I made the change.
Even with all default font and display settings, I have no problem seeing text and absolutely love the amount of realestate this display provides. Gaming and movies are both a joy on this display and I have to say that with the scalability of fonts that Vista now offers you cannot go wrong with this display. The only way I'd advise against the wuxga in favor of the wxga is if you have really bad eyesight.
Of course, this is a very subjective subject and I'd strongly encourage anyone trying to make this decision to try to find a dispaly model in a store and actually test drive both options.
One last item to note, the screen was indeed flawless, with no dead/stuck pixels at all (knock on wood). Verdict- 10/10
Battery Life
I'll have to udpate this later on as I haven't done much on battery power yet.
Performance/Benchmarks
3DMark 2005
Main Test Results

3DMark Score 6734 3DMarks
CPU Score 6762 CPUMarks

Game Tests

GT1 - Return To Proxycon 31.6 fps
GT2 - Firefly Forest 18.8 fps
GT3 - Canyon Flight 32.9 fps

CPU Tests
3DMark 2006
Customer Information:

3DMark Score: 3,752.00 3DMarks
SM2.0 Score: 1,360.00
HDR/SM3.0 Score: 1,633.00
CPU Score: 1,527.00
Game Score: 0.00 Points

SM2.0 Graphics Tests

GT1 - Return To Proxycon: 10.22 FPS
GT2 - Firefly Forest: 12.44 FPS

CPU Tests

CPU1 - Red Valley: 0.48 FPS
CPU2 - Red Valley: 0.77 FPS

HDR/SM3.0 Graphics Tests

HDR1 - Canyon Flight: 14.96 FPS
HDR2 - Deep Freeze: 17.70 FPS
I have played several games on this system, including: BF2, BF2142 Demo, Q3A, COD2, HL2/CS:S, and SWG. I've been able to play everything on high settings without any problems. I have had difficulty though getting fraps to work correctly in Vista so I'll have to update this section with some solid FPS information as I get more testing done.
I can say, though, that I've been extremely pleased with the performance of this notebook's hardware. I can also say that Vista is extremely flaky at this point and is very frustrating. I suspect improved drivers will provide a noticeable increase to the performance of this machine, but that's part of the trade-off of having a new OS. I've been able to work around most problems so far, but I may end up going back to XP Pro if some things don't improve soon. Verdict- 8/10 I suspect that this would go up to 9 or 10 if Vista was more stable at this point.
Other
Alienware did forget to ship my Avermdeia USB 2.0 tv tuner with the notebook, but after about 30 minutes on the phone with them they are shipping this out separate. I'll include some information on the tv capturing performance/quality once I receive the tuner.
I'll also be adding pictures and some additional information but wanted to go ahead and get the core review posted for you as I know several of you are eagerly awaiting info on the 5790's.
Overall
I am absolutely thrilled with this system. I will say that Vista is causing some issues, however, I'm confident that these will be cleared up with patches/driver upgrades in the near future. Also, part of this is the learning curve of running a new OS. As I familiarize myself with Vista and learn to tweak it better I suspect performance can also be improved there.
I will strongly recommend that you get 2GB of memory for Vista. I know I'll be ordering some next week to replace the stock 1GB. I'll also be getting a high speed read/write USB flash drive to experiment with Vista's ReadyBoost feature. I'm curious to see some benchmark comparisons between 1GB and 2GB of system memory and then 2GB w/ ReadyBoost enabled and the optimum amount of flash memory dedicated to Vista.
This notebook is a dream to use and everything about it is great. If you want a good multipurpose gaming machine, you can't go wrong with the Area-51 m5790.
Overal Verdict- 9/10




Pictures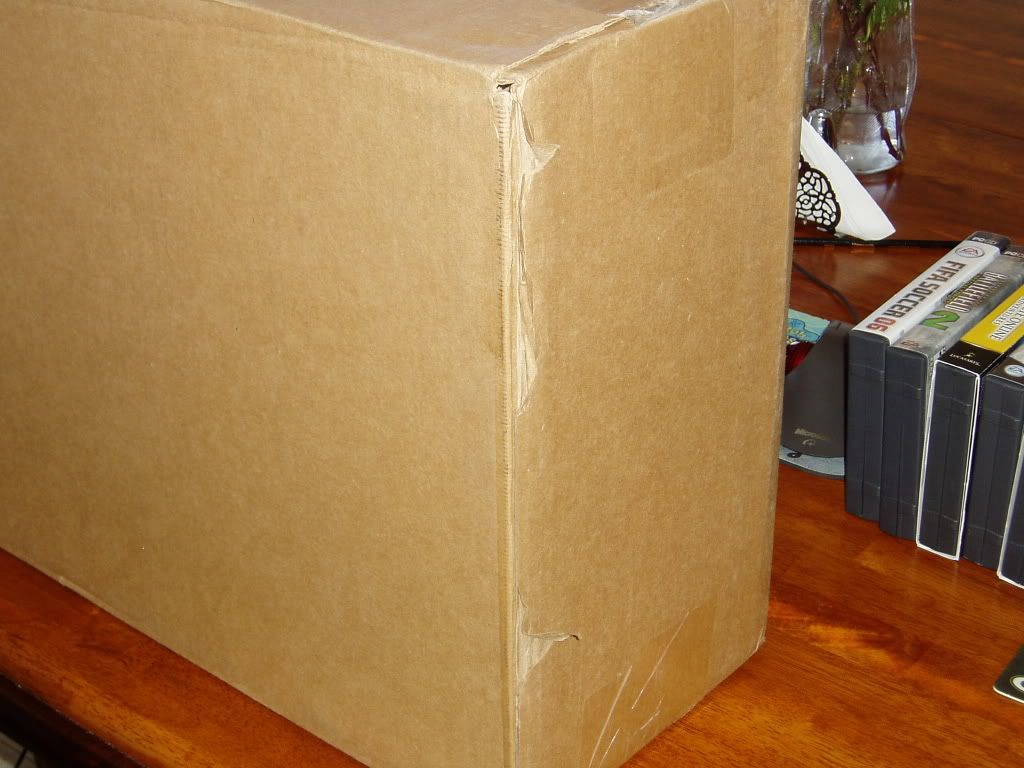 I was a little bit concerned when I picked the package up due to the damage on the outer box, but I wasn't very worried as I knew that Alienware was well known for packaging the inside quite effectively.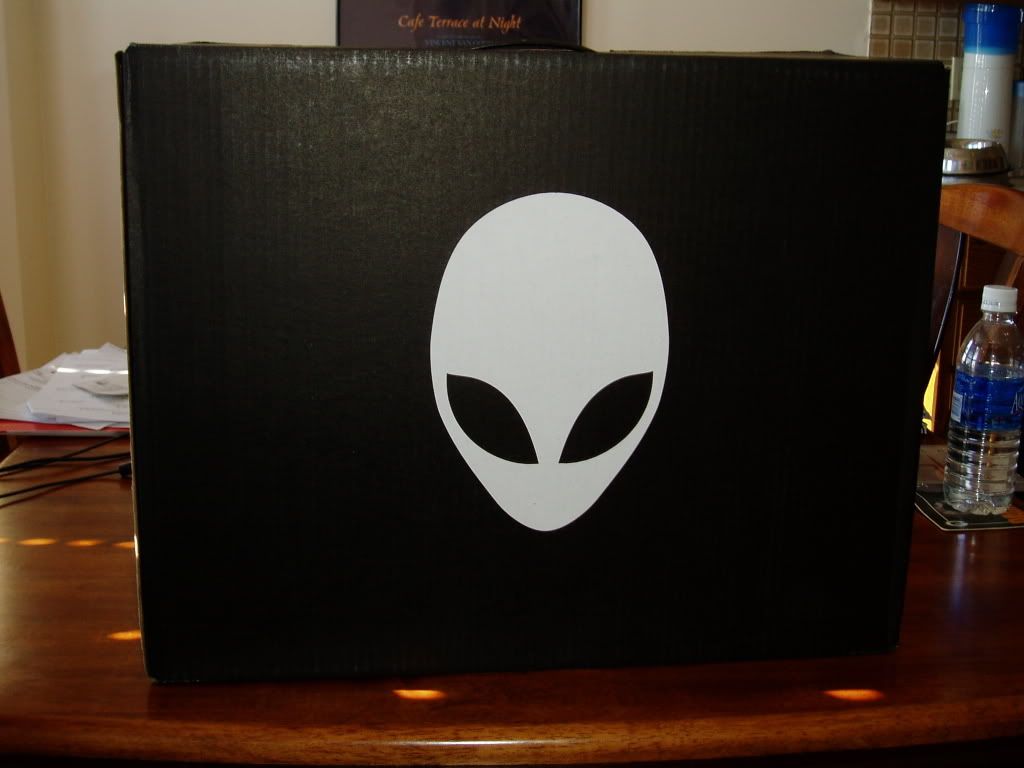 And here's the infamous "Black Box" if you will.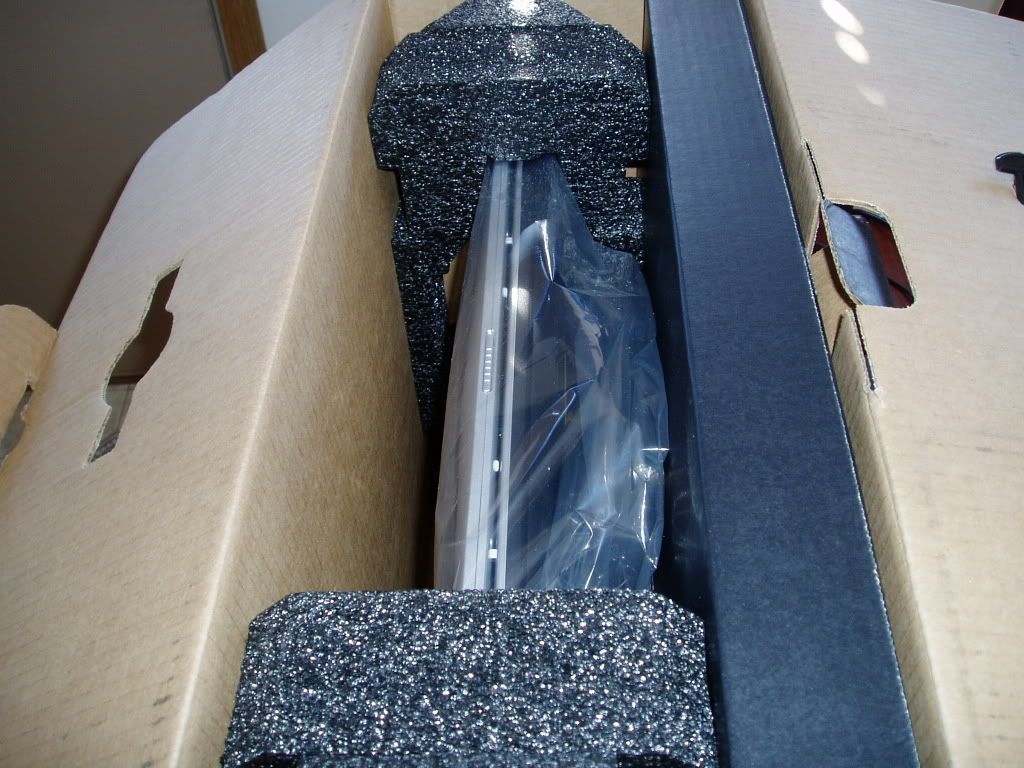 Here's the inside. As you can see the inner packaging is amazing and the box probably could have been dropped and still seen the laptop survive.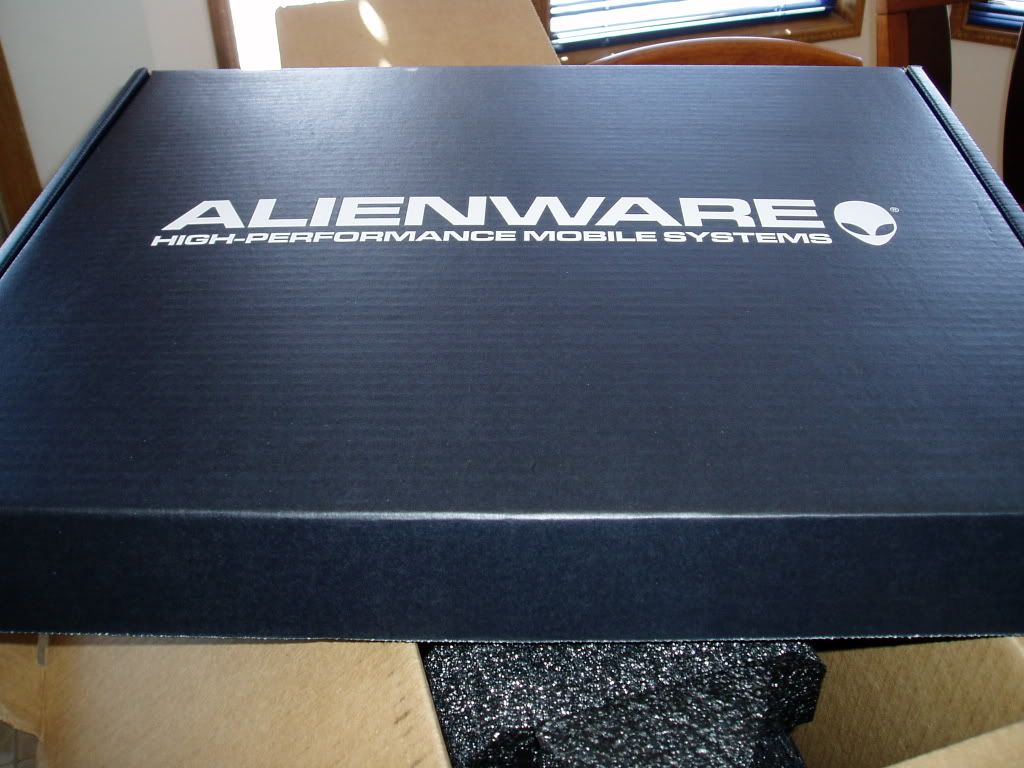 Here's the accesories box. Another menacing black box with the infamous logo plastered on it.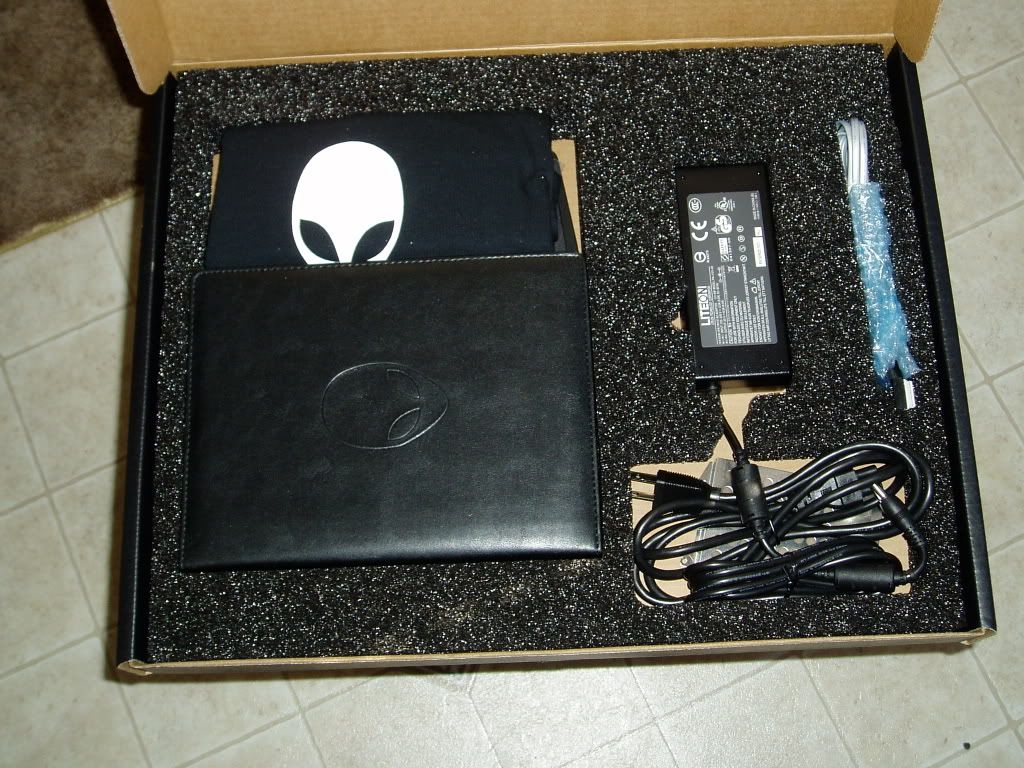 Here we have the contents of the accessories box. Again, they certainly did not skimp on the packaging materials. I think the exuberant cost of shipping probably includes the amazing packaging that they use to insure a safe delivery of your items.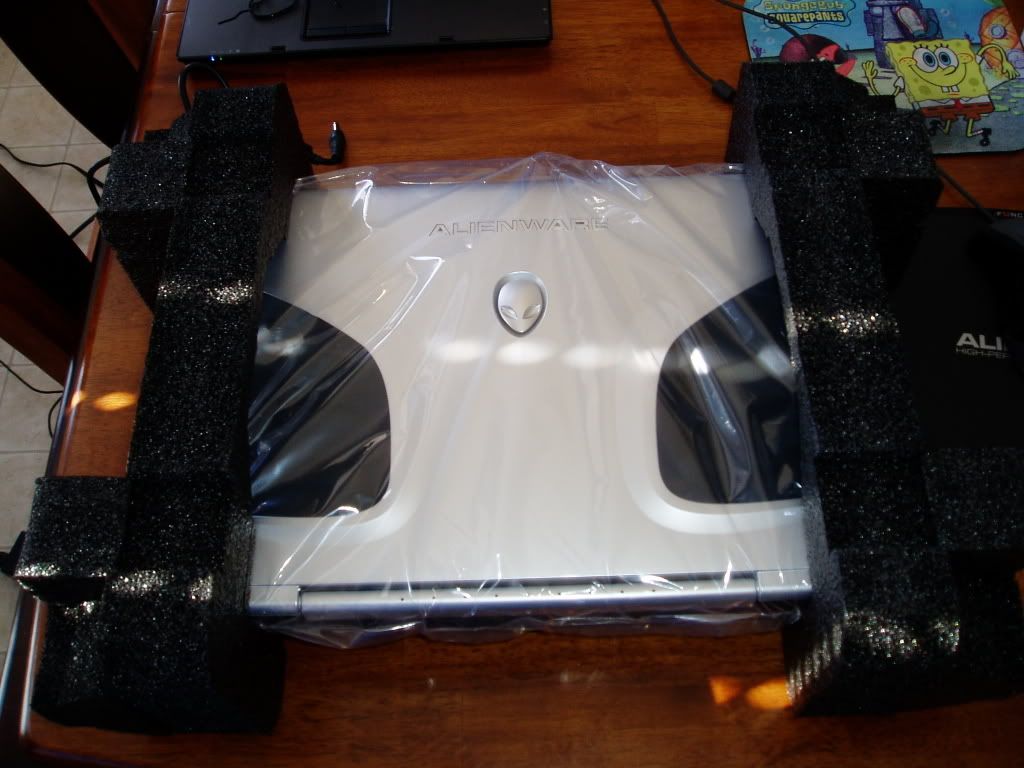 At last, the precious machine unboxed and waiting to be unleashed.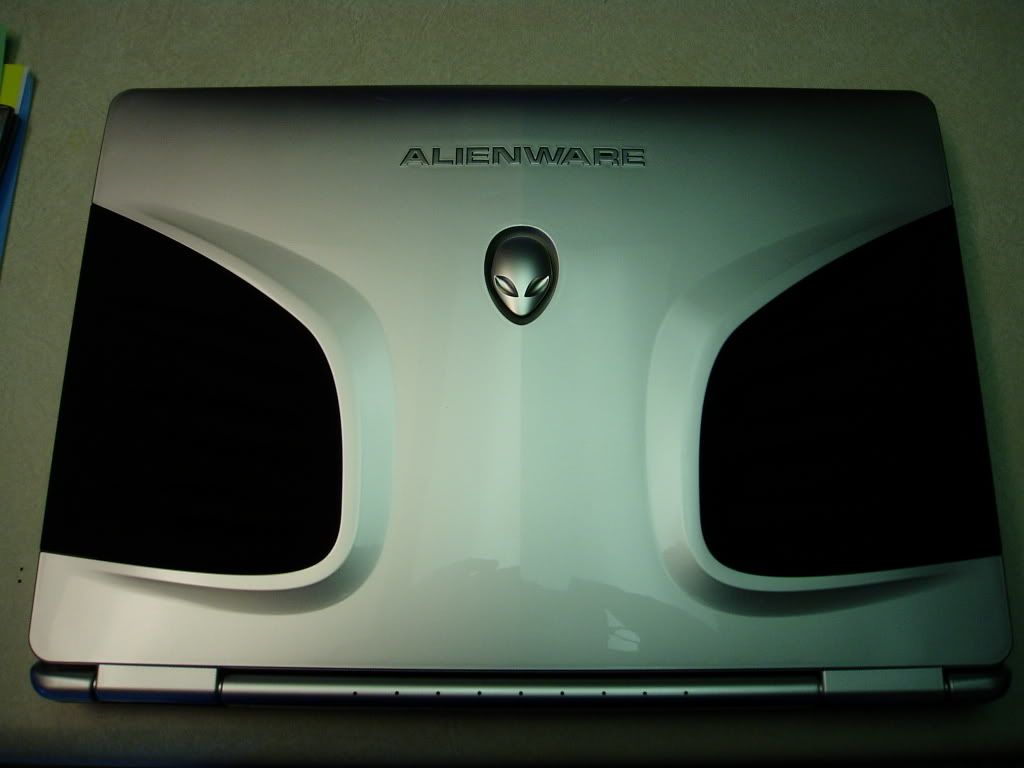 Out of the packaging.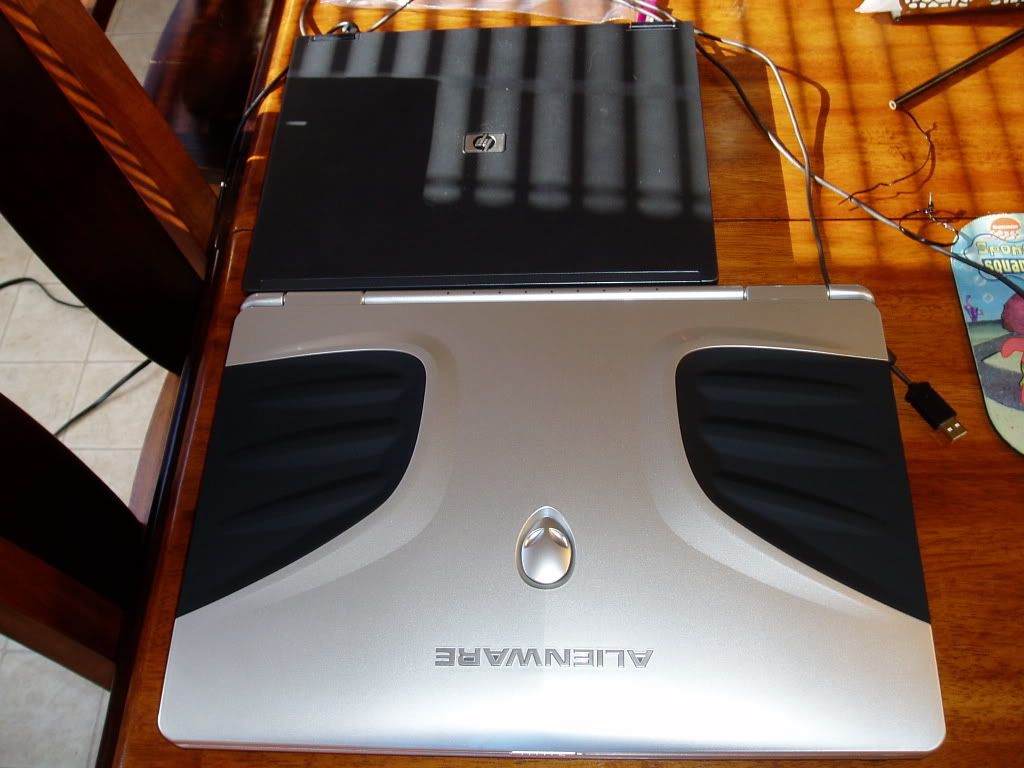 Comparison next to my work HP nc6220.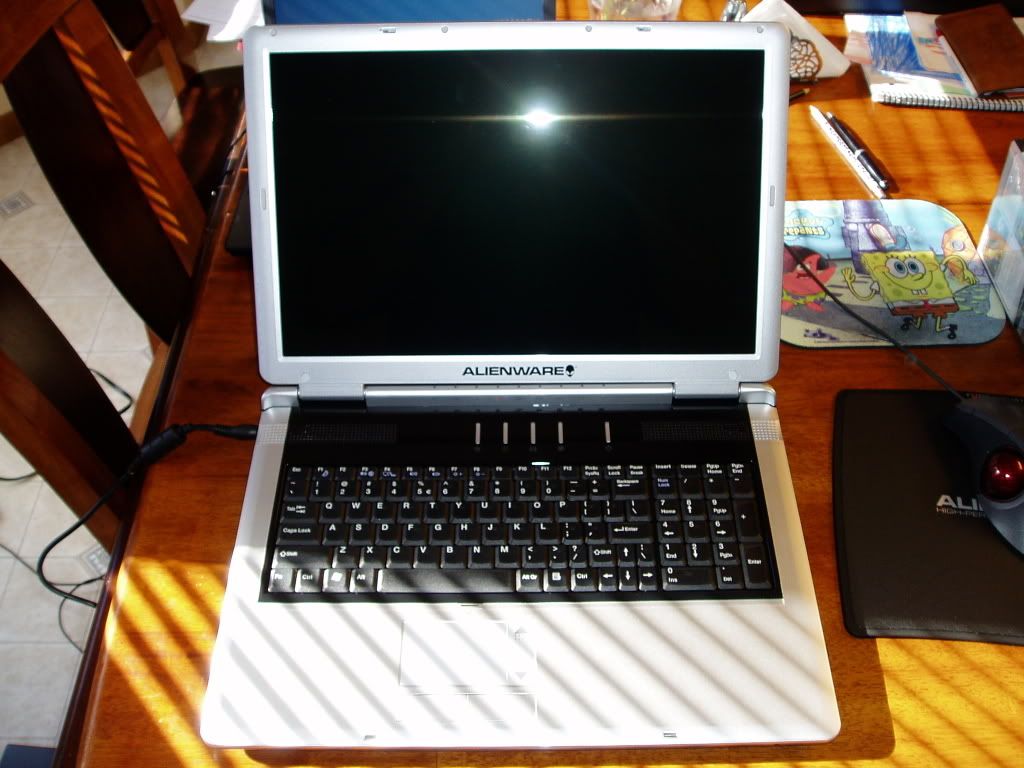 Opened up and beautiful.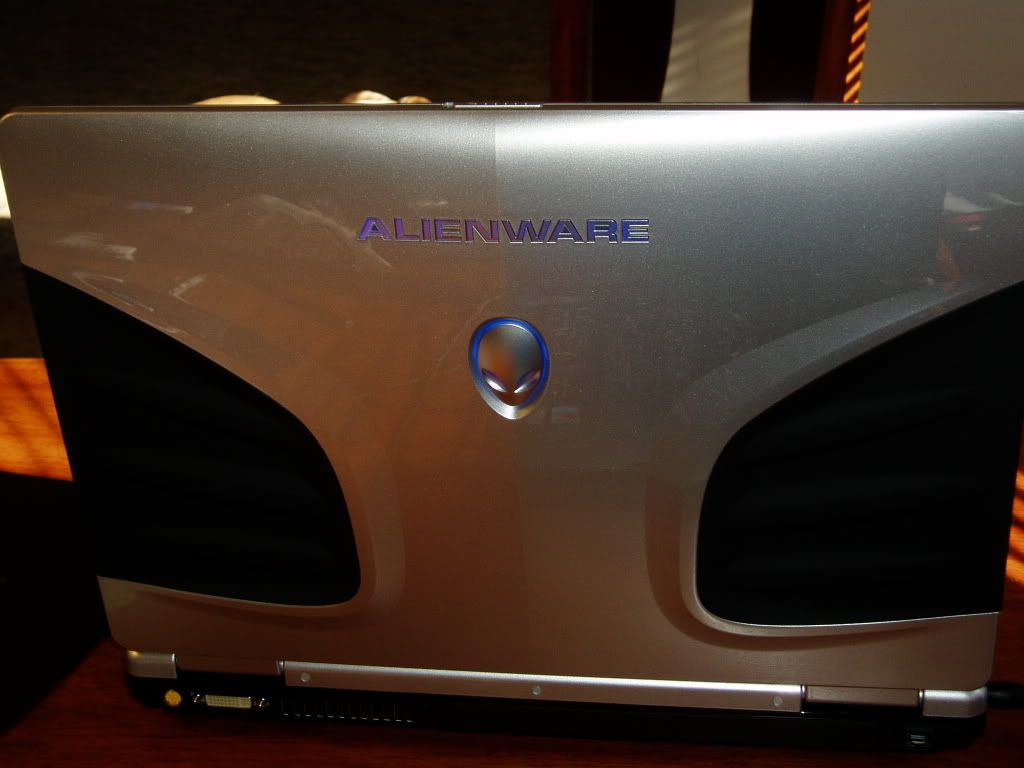 From behind.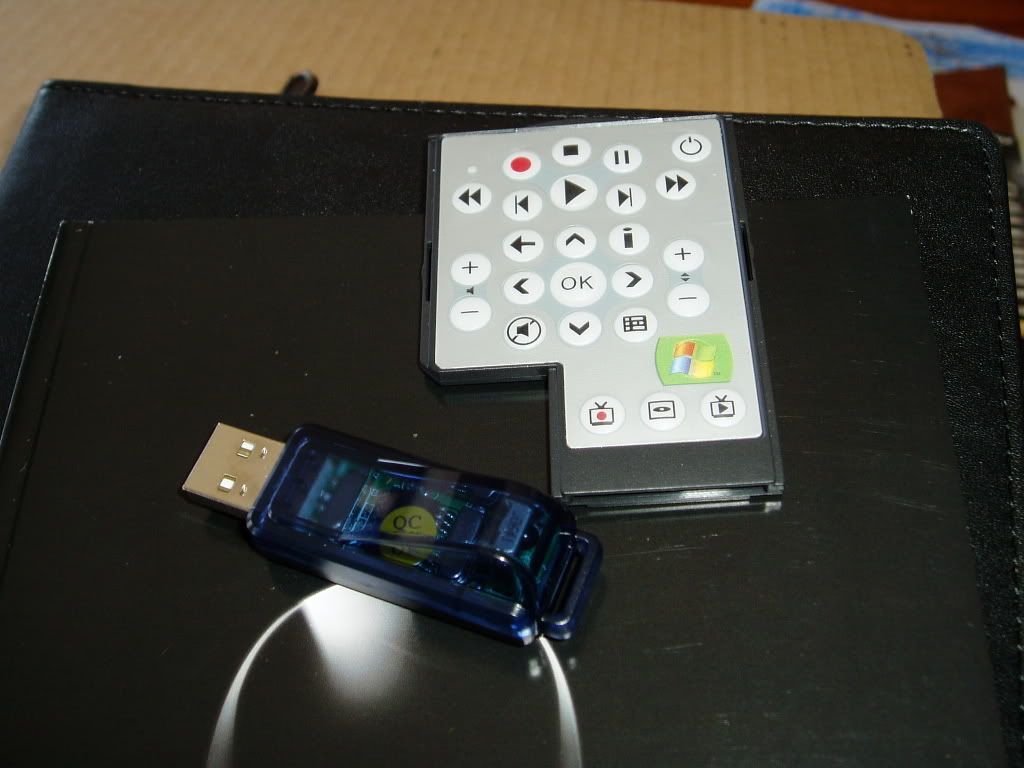 Remote and USB infrared receiver.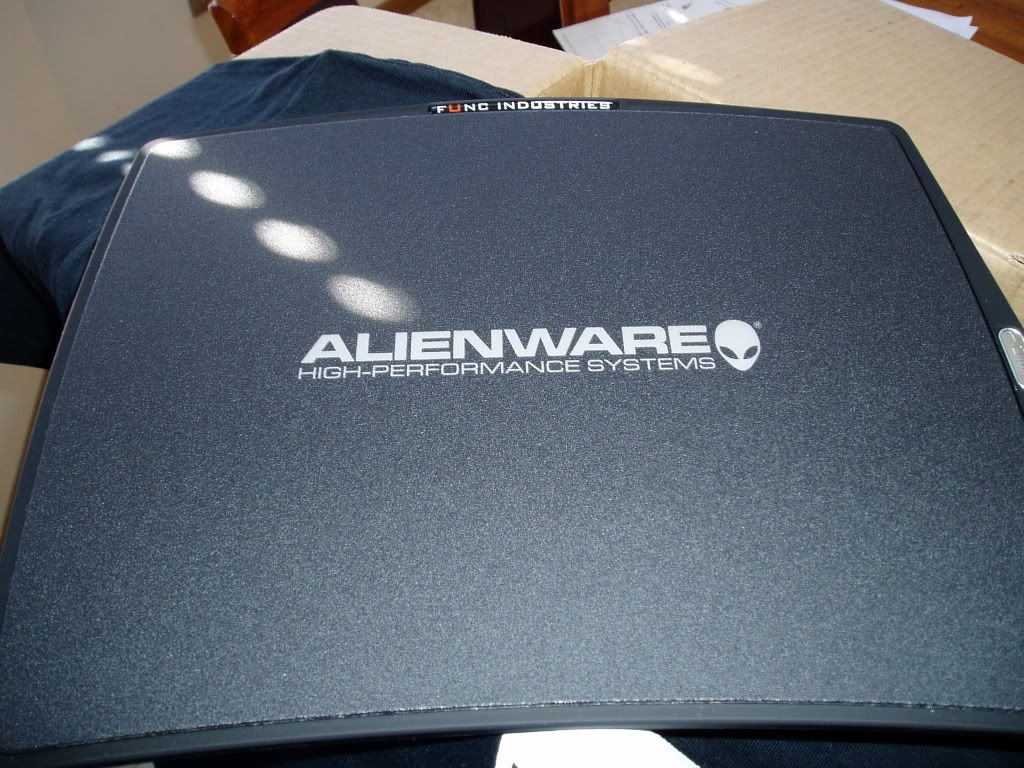 A very nice FUNC pad...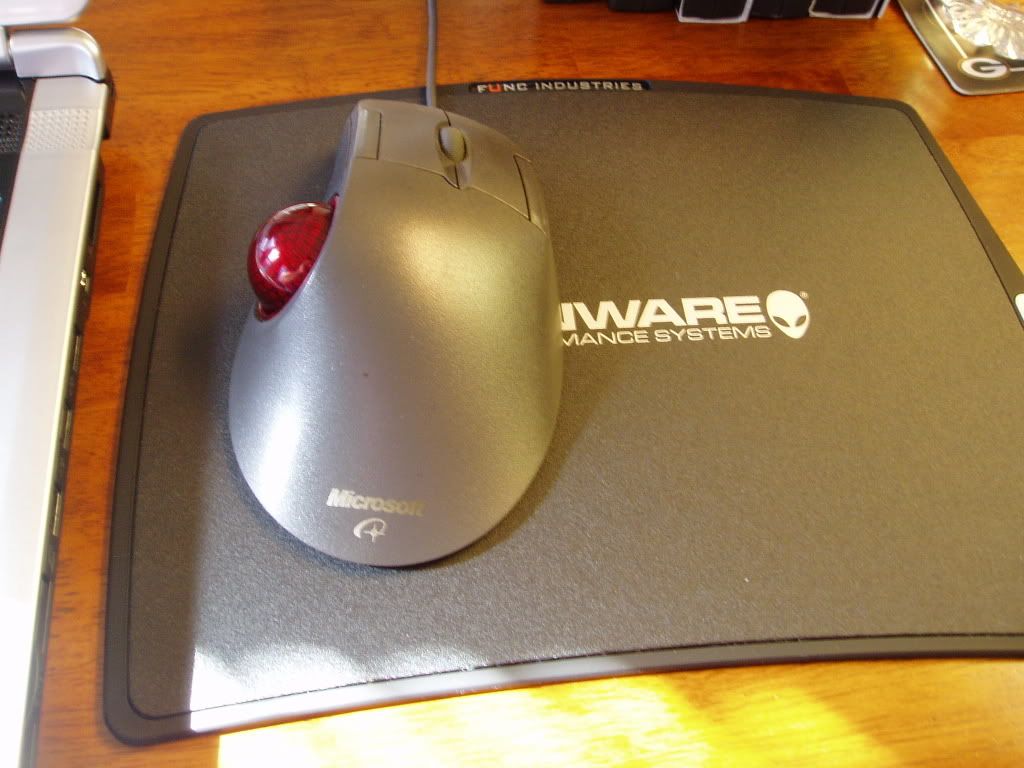 Of course it doesn't do me much good since I play with a trackball! Still, it looks quite nice and does give me a nice place to keep my trackball.
The monstrous brick next to the nc6220's.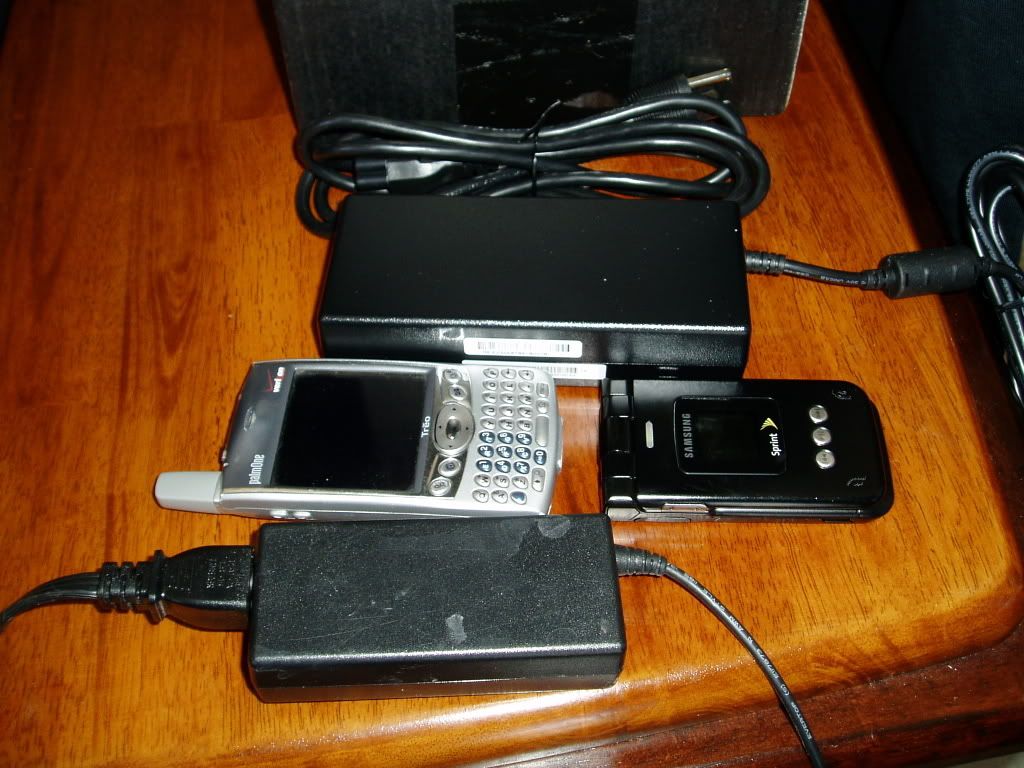 Another perspective...next to my treo and blade also. This brick is huge, but it has a lot of notebook to be powering up.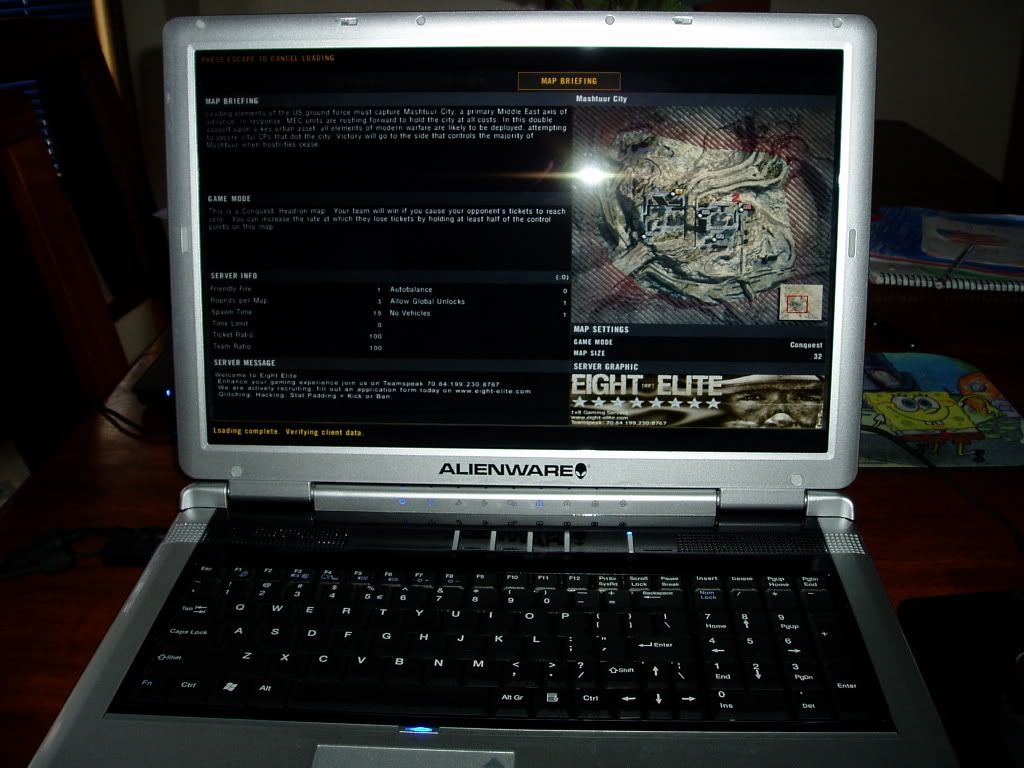 The moment of truth draws near...bf2 loading.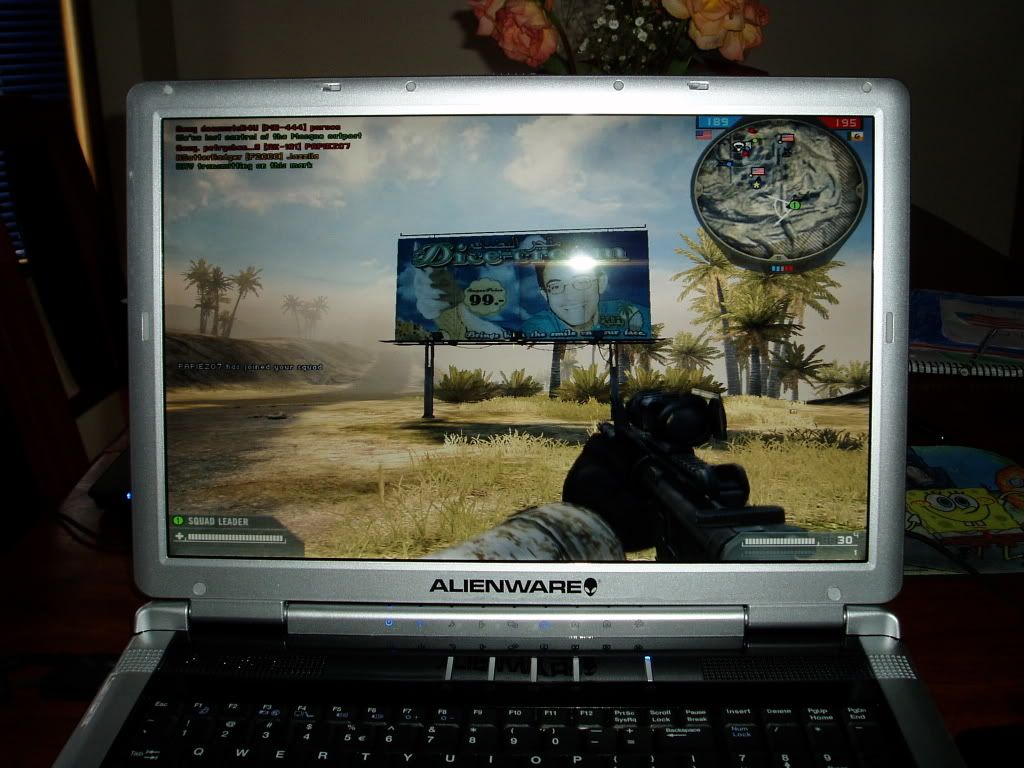 BF2 in all its glory. High settings and 1920x1200 resolution. I did have to turn down the resolution though to keep the performance smooth...possibly upgrading to 2 GB will help at higher resolutions but we'll see. I am absolutely NOT complaining though as this is just amazing to see from a notebook...absolutely gorgeous.
Could I be a pain the mods' rear again and ask for a picture warning in the title? Muchas Gracias!