My CPU fans have been spinning relentlessly, and rightly so. I've got the most basic cooling system in my PC: stock CPU coolers, and stock case fans, with lots of optional fan brackets not in use. Upon further analysis, IMO, too much air is coming out, and not enough is travelling into the case.
The case is a
Silverstone TJ10
. My processors are AMD FX-74's, socket L.
Here's some pics of the inside and rear of my case:
A closer look at the top and bottom of the interior:
(yes, I know the floppy isn't plugged in...I don't need it right now.)
and the rear:
Here's a rudimentary illustration of how the airflow currently looks: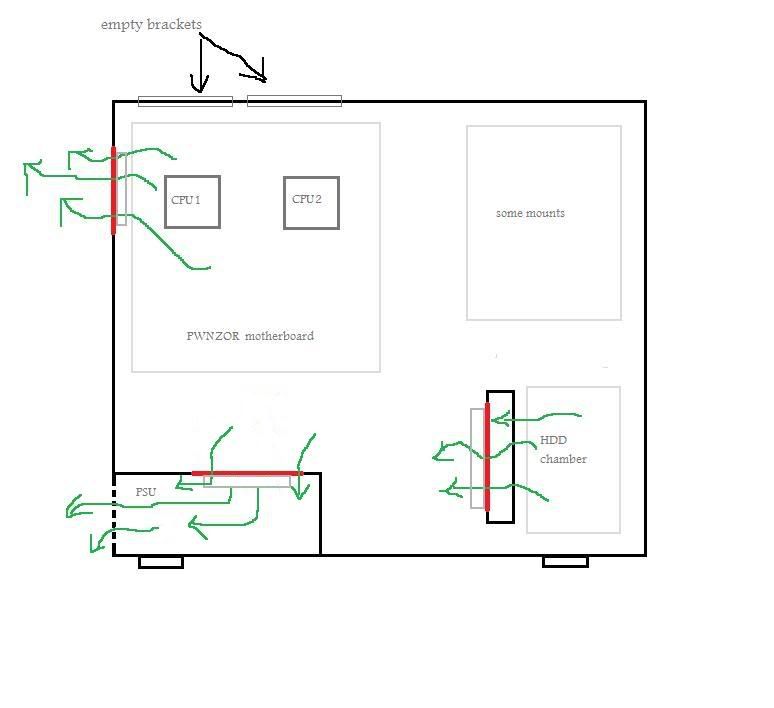 I have been looking around at aftermarket CPU coolers, but haven't decided whether a side-facing or a front-facing fan would best benefit the airflow.
Examples of two types of coolers I have been concentrating on are the
Thermaltake CL-P0369
and the
ZALMAN CNPS 9700 NT
. If I got side-facing coolers, I don't know where I should point them. I was thinking of making them push the air towards the bottom of the case, making use of the vents at the top...Or, if I get the front-facing coolers, I could get two fans for the top vent to push air down to them. The mobo does have equipment to mount small fans on the three copper heat spreaders located above and below the CPUs, but they are meant to be used in conjunction with passive-cooled CPUs, so I didn't think it was a good idea to install them.
Though the case is set up for water cooling, I would prefer to stay with air cooling at this time, especially since I'm still new at DIY desktops. So, does anyone have some suggestions?