okay so I went to my local apple store and purchased a macbook air. As usual they were very helpful and so on.
I was looking forward to giving a GREAT review tonight but when i opened the screen i saw an entire line of TRASHY pixels. I would say dead if they were turned off but these are stuck on grey or something. so here is a photo of my new macbook air and my line of trashy pixels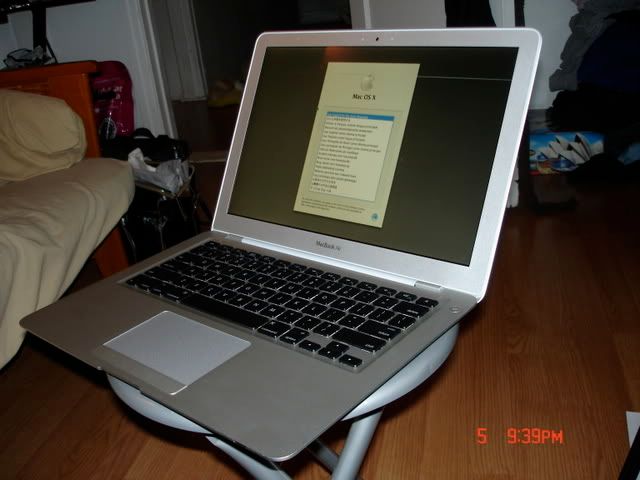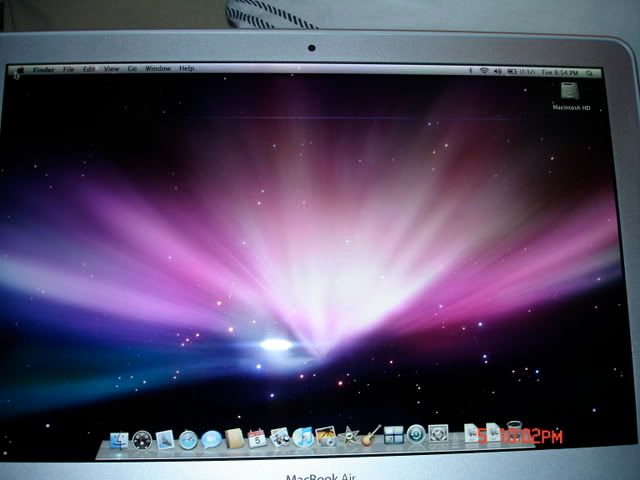 Look closely at the top of the 8th of the screen, this photo isn't to great but it does go all the way across the screen.
now I did call the apple store and they told me to come in and they will replace it. so it's not really a MASSIVE disappointment but i am a bit upset that I have to go back to the store and have to go out of my way. but what ever.
initial thoughts however.
unit is very small and gets hot quickly. the screen is EXTREMELY bright. I can say that it's actually the brightest apple laptop screen that I've seen.
the LED display is great.
I'm use to the macbook pro style keyboard so this one will take some getting use to, not too much of a big deal.
the back lighting on the keyboard is pretty good, you can see the keys better than the keys on the macbook pro however I like the aluminum keys better.
I disconnected the power cable in the store and the battery read 3:45 instead of the 5 hours that was promised. I will have to charge mine and see whats up with that.
Also the laptops fan is on ALL THE TIME even when the laptop has been left alone for about 10 minutes. so while I have a 17 mbp that is completly silent, I have a singing mba making most of the background noise in my quiet room.
those are my initial observations.
Bottom line, SCREEN is GREAT, SIZE IS AWESOME. but umm I dunno. I'll have to replace this one and see if it's the same story.
P.S.
The button on the touch pad is a bit small...
Yikes and it only has ONE MONO Speaker? hmm, having second thoughts.
(this is not a hate review, I figure I'll just tell you guys the truth of my experience)