It all started back in November with the announcement of the m15x and m17x. At first I was set on m17x but after long consideration, and the fact that the m15x was the first available i decided to pursue the smaller and lighter of the two. I was on my knees prayin that the m15x would be released before Christmas but unfortunetly this did not happen
. I waited and waited and waited.....
Then it was the day of January 10!!!!! I was on my way home when all of a sudden my iPhone vibrated. I looked down and saw I had recieved a new email
. Opened up the gmail application and there it was the m15x alienware insider release :hug:. What I had long been awaited had FINNALY arrived. My heart began racing and my head began filling with thoughts of a black glossy m15x! I began to think about what if they sold out. O SHIT! I knew that alot of people had signed up to recieve this news letter and that i wasnt the only one who just got the email 5 minutes ago. I decided it was time to make a decision. PEDDLE TO FLOOR! (prolly not the wisest of choices) I begin flying down the highway knowing that my dreams are on the line here.
I finally get home after what seems like an hour. Run upstairs and hop on the 7500 desktop. First thing I noticed was they didnt have many options open yet but I didnt care I wanted this thing BAD! I then hit another bump, NO BLACK COLOR. Shrugged it off though. I continued down the options list and knew the 8800gtx was the one to go with and it also had the SWEET backlit keyboard. I selected all the specs I wanted and placed the order!
A little after 2 hours of being released I had ordered it. I love gettin things the day the come out so that was just iceing on the cake. Here are the specs:
[1] Area-51® m15x
Display: 15.4" WideXGA+ 1440 x 900 LCD (720p) with Clearview Technology
System Lighting: Alienware® AlienFX® System Lighting - Red
Video/Graphics Card: 512MB Nvidia® GeForce™ Go 8800M GTX
Processor: Intel® Core™ 2 Duo T7700 2.4GHz (4MB Cache 800MHz FSB)
Memory: 2GB Dual Channel DDR2 SO-DIMM at 667MHz – 2 x 1024MB
Turbo Cache Memory: Intel® Turbo Memory (1GB) – Accelerate Data Transfer Speed
Operating System (Office software not included): Windows Vista® Home Premium
System Drive: 200GB 7200RPM (16MB Cache)
Optical Drives : 8X Dual Layer CD-RW/DVD±RW Burner w/ LightScribe Technology - View Demo
Wireless: Internal Intel® Wireless 4965 a/b/g/Draft-N Mini-Card
Sound Card : Internal High-Definition Audio with surround sound
Keyboard Options: AlienFX® Illuminated Keyboard
Warranty: 1-Year AlienCare Toll-Free 24/7 Phone Support w/ Onsite Service
AlienRespawn: AlienRespawn v2.0 Recovery DVD – Windows Vista® Edition
Power: Additional Battery – 6-cell Smart Bay Battery
Alienware Extras: Alienware® Mesh Cap
Alienware Extras: Alienware® Mousepad
Alienware Extras: Alienware® Mobile Binder
Alienware Extras: Alienware® Personalized Nameplate
Alienware Extras: Owner Identification Card
Alienware Extras: Area-51® m15x Protective Cloth Sleeve
Alienware Extras: Area-51® m15x Keyboard Diagram Overlay
Alienware Extras: Area-51® m15x Smooth Mylar Touchpad
Total $ 3215
Now the phase game begins
I sit in phase 2 for awhile and then after 3 days recieve and email that my card has gone through and is now in the pre-production phase. This was very relaxing to know since last time I ordered an Alien my American Express card took forever! to go through. I kept checking the phase page to see if it had gone into production. After about 4 more days it finally had began production. I was extremely hyped to hear this and knew that my wait was getting shorter and shorter. I recieve a call from Alienware informing me that the smart-bay 6 cell battery is on backorder and they will ship it separate from my order so I can recieve it on time. I happily agree. On January 25th I am in phase 6. I sit in phase 6 until the 30 when i jump up to phase 8. My estimated shipping date was Feb 1st so im thinking WOW maybe it will ship out a day early. Nope, it hit phase 9 on Feb 1st. SHIPPED!!!! The wait was coming to and end YAY:hug: I recieved the tracking numbers from Fedex and saw delievery was schedualed for Feb 5th. Only 4 more days!
The day had come it was Feb 5th. I call Fedex to see what time they are estimated delivery and they say around 6 at night.
Now i gotta wait all day. I debate going to pick it up. I check out what fedex center it is at and its 45 minutes away so i figure ill just wait.
Im on my computer anticipating the delivery and just trolling the niche forums and the world of warcraft forums. Its around 5. There it is the most beautiful sight of they day:
I run downstairs throw the door open and even though I wanna hug the fedex guy i resist. He hands me the sexiest plain black box ever
I thank him and sign his little palm thing. Take the box upstairs and begin opening my new treasure. It feels like Christmas when your little. My heart is racing and im filled with joy!
When i first open the box there is another box inside, take that box out and open it up
I see the usual black accesories box and take it out and open it first (i always save the best for last)
Now the time has finally come. I pull it out and set it on the floor.
It comes with this really soft flannel type sleeve that doesnt really protect much but it does say Alienware.
I slip that little cover off and witness the beautiful smooth silver dream.
Its time to open her up!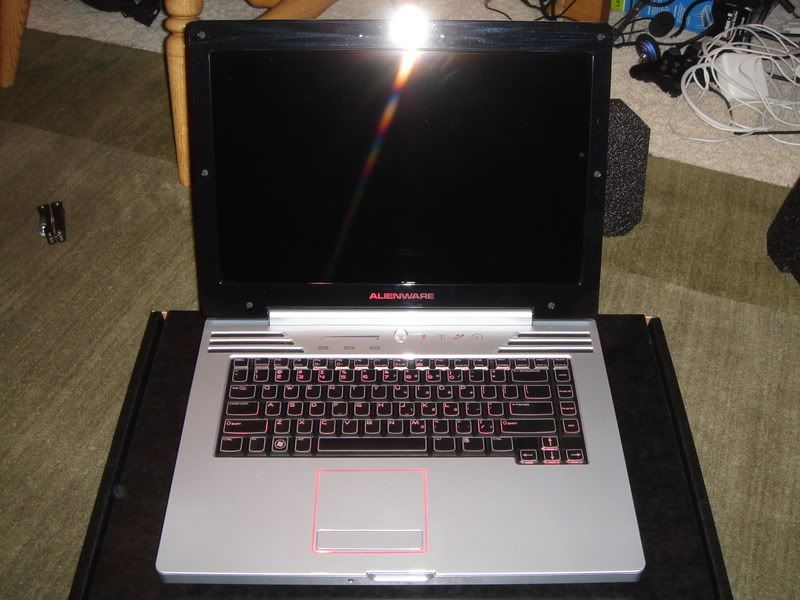 I power this sexy beast on and see the amazing backlit keyboard illuminate bright red.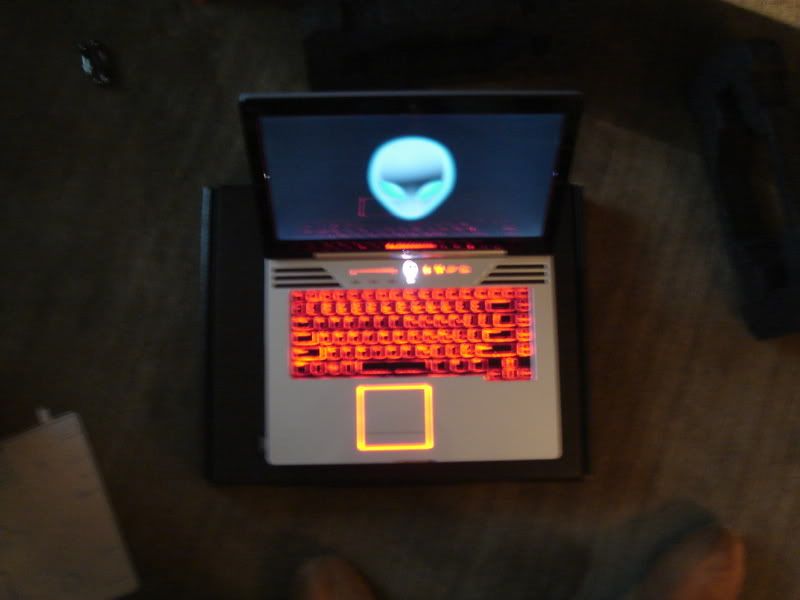 I setup the Vista thing that it makes me do the first time it turns on. I then go to the all new Alienware Command Center. I play around with all the different colors for awhile and then decided its time to install wow, o and do a benchmarks test.
Burn-In/Benchmarks
[IMG]file:///C:/Windows/System32/Alienware/hr.gif[/IMG]
Doom 3
Doom 3: 130.8 fps
3DMark 2006
Customer Information:
3DMark Score: 9,451.00 3DMarks
SM2.0 Score: 4,535.00
HDR/SM3.0 Score: 4,657.00
CPU Score: 1,885.00
Game Score: 0.00 Points
SM2.0 Graphics Tests
GT1 - Return To Proxycon: 37.41 FPS
GT2 - Firefly Forest: 38.17 FPS
CPU Tests
CPU1 - Red Valley: 0.60 FPS
CPU2 - Red Valley: 0.95 FPS
HDR/SM3.0 Graphics Tests
HDR1 - Canyon Flight: 44.43 FPS
HDR2 - Deep Freeze: 48.71 FPS
My thoughts on the system:
Overall the notebook is pretty sturdy. The screen does take some force to open but its better than if it was wobbly. You have to put one hand on the bottom half so it doesnt come up with the screen. I checked all aspects of the notebook for the first 5 minutes. All screws were tightened and nothing was making and weird noises or was loose. There were no scratches on the laptop at all.
Design:
The Ripley design is all new for Alienware. It doesnt stand out as much as the skullcap but when you see that alien head glowing on the back it is still definetly noticible. The speakers are placed in a very good location (right near the screen). All of the heat is exported out the back of the system. Paint was done extremely well. They have gone back to the glossy paint which I love. Finger prints do show up a little bit but arent that noticible. Im not sure how they will look on the black system but my bet is you will see them more.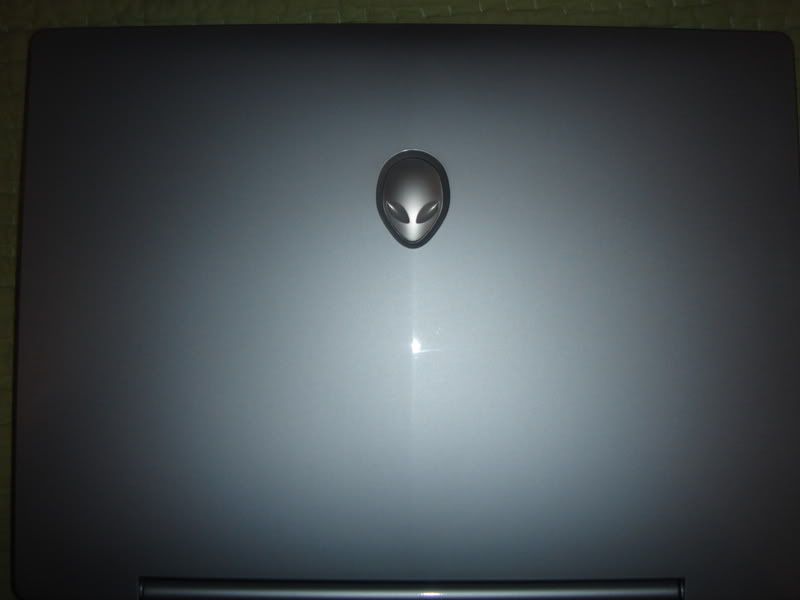 Display:
The 15.4" WideXGA+ 1440 x 900 LCD (720p) with Clearview Technology is excellent to say the least. Im really glad i didnt got with the 1920 because then things would have been much smaller and since the screen is only 15'' it would be to small. There were no dead pixels. The screen can be viewed from many different angles and still be seen clearly. The glossy screen looks amazing while gaming and watching movies.
Keyboard:
Well this is my favorite part of the new m15x. The keyboard is firm and feels kind of like a macbook pro keyboard. The back lighting is absolutely amazing! It takes about 3 seconds to change the keyboard color. There are 12 total color options to choose from. It is extremely easy to change them as well. You can also make the lights pulsate or morph into different colors. The pulsating kind of gets annoying though.
Touchpad:
The touchpad is painted and feels exactly the same as the rest of the case. The only thing that identifies it as the touchpad is the fact that it has a light strip around it. This strip is controlled the same way as the keyboard is and can also be changed to 12 other color options. Alienware includes a clear pad that you can place on the touchpad that is saposed to add more traction (makes it look kinda tacky though). The click button is one button but you can click on the two opposite sides so it still works like a normal mouse.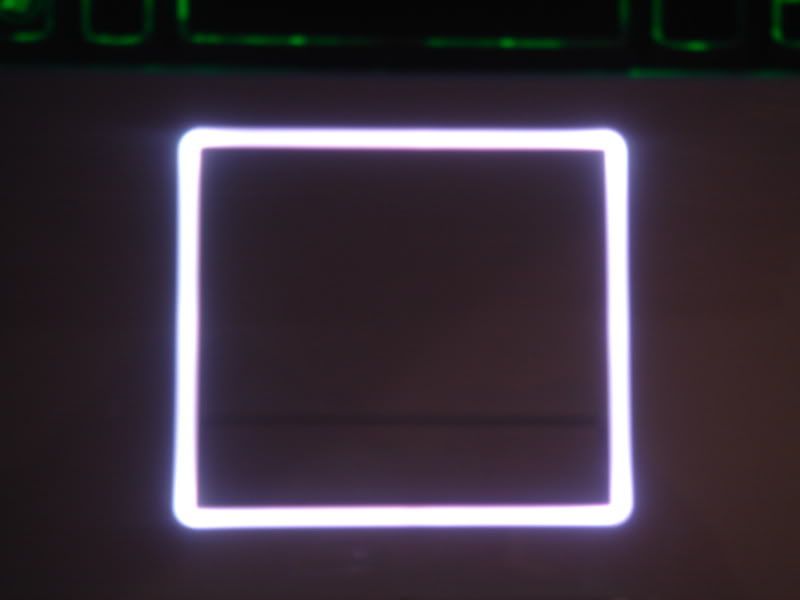 Power Brick:
The power brick was much smaller than I expected. Compared to my m9750 it is a dwarf. It has a green light to show that it is on but other than that there really isnt much of a difference from every other brick. Here it is compared to my macbook.
Speakers:
These are quite possibly the best laptop speakers i have ever heard. They blow the m9750 speakers right out of the water. They are crystal clear and even when turned up still remain clear. The base sound is also very good.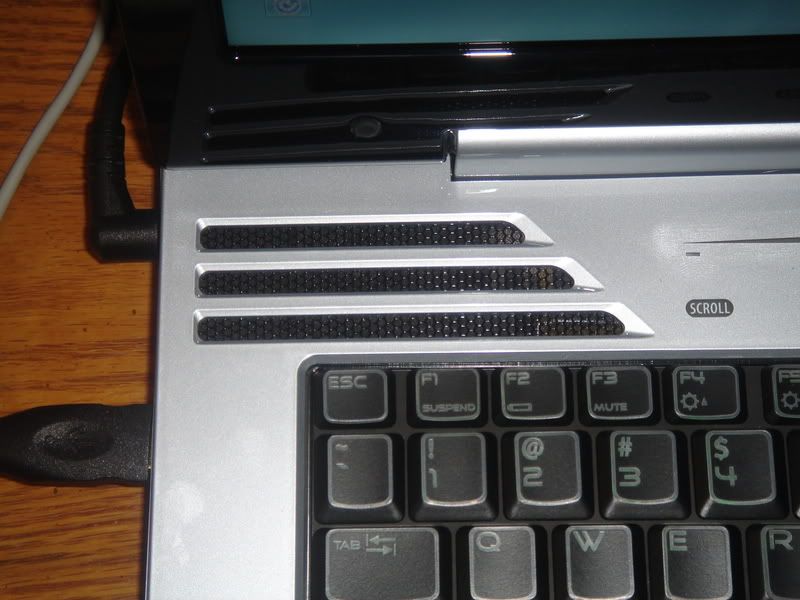 All New Touch Control Center:
This new touch pad area is pretty cool. With the press of a button you can turn on stealth mode which causes the 8800gtx to turn off and the integrated graphics to come on. This mode is useful if you are working on the go or on an airplane. However, I would not recommend using this mode to game. Bluetooth can be turned on or off also by touching a spot marked for it on this pannel. Wireless can be turned on or off here as well. In the middle is an Alien head which is used as the power button. To the left of the head is a volume meter. It is touch sensative so you just slide your finger up or down to change the volume. The color of these controls can also be changed through command center and has the same 12 options as the keyboard and touchpad.
Front Alien Head:
The infamous alien head is surrounded by a light strip just like the touchpad and is the same as the one on the m9750. Unlike the m9750 though you can change the colors of the head. It has the same 12 options as the keyboard but when it is plugged in and charging it will morph through all the colors (extremely cool to see).
Input and Output Ports:
One thing that is fantastic about the m15x is that it has an hdmi port. For me this is useful because we have a Sony projector so I can hook my laptop up to the projector and play WoW on a 116" screen. It has a total of 3 usb slots. The power input is located on the left side of the laptop near the rear. There are no inputs or outputs on the rear of the laptop. The rear is solely for the exhaustion of the heat is produces.
Webcam:
I have yet to try the webcam out. It is hidden by the black screen border and doesnt really stand out.
Smartbay:
The smartbay feature is awesome. I have two smartbay 6-cell batteries each which last about an hour. The smartbay is hot-swapable so I can continue using the laptop unplugged for around 3 hours (if gaming). You can also purchase another hard drive that can fit in the smartbay if you wish.
Battery Life:
If you are not using any smartbay batteries the life of the battery on the bottom of the computer lasts around 1hr and 10 minutes (if gaming). You can extend the life by going into stealth mode to around 1hr and 40 minutes. Overall this is a good battery life for a gaming laptop. My m9750 only lasts around an hour.
Heat and Noise:
It does not put out as much noise as I expected. The 8800gtx is fairly quite in this thing which is extremely surprising. All the heat is focused out of the back but the spot where you right hand sits does seem to get hot. (The 8800gtx is located right below your right hand) Alienware definetly did a better job controlling the noise and heat on this baby!
Conclusion:
Wow! This is truely an amazing laptop. The 8800gtx is simply amazing. They lighting is also stunning. I sat there playing with the lights for about an hour
I am extremely glad i decided to purchase this computer. The process with Alienware went extremely smooth and there customer support was great. Another really cool thing they did was engrave whatever you wanted on the bottom. I just decided to get my name.