The nVidia Quadro FX350 in the M65 does not work very well with one of the two external monitors that I have. It can not sync properly at it's full native resolution. PowerStrip can fix this, but the problem comes back after wake from sleep. There are also some minor problems with Vista. I have considered trying a PCI video card in the D/Dock, but was concerned that it would not perform well. The bandwidth of the PCI bus is much lower then PCI-e. Could the acceleration of a current model graphics chip compensate for this? The only way to know for sure was to try it.
The card I chose is the
PowerColor HD 2400
. It has an ATI HD2400Pro chip with a PCI to PCI-e bridge. This is a current model chip, so Vista and DX10 are supported. It has dual link DVI, so a 30" monitor could be used.
The large heat sink prevented it from fitting in the D/Dock, so some hacking was required...
D/Dock before modification. Power supply on the left, D/Bay on the right.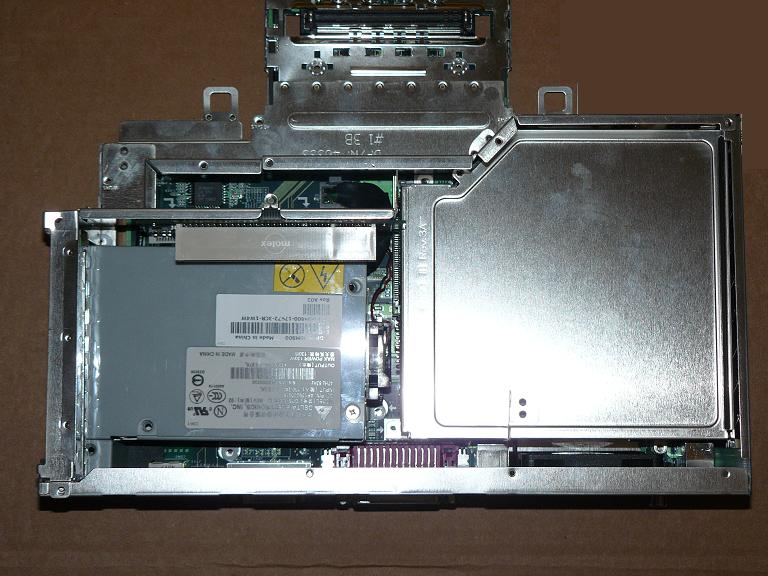 Power supply, D/Bay and PCI riser removed.
Power supply relocated to right side. Video card installed in PCI slot. The power supply will be held in place by two screw through the top sheild.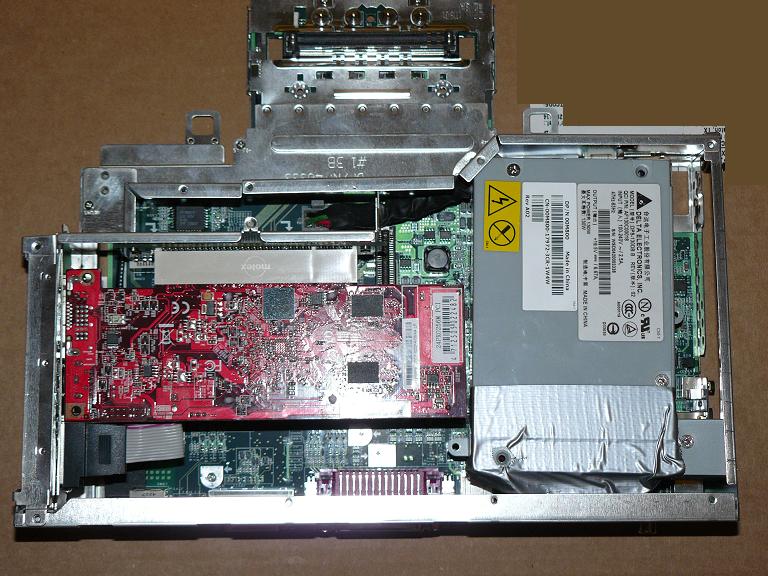 Heat sink of the video card protrudes in to former location of power supply.
Power cord connects to the left rear. The D/Bay area was covered with duct tape before reassembly to promote air flow form the other side.
The performance is mixed. Anything that can take advantage of the GPU's power works quite well. Aero effects work well. Dragging a window is flawless with aero on - turn it off and the limited PCI bandwidth causes jerky movement and tearing. Video play back with WMP or Media Center works well. Quicktime video is very bad. Scrolling is not as good as the FX350, but acceptable.
The problems with video sync are gone and no driver quirks have been noted so far.