I need help guys... besides mentally
I've got a new notebook... had it for about a month. Today I was trying to do a project on it for school, and out of no where it started freaking out on me.
I have 3 usb ports total. With these plugged into it at the time...
Port 1
Logitech G7 Mouse - Wireless usb reciever
Port 2
Western Digital 500 GB External Hard Drive - Self powered
Port 3
I/O Magic 80 GB External Hard Drive - USB Powered
I also recall hearing a high pitched sqeal/noise come from internally. Not out of the speakers...
since then, every few seconds I get a pop up in my lower right task manager saying "USB Device Not Recognized"
However, there is nothing plugged into my USB ports anymore... It's very annoying and don't know whether this is a virus type thing going on, or a hardware/software issue I'm having...
I took a few screenshots, and here's a collage of pictures I made of my errors I'm getting... these all started happening at the same time...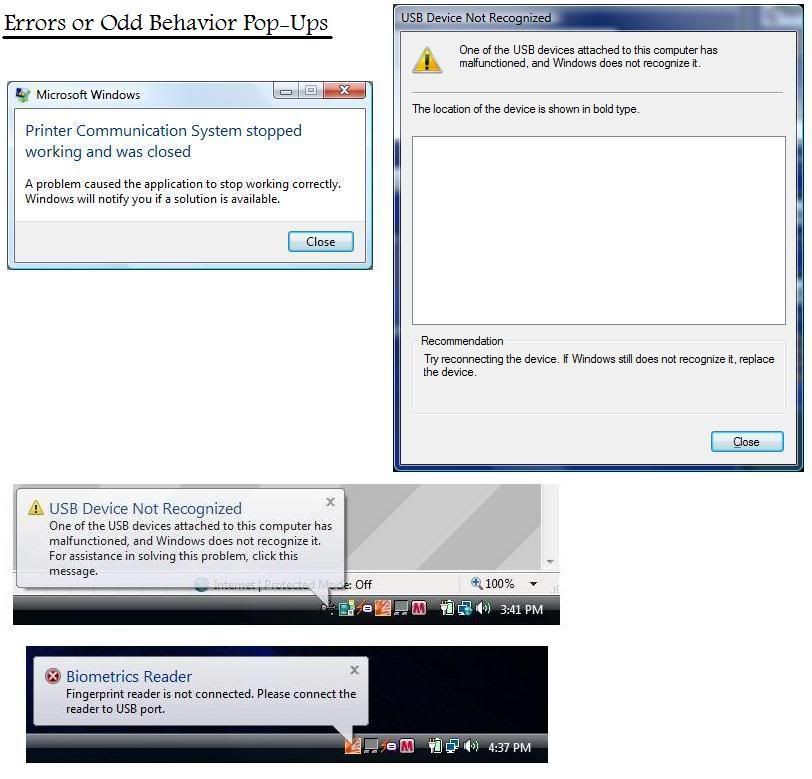 I also tried a system restore to an earlier date... didn't fix anything at all... which is leading me to sway away from a virus issue...
here's my
computer specs...
pretty accurate for the most part...
sorry for the long post, just wanted to explain everything in detail...