Intro
I've been in dire need of a small mobile pc that I could easily take to class, but I also don't have a lot of play money so I needed something cheap. I really didn't want one of those mediocre $500-800 entry level laptops. They're generally flimsy and poorly built. A netbook seemed like the perfect solution. When I heard Lenovo was making one I decided to check it out. (I've been a fan of IBM/Lenovo thinkpads since I got my Thinkpad 365 ~12 years ago) I was also considering one of the Dell machines, the HP Mininote, an EEE 1000H PC, and the Acer Aspire One. Lenovo managed to undercut the prices of most of the other computers while toting a 10.2" LED screen w/1024x600 resolution, and a 160gb hdd. Build quality was another strong point. Its keyboard was the best feeling of the group as well. The Lenovo was one of the few netbooks that didn't look or feel like a complete toy.
After much research and seeing it in person I placed an order on Lenovo's website. (At the time Circuit City only had a display model) After dealing with multiple delays and poor customer service I canceled my order. Walked into Circuit City already knowing what I wanted so I was in and out in under five minutes. Picked up a nifty neoprene sleeve with an inner pocket for like $8 too. Been using it for a few weeks now and I absolutely love it.
Specs:Processor:
Intel Atom N270 1.6ghz CPU
Screen:
10.2" WSVGA AntiGlare TFT with integrated camera 1024x600
Video Card:
Intel GMA 950 Integrated Graphics Chipset
Memory:
1GB PC2-5300 DDR2 SDRAM 667MHz
Chipset:
Intel Centrino 2 Chipset (?)
Disk Storage:
160GB 5400rpm hard drive
Audo:
Integrated Intel HD Audio
Media:
4-in-1 Media card reader and ExpressCard slot
Battery:
Sanyo 3-Cell Li-ion Battery
Weight:
2.64 lbs
w/3-Cell Battery
Operating System:
Windows XP Home SP3
Dimensions: 9.8" x 7.2" x 1.2" (including rubber feet)
Color: Black

What's in the Box:
The box the lenovo came in was suprisingly tiny, even for such a small machine. The packaging was well organized, and all the components were shrouded in plastic; the S10 itself was suspended between soft foam bricks. Plastic sheets also cover certain parts of the laptop (lid, screen, top buttons, etc.) Included in the package was the S10, a 3-cell battery, the power brick, recovery media, and the usual owners manual and documentation.
Design
Personally I'm in love with the S10. It looks and feels solid, and I'm not afraid of breaking the laptop by gripping just a corner when I lift it. (zero flex in the chassis) This is one of the few netbooks that doesn't look rediculous in a business setting.
This machine also has an express slot, which adds a lot of explandability. If you travel a lot for business and have a broadband modem this is the machine for you.
Screen:
One of the Lenovo's strengths is its 10'2" LED screen. The screen is extremely bright and is paired with an excellent anti-glare coating, making the S10 usable even under direct sunlight. Brightness is easily adjusted via the Function Key (Fn) and the up/down arrows. The LED backlight makes the S10's screen seem more like a really small desktop monitor than a standard dim laptop LCD. The viewing angle is quite exceptional, coming very close to 180 degrees. The 1024x600 resolution was one of the features that sealed the deal for me. It's perfect for internet browsing (though bigger would be better), and at this size makes for a fairly pixel dense screen. Pictures and movies look really sharp on the S10. (I've been loading it up with ripped dvds. I plug it into my 32" HD LCD TV (sometimes a 61" Samsung DLP) with a vga cable and into my surround sound with a 3.5mm audio cable.
Keyboard
Lenovo reports the S10's keyboard as being 85% the size of a standard laptop keyboard. After about a week of use I was not only used to typing on it; I prefered it to a standard keyboard. I've actually become quite adept at typing on it with one hand. I've got pretty big mitts, so I can reach pretty much any key without much hand movement. I think I've been able to close on 60 wpm in bursts of around 10-20 seconds. I can actually lounge with the laptop on my knee and get serious typing done just using one hand.
As for the media/function keys, there are two keys located to the right of the power button/lock indicator leds. The first is a One-Touch Recovery Key which brings up a lenovo utility for backing up files and creating recovery discs (requires an external drive) The second is a button that toggles the wireless card.
Starting from the Left, moving Right and down, here are the Function Keys:
Fn+Esc - Activate/Deactivate Webcam
Fn+F1 - Sleep Mode
Fn+F2 - Activate/Deactivate Screen
Fn+F3 - Toggle Screen/External Monitor
Fn+F5 - Wireless Card Info Utility
Fn+F6 - Activate/Deactivate Touchpad
Fn+F7 - Num Lock
Fn+F8 - Scroll Lock
Fn+F9 - Break
Fn+F10 - Pause
Fn+F11 - F12
Fn+PgUp - Home
Fn+Ins - SysRq
Fn+Del - Print Screen
Fn+Up Arrow - Increase Screen Brightness
Fn+Down Arrow - Decrease Screen Brightness
Fn+Left Arrow - Decrease Volume
Fn+Right Arrow - Increase Volume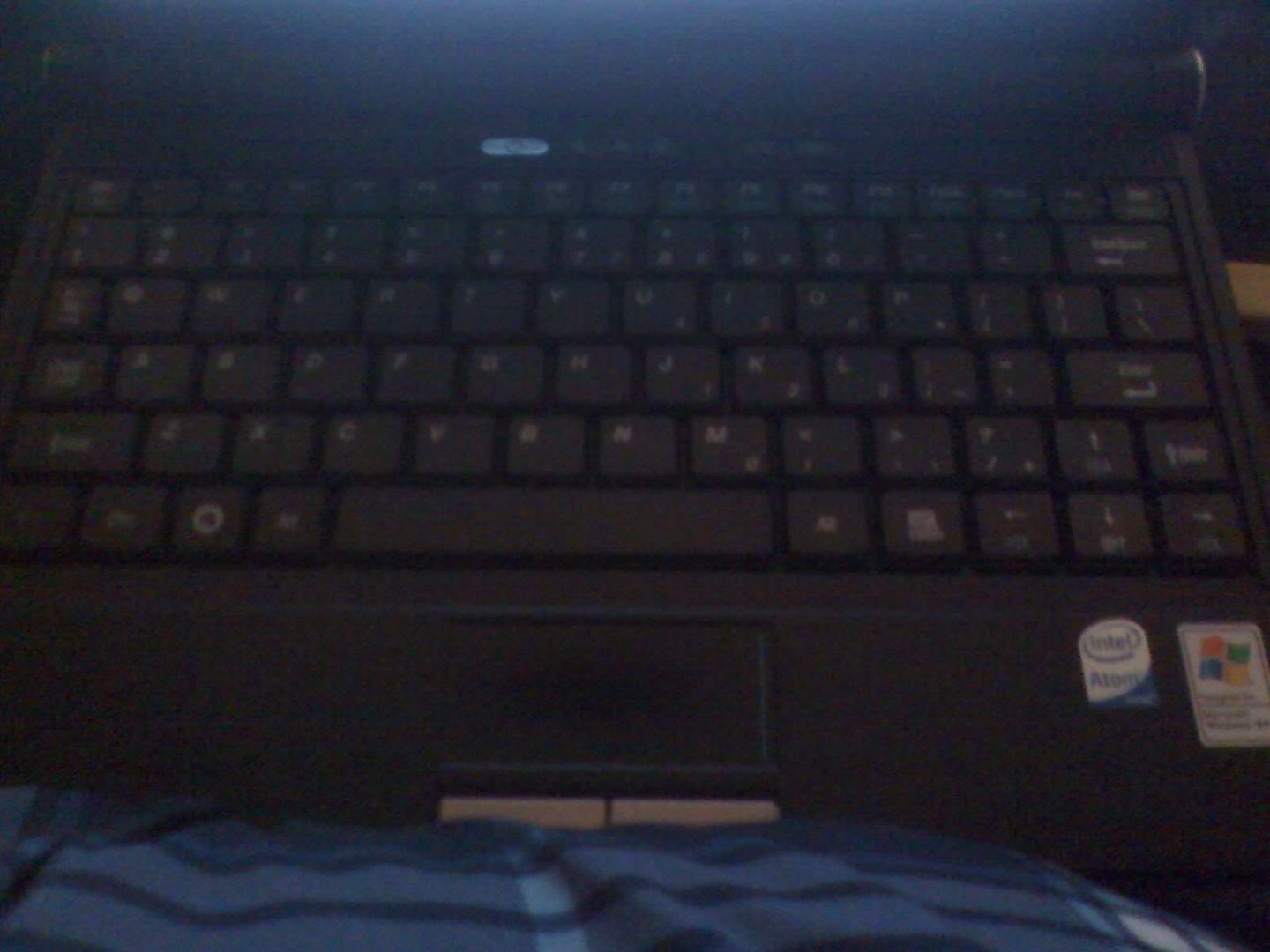 Touchpad
The touchpad is extremely small compared to a normal laptop, however it is about average for a netbook. It's extremely responsive though. It's actually one of the most responsive, well-textured touchpads I've used to date. My main gripe is the button feel/noise. The left and right mouse buttons are noticeably stiff and loud. Often times I've found my self tapping the touchpad to avoid the noise.
Features:Multimedia Keys
As previously mentioned, there are two non-standard buttons next to the power button, above the keyboard. They aren't really multimedia buttons. They are definitely convenient, though I mainly just use the right button to deactivate the wireless card to squeeze some extra juice out of the battery.
LEDS
There are three led indicators next to the left speaker and three more next to the power button. The bottom leds show if the machine is on, if the battery is charged/on ac power, and wireless activity respectively. The top leds show caps lock, num lock, and hdd activity respectively.
Wifi
–
The Onboard Broadcom wireless is quite effective. I've generally found that the range of the card is on par with some notebooks, and better than quite a few. (Accessing on campus wireless access points and networks at apartments/houses I go to)
Speakers
There are two speakers in the Lenovo S10. They're located on the front rim of the machine, to the left and right of the touchpad. They're very small and heavy on the treble (as expected with most laptop speakers) In spite of their size, they're fairly loud, and quality is decent al beit high pitched.
Input and Output PortsFront
:
The front only sports a wraparound perforated metal speaker grill with 3 led indicators on the far left side.
Webcam Pictures
There is an integrated 1.3 megapixel webcam. Picture quality is mediocre. What's interesting about it is that it uses one of the S10's internal usb ports. (one of the reasons the S10 only has 2 usb ports) I can turn it on and off via Fn+Esc.
Right Side
:
The right side of the S10 has the ExpressCard Slot, 3.5 mm headphon and mic jacks, one usb port, one ethernet port, and a standard laptop lock slot in the hinge.
Left Side
:
The left side has a vent from the CPU, the power plug port, a VGA port sans screw holes (now the norm with smaller computers), a 4-in-1 media card reader, and the second usb port. There is also an integrated mic above the card reader on the palm rest.
Rear
:
There are zero ports on the back, as the whole rear of the computer is used for the battery. The hinges are on the extreme left and right sides of the computer. When the battery is removed there is a large rectangular opening between the screen and the keyboard.
Bottom
:
On the bottom there is a strip of exhaust ports near the front of the machine. There are 4 rubber feet that provide a tiny bit of elevation. The front exhausts are angled slightly to further boost air flow. There are two locks for securing the battery; one is a locking switch, and the other is spring activate. The battery remains fairly secure with just one lock engaged, but it becomes even more secure with both engaged. As far as component access goes, the S10 has one large access panel which allows me to get at the heatsink, harddrive, and memory dimms. (only one dimm is changeable and the cpu is soldered to the motherboard)
Benchmarks
I've attached a Super Pi benchmark to the review. The remaining benchmarks are not from my personal S10.
PCMark05 measures overall system performance (higher scores mean better performance):
Notebook
PCMark05 Score
Lenovo IdeaPad S10 (1.60GHz Intel Atom, Intel GMA 950)
1,446 PCMarks
Acer
Aspire One
(1.60GHz Intel Atom, Intel GMA 950) 1,555 PCMarks
ASUS
Eee PC
901 (1.60GHz Intel Atom) 746 PCMarks
MSI Wind
(1.60GHz Intel Atom) N/A
ASUS
Eee PC
900 (900MHz Intel Celeron M ULV)
1,172 PCMarks
HP 2133 Mini-Note (1.6GHz VIA C7-M ULV) 801 PCMarks
HTC Shift (800MHz Intel A110) 891 PCMarks
ASUS
Eee PC
4G (630MHz Intel Celeron M ULV) 908 PCMarks
ASUS
Eee PC
4G (900MHz Intel Celeron M ULV) 1,132 PCMarks
Everex CloudBook (1.2GHz VIA C7-M ULV) 612 PCMarks
Sony VAIO TZ (1.20GHz Intel Core 2 Duo U7600) 2,446 PCMarks Fujitsu LifeBook P7230 (1.2GHz Intel Core Solo U1400) 1,152 PCMarks Sony VAIO VGN-G11XN/B (1.33GHz Core Solo U1500) 1,554 PCMarks Toshiba Portege R500 (1.2GHz Intel Core 2 Duo U7600) 1,839 PCMarks

wPrime processor comparison results (lower scores mean better performance):
Notebook / CPU
wPrime 32M time
Lenovo IdeaPad S10 (Intel Atom @ 1.60GHz)
127.172 seconds
Acer
Aspire One
(Intel Atom @ 1.60GHz) 125.812 seconds
ASUS Eee PC 901 (Intel Atom @ 1.60GHz)
123.437 seconds
MSI Wind
(Intel Atom @ 1.60GHz)
124.656 seconds
ASUS Eee PC 900 (Intel Celeron M ULV @ 900MHz)
203.734 seconds
HP 2133 Mini-Note (Via CV7-M ULV @ 1.6GHz) 168.697 seconds
ASUS
Eee PC
4G (Intel Celeron M ULV @ 630MHz) 289.156 seconds
ASUS
Eee PC
4G (Intel Celeron M ULV @ 900MHz) 200.968 seconds Everex CloudBook (VIA C7-M ULV @ 1.2GHz) 248.705 seconds
Fujitsu U810 Tablet PC (Intel A110 @ 800MHz)
209.980 seconds
Sony VAIO VGN-G11XN/B (Core Solo U1500 @ 1.33GHz) 124.581 seconds
Sony VAIO TZ (Core 2 Duo U7600 @ 1.2GHz) 76.240 seconds
Dell Inspiron 2650 (Pentium 4 Mobile @ 1.6GHz) 231.714 seconds

3DMark06 comparison results:
Notebook
3DMark06 Score
Lenovo IdeaPad S10 (1.60GHz Intel Atom, Intel GMA 950)
N/A

Acer Aspire One (1.60GHz Intel Atom, Intel GMA 950)
122 3DMarks
Sony VAIO TZ (1.20GHz Core 2 Duo U7600, Intel GMA 950) 122 3DMarks
HP dv2500t (2.0GHz Intel Core 2 Duo T7300, NVIDIA GeForce Go 8400M GS 128MB) 1,055 3DMarks
Sony
VAIO FZ
(2.0GHz Intel Core 2 Duo T7300, Intel X3100) 532 3DMarks
HP dv6000t (2.16 GHz Intel T7400, NVIDA GeForce Go 7400) 827 3DMarks

3DMark03 Graphics Performance Benchmark (higher scores indicate better performance):
Notebook
3DMark03 Results
Lenovo IdeaPad S10 (1.60GHz Intel Atom, Intel GMA 950)
569 3DMarks
Acer
Aspire One
(1.60GHz Intel Atom, Intel GMA 950)
751 3DMarks
MSI Wind
(1.6GHz Intel Atom, Intel GMA 950) 589 3DMarks
Lenovo ThinkPad T60 (2.16GHz Intel Core 2 Duo T4400, ATI X1400 128MB) 4,622 3DMarks
Courtesy of Notebookreview.com
http://www.notebookreview.com/default.asp?newsID=4620
Size and Weight
At about 2.7 lbs, this thing is like a feather. I've been able to walk around campus and surf the internet at the same time. It's actually quite the conversation piece. Everyone loves how small and portable it is. My last notebook, a desktop replacement, weighs about 5x more, at ~14lbs. The power brick for my DTR actually feels heavier than the S10. I've included a picture I took a while ago of the S10 on the DTR, with random goodies juxtaposed around it. (Lawry's Garlic Salt, Barbasol, a cheapo Schrade folding knife, etc.)
Heat and Noise
The S10 can get a bit hot with extended use, but I haven't ever found it to be too uncomfortable. (I may be biased though as I'm used to a 7800 GTX burning my lap) Resting it on top of clothing or a blanket does away with the problem. I never really notice the laptop's fan unless im up at 3am and everything is shut down. Still the house A/C generally overshadows it.
Battery Life
The Lenovo S10's battery life is decent but not stellar. Depending on what im doing I can get any where from 2 hours and 45 minutes to almost 4 hours in super energy saver mode. I generally keep it in performance mode which yields me about 3 hours of battery life if I'm surfing the web and listening to music. I usually bottom out at the 2 hour 45 minute mark during some light gaming. (Age of Empires II, Starcraft, Pharoah, etc.)
Software
The Lenovo shipped with a few unobtrusive Lenovo utlities. (propriatary power utility, one-touch recovery, etc.) The Operating System is Windows XP Home SP3. I would have liked XP Professional (advanced network features help when connecting to my universities networks; home cannot save network credentials), but Microsoft has specifically restricted netbooks to Windows XP Home only. If I ever reformat it I plan on loading XP Professional onto it.
Accessories
My only current accessory for the S10 is a neoprene sleeve with a zipper. I plan on purchasing a slim external dvd burner and a 6-cell+ battery. Unfortunately only the 3-cell is offered in stores and online. The 6-cell must be ordered separately for $130, close to a third of the price I paid for the whole machine.
Pros
: Solid look and feel, great screen, industry leading specs
Cons:
Annoying touchpad buttons, removal of bluetooth, and the ear piercing noise emitted when the S10 goes on and off of AC power.
Conclusion
: I must say this is one of the best purchases I've ever made. At $400 this netbook was a steal. It has actually become my main computer and I rarely use anything else. If you are considering a netbook this is one of the best machines you'll find.
I plan on peforming some upgrades soon. I've decided on getting a 2gb memory stick, an internal bluetooth module, a 500gb notebook drive, an external slim dvd burner, and a 6-cell battery. I've also been considering a second partition for linux as I've heard that Gentoo (I think my friend's brother said gentoo) and I'm sure a few other distros can better take advantage of the Intel Atom CPU.
Lemme know if I missed any details or would like more information on a specific aspect of the machine.
Attached are a few different pics showcasing the S10 connected to my 32" and a friends 61" tv. I also have a few pics with my favorite Mighty Mango Naked Juices. Sorry about the poor quality, these were take my my cellphone. Most of these pics were also taken a few weeks ago. Overall I give the S10 a 9, as it performs above and beyond what I anticipated, and the few problems it has aren't very noticeable or important. (In face there is a mod for silencing the touchpad keys)