Intro
I purchased this computer as a portable companion. I used to have an Eee PC 2G Surf, which I received from the bank for free on a promotion. The Eee, while really small and portable was just too slow and small for anything but the simplest of web surfing. I was lucky to sell it for a few $ at a garage sale.
That left me with nothing to take with me on my outings and vacations. I wanted something smaller than a full-sized laptop. The Dell Mini 10 fit the bill nicely, and although slightly more expensive than your typical netbook, I did get the HD screen option, as well as the slightly larger 28whr 3cell battery (the 6 cell is a monstrosity).
First impression: Very nice machine. Glossy black casing, nearly full-size keyboard, HDMI output, etc. It looks and feels like a professional machine, and not a kids toy, like the Eee PC was.
Specs:
Intel Atom Z530 CPU @ 1.6Ghz, 533Mhz bus
1GB DDR2-800 RAM (running at 533Mhz due to the bus) - SOLDERED ON!
Intel GMA500 (Poulsbo chipset) w/ 8MB (yes, only 8MB video memory!)
Windows XP Home SP3
WD WD1600BEVT 160GB 5400rpm HDD
Realtek 10/100 Lan
Dell Wireless 1397 b/g
Realtek ALC269 HD Audio + Intel HD Audio over HDMI
10.1" HD WLED screen at 1366x768, 250 cd/m2 brightness, edge-to-edge glass
82-key keyboard, 92% of full-size
1.3mp Webcam
Multi-touch touchpad with integrated mouse buttons (bottom corners of the pad)
Black glossy finish
Options available that I did not order (some options only available in the US,
or not yet available):
Wireless N
Bluetooth
Integrated TV Tuner
Integrated GPS
Integrated 3G
6-cell battery
SSD Drive
2GB Ram
Linux
Other colours/art designs
What's in the Box:
Mini 10 netbook
30w AC adapter (grounded)
Setup Guide
Warranty and safety info
MS Works 9 disc
XP reinstallation disc
Drivers disc
Applications disc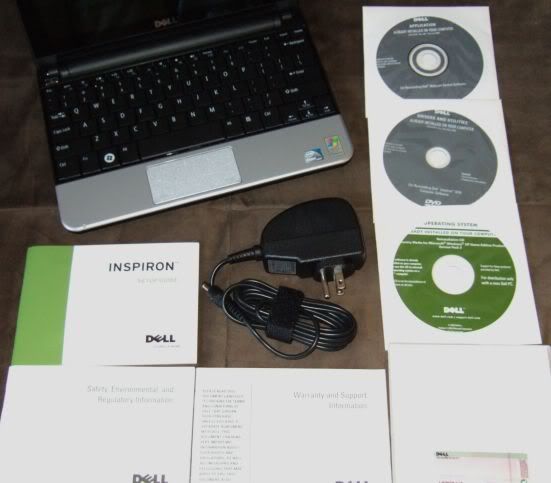 Design
This is probably the best looking netbook I've seen. It has a thin profile (ruined if you get the 6-cell battery option), edge-to-edge glass over a 16:9 widescreen HD screen, HDMI output (with audio), multi-touch trackpad, and a 92% of full size keyboard. It's also available in various colours/designs.
Screen:
The 1366x768 HD screen I got was well worth the measly $30 upgrade price. According to the online site, it's a bright WLED screen, compared to the dimmer standard LCD. View angles are great (60 degrees, according to the manual), and also better than the standard LCD. There are 15 steps of brightness, and while the extra bightness should help in daylight, the glossy finish of the glass will introduce a lot of glare. Indoors, the screen is stunning and easy to see.
There are no dead pixels from what I can see (which may not be easy given the miniscule 0.16305mm dot pitch). Oddly, the screen defaults to 1024x768 when you boot it the first time, so you have to change it to 1366x768.
Keyboard
For a 10" netbook, the keyboard is great! At 92% of full size, it easily outdoes most the competition (and even its 12" sibling). Dell was smart and used the full width of the netbook: no stupid bezels around the keyboard. As for heat, the keyboard gets just slightly warm. The function keys (complete F1-F12) have a dedicated row (much better compared to the Mini 9), yet you still have to use the FN key to access them, as their default usage is for brightness, volume, etc.
Touchpad
The touchpad is another area where the Mini 10 shines. While it takes some getting used to, the multi-touch trackpad is very handy, and with the mouse buttons built underneath the pad (the two bottom corners), it leaves the extra room for the keyboard. The gestures can be used for scrolling, zooming, panning, returning to the desktop, and flipping pages, among other things. You can customize how the pad behaves as well, if you find it too quirky.
Features:Multimedia Keys
There are no dedicated multimedia keys, however you can skip songs in Media Player using gestures on the trackpad
LEDS
There is only one LED on the system, in white, on the front left edge. It is used for power and battery indication. There are no other LEDS for HDD or WiFi. There does appear to be an LED or simply a reflective glass bulb on the power cable.
Wifi
The Dell 1397 WiFi I received is b/g only (I don't need the N option). It's easy to use, and enabled by default. It appears very strong, and picked up more signals than my previous Eee PC did. The connection to a weaker signal also seems fairly stable.
Speakers
There are two small 1.0w speakers under the front lip of the netbook. These are pointed down and help in creating a little deeper sound. They are not spectacular, but still good in netbook terms.
Input and Output PortsFront
:
There are no ports on the front
Webcam Pictures
The webcam is of the 1.3mp variety, supporting 640x480 at 30fps. I have yet to try the camera myself, but other reports are that there are no problems with the camera, and Skype calls work well. Beside it is a standard built-in microphone
Right Side
:
On the right you'll find headphone and microphone ports, the HDMI port (which supports audio), two USB ports (the second supporting power of up to 2A loads), and 10/100 ethernet. The powered USB is a plus, but the HDMI port is what really makes the netbook shine, allowing you to hook it up to an HDTV (although the Intel GMA500 is weak for watching HD files).
Left Side
:
On the left we find the 3-in-1 flash reader (supports SD/MMC/MS, including SDHC), an additional USB port (for a total of 3), power connector, and Kensington lock.
Rear
:
There are no ports on the rear, as it is taken up by the battery, and covered by the screen when opened.
Bottom
:
The bottom is relatively clean. There are no access ports, and any upgrades (like HDD) are accessed by unscrewing the entire back. The fact that the RAM is soldered onto the board is a big deal breaker for many, however I believe 1GB is plenty for XP (especially having used 512MB on my Eee PC). The battery locks on mine seem a little finicky; one lock snaps back in place, while the other I have to lock manually. There are vents on 3 edges of the bottom of the netbook.
They are small, and I wonder how much good they actually do. On the plus side, the inclusion of the low-power Z series CPU and matching chipset allows Dell to exclude any fans. That makes it virtually silent (excepting HDD noise).
Benchmarks
There aren't many benchmarks to run on a netbook, but I chose to run SuperPi, just to show how a netbook's CPU really performs!
I've also run 3DMark 2001, and the results can be found under the benchmarks:
http://www.notebookforums.com/thread228845.html
Size and Weight
Myself, I find 10" the sweet spot for a netbook/portable PC. The screen and keyboard is usable, while still being highly portable. The thin profile of the 3-cell battery also helps. It arrived in a small box at 14.5 x 9.5 x 3.75", weighing 2.2kg. The netbook itself is 10.27 x 7.18 x 0.99-1.1" and weighs 1.12kg with the higher capacity 28whr battery, 1.02kg without. Note that if you order the 6-cell battery that it will stick out the bottom of the netbook like a giant growth, and raise the typing angle considerably.
Heat and Noise
Thanks to the low-power CPU and chipset, the heat is kept to a minimum, even without a fan. The netbook is comfortable to keep on your lap and type on for extended periods, although it might heat up more if you block the vents. Noise is a non-issue. The only sound you may hear is that of the HDD, and even that is impreceptable in standard conditions. I'm thankful I no longer have to deal with a whiny fan like that on the Eee PC
Battery Life
I purchased the 28whr 3-cell instead of the standard 24whr. According to Dell, this should give me up to 20% more battery, while keeping the thin profile. Although I have yet to test the idling performance of the battery, I have been playing music over the speakers now, with WiFi on and brightness at 66% (notch 10 of 15), and the battery lasts about 2hrs and 45 minutes. Lighter web use may result in over 3 hours. Results on the standard 24whr battery says it lasts between 2:15 and 2:30, so I am happy with my result. I was lucky if I got even near 2 hours on the Eee PC (closer to 1:30)
Software
Being Dell, it comes loaded with all kinds of stuff. While the typical user may want/need it all, to me it's bloat, and I prefer my own software. Booting takes around 70-90 seconds, and I'm hoping to lower that when I clean it up.
Installed apps:
Dell Dock
Dell Support Centre
Dell Wireless
Dell Webcam
Dell Video Chat
Dell Media Experience
Function Keys
MS Works
Norton Internet Security
MSN
MS Office Powerpoint Viewer
Box.net Online Storage
Acrobat.com
Adobe Reader
Windows Live (Call, Mail, Messenger, Photo Gallery, Writer)
In Add/Remove (not already included above)
Adobe AIR
Adobe ActiveX Flash Player
Advanced Audio FX Engine
Battery Meter
CapsLKNotify
Office 2007 Compatibility Pack
Cyberlink PowerDVD 8.0 SE
Dell System Restore
ETDWare PS/2-x86 WHQL (touchpad)
Java 6, update 13
Live! Cam Avatar Creator
.NET
MS Compression Client
MS Silverlight
MS SQL Server 2005 Compact Edition
MS Sync Framework
MS User-Mode Driver Framework Feature Pack 1.0
MS Visual C++ 2005 Redistributable
MSXML 6.0 Parser
Windows Media Format 11 Runtime
Windows Media Player 11
Windows Search 4.0
Accessories
No accessories. I may add my own USB TV tuner in the future.
Pros:
- Beautiful, bright, 1366x768 WLED widescreen, with edge-to-edge glass
- 92% full size keyboard, with good key placement
- Multi-touch trackpad
- HDMI output with audio (to be tested)
- Quiet, fanless design
- Higher capacity 3-cell battery option
- Thin 1" profile
- Good WiFi performance
- Did I mention the beautiful screen?
Cons:
- RAM not upgradeable!
- Apparent issues with the TV tuner option (not purchased by me anyways)
- Video performance unworthy of the HD screen and HDMI output (to be tested)
- A little more expensive than current netbooks
- A little too much bloatware/applications
Conclusion:
So, am I happy with my purchase? Damn right! As always, Dell carves a niche with it's highly customizable wares. With a few options, the Mini 10 can be made into the perfect travel companion for almost anyone, however some options will still take time to show up. The Mini 10 has the style and substance of a subnotebook, with a netbook size and price.