Intro
So here I was all happy with my 1705 expecting that maybe in another year I'd get a new system,and then my wife asks me if I'd like a new laptop so we can give my 1705 to her family, so I'm thinking well I guess. So I start looking for new systems and I'm going back and forth between the ASUS G73, the MSI GX740, and two of the Sager models, 8760 and 8120. I started leaning away from the ASUS system due in large part to the lack of any ports other than USB 2.0, and I was leaning away from the MSI due to the limited screen resolution on that system.
I then decided that I would get the NP8120 and ordered it. I got it from PCTorque because they were the only reseller I could find that would offer accidental damage plan; this is important for me with potential for accidental damage from my dog and any kiddies that come along. The next day, there was a product refresh on the 8760 which included the Radeon 5870, and I could save about $500 so I thought well great I'll get that. I changed my order and received my system Friday.
First impression, it's a bit heavy, but actually a bit less than I expected. Very basic looking (that's not a problem for me). Keyboard is what I think they call "chicklet" style, makes me feel bad, didn't pay enough attention to the pictures to notice this. Screen is 16:9, which I knew when I ordered it but still makes me sad.
Specs:
Sager 8760
Sager 8760 Ultimate Custom Gaming Notebook Computer (Built on Clevo W870CU)
17.3" Full HD(1920x1080)16:9 LED Backlit Super Clear Glossy Widescreen- Wide Viewing Angle
30 Day No Questions Asked Money Back Guarantee! (Others only give you 15 days)
ATI Mobility Radeon™ HD5870 1024MB PCI-Express GDDR5 DX11 (User Upgradeable!)
Intel® Core™ i7-820QM CALPELLA Clarksfield Processor, 1.73-3.06GHz, (45nm, 8MB L3 cache)
4GB (4096MB) DDR3 1333MHz SDRAM (2 SODIMMs) (2gb + 2gb)
500GB l 7200RPM I SATA II-300 (16MB Cache Buffer)
No 2nd Hard Drive
Panasonic 6X BD-R/8X DVD+-R / 2.4X + DL Blu-Ray BURNER with Software
Integrated-Built In Fingerprint Reader
Enhanced High Definition 3D Audio Sound System with S/P DIF Digital Output - SB Compatible
Integrated Built-In Bluetooth Module + EDR
Internal Built-In 7-in-1 Memory Card Reader (MS/MS PRO/MS DUO/SD/Mini-SD/MMC/RSMMC)
Integrated 2.0 Megapixel Digital Video Camera (Built In Webcam!)
Integrated Built in 10/1000 Fast Ethernet / LAN Network Card
Integrated Built in Intel 6300 Ultimate-N WiFi Link
Microsoft Windows 7 Professional 64 Bit Installed (64 and 32 bit CD included with drivers)
Standard 11.1V Smart Li-Polymer Battery Pack 3800mAh, 42.18Wh
Standard Full Range AC Adapter with Power Cord
Deluxe Black Business Carrying Case (Free!)
No Microsoft Office
Sager 3 Year Warranty (Parts and Labor) + Lifetime Domestic Tech Support (2 Way Shipping!)
Manufacturers 3 Year ADP Policy - Covers All Parts & Labor For Drops, Spills, Etc…
What's in the Box:
Sager 8760, Laptop bag,
120 W power block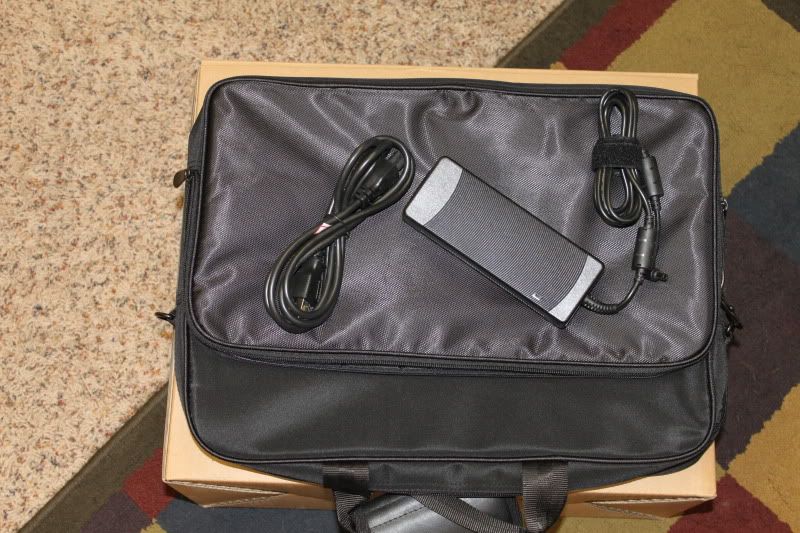 drivers CD, intel driver CD, Windows CD, extra HDD brackets, Cyberlink BD burner software DVD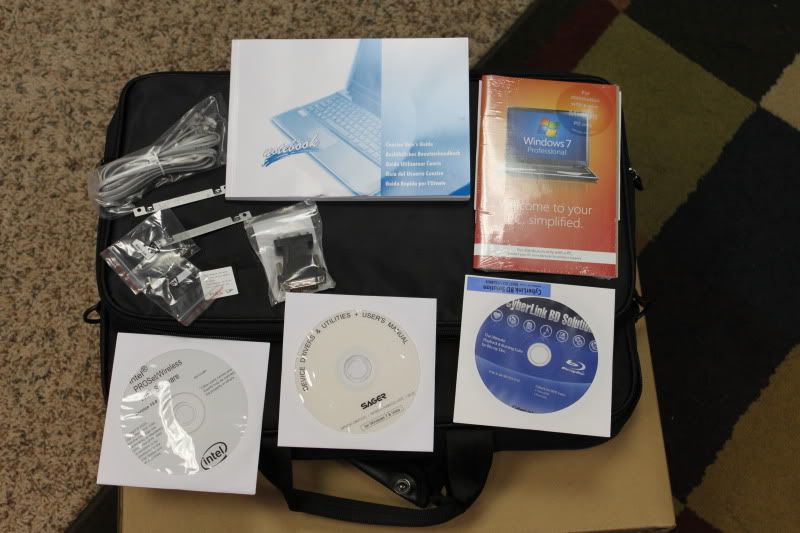 Design
Very Spartan. I actually like it.
Screen:
16:9
Otherwise the quality of the screen is terrific, no dead pixels, wide viewing angle, brightness levels are decent, brightest is great and usually the only screen setting I use on laptops. I will say that when I adjust the brightness, the actual dimming or brightening lags about half a second behind pressing the button. I've not tried it out in the direct daylight but as with most high gloss screen in bright ambient light there is a reflection problem, though I will say I did notice it on this display more than my last display.
Also, the screen lid only opens to about 120 degrees and won't lay flat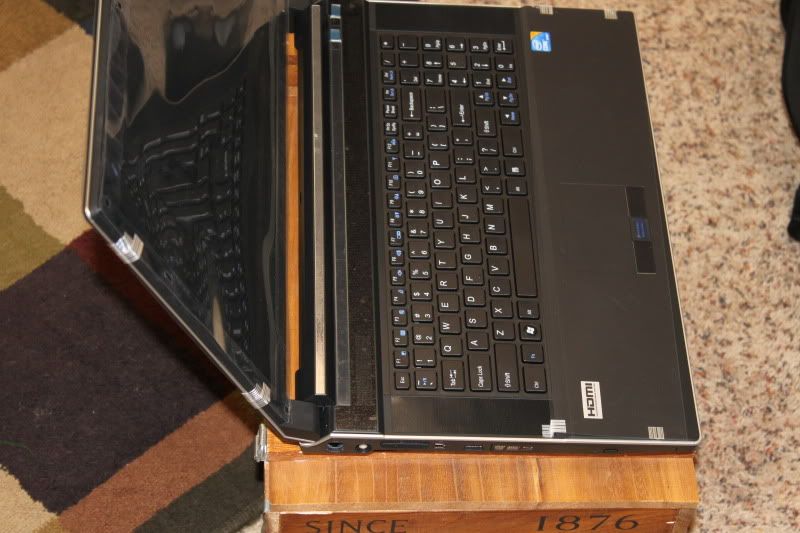 Keyboard
As I mentioned above, the keyboard is chicklet style, which I really didn't like when I first saw it.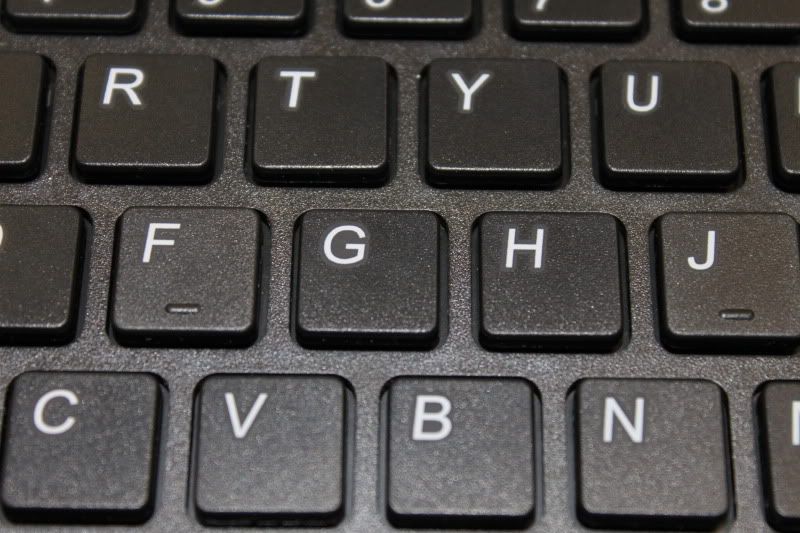 After I've used it a bit it's really not bad. When I'm typing I don't actually even notice it. The KB is sturdy. The keyboard includes a number pad which I haven't had much of a chance to use yet. The function keys are pretty standard and include controls for volume, hibernation, internal/external monitor switching, brightnes camera control wireless and bluetooth switches.
Touchpad
The touchpad is ok, though I find it awkwardly placed for typing. As it sits, it falls right underneath that part of my palm just under my thumb. As I type, my palm hits the touchpad and causes the screen to start scrolling a bit. This means that I'm going to have to disable the touchpad scrolling and tapping functions. The buttons have a texturing to them which is nice for when you're using it.
Features:Multimedia Keys
There are three pressable buttons for mail, browser, and fan control.
LEDS
There are indicator lights like on most laptops I've had but no real glowy stuff.
Wifi
–
Intel 6300 802.11 b/g/n Seems terrific so far.
Speakers
5- speakers including a sub. Sounds are really nice. Haven't had a chance to really use them a whole lot in games so I don't know yet how well it works for games.
Input and Output PortsFront
: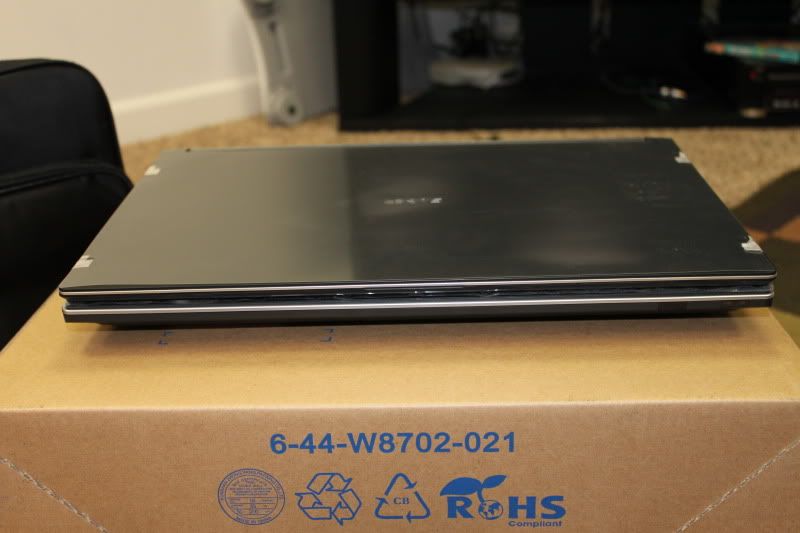 No ports on the front, webcam installed on the top of the lcd bezel, mic installed in the palmrest just above the touchpad.
Webcam Pictures
2.0 Mpxl built in. works fine for a webcam. If you want a highquality camera for videos and whatnot, you should get an actual camera.
Right Side
: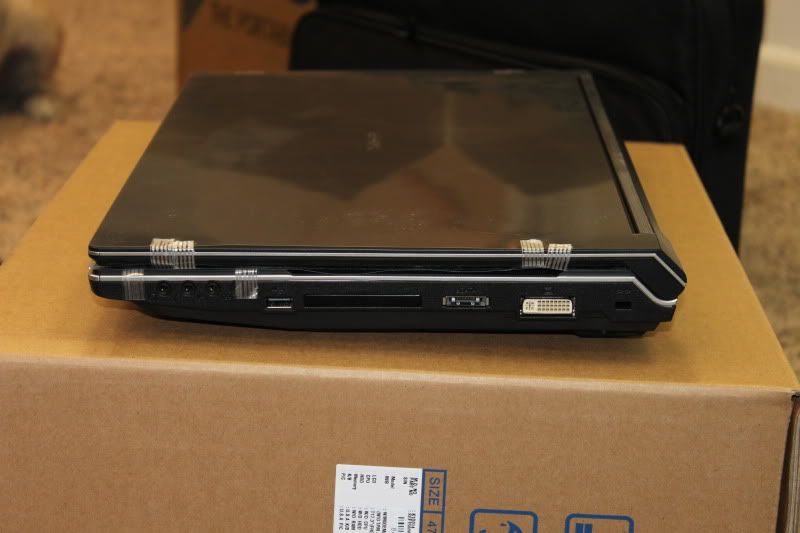 1 USB, eSATA, audio jacks, DVI, expresscard. Could have put another USB over here.
Left Side
: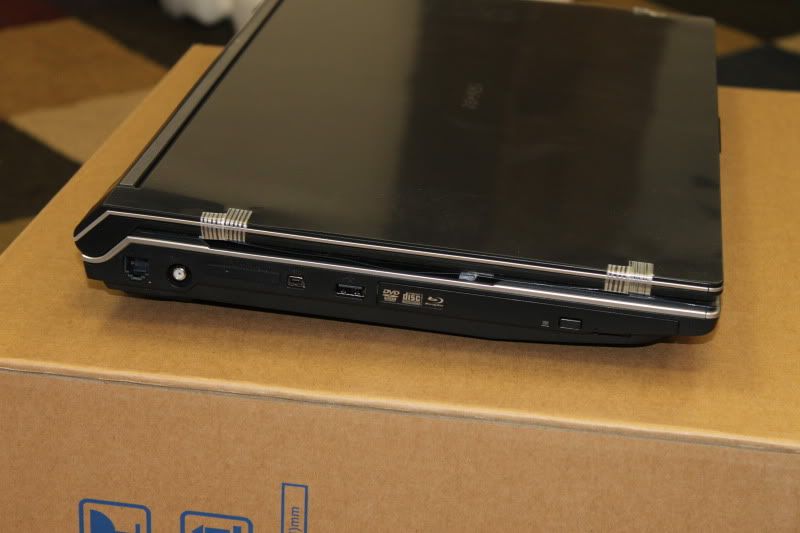 Another USB, Firewire, media card reader, Modem, Cable TV input and optical drive. I really enjoy the optical drive being on the left side of the laptop. When it's on the right, the tray tends to get mixed up in things like mouse cords and whatnot. I also really enjoy having a USB port on the left side for game controllers that I use with my left hand (Nostromo n52). Were I the designer I would have increased the total number of USB ports to 6 and had two on either side with two in the back.
Rear
: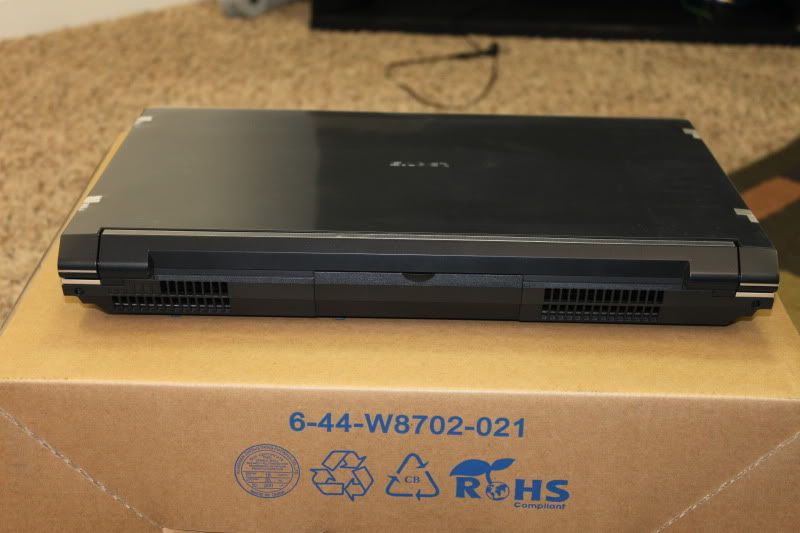 The rear of this notebook has what I consider to be a bit of a problem. They designed it with a "trap door" that hides the rear ports (HDMI, two USB, power in, and LAN).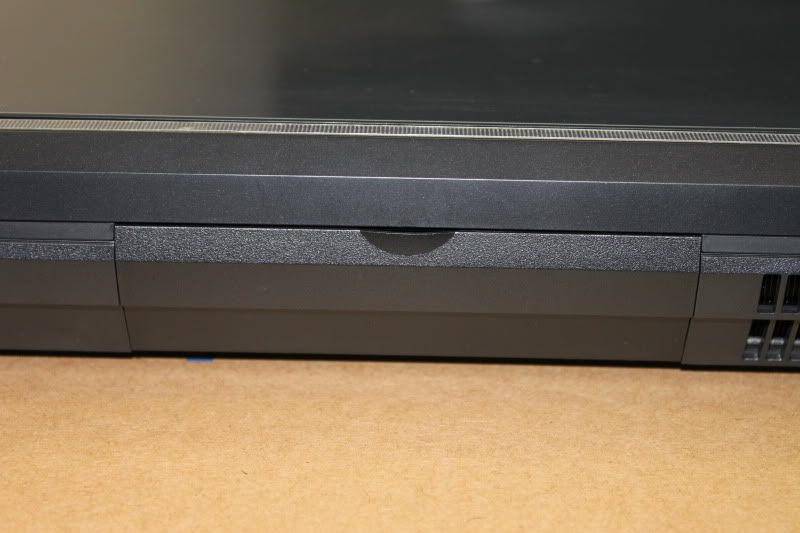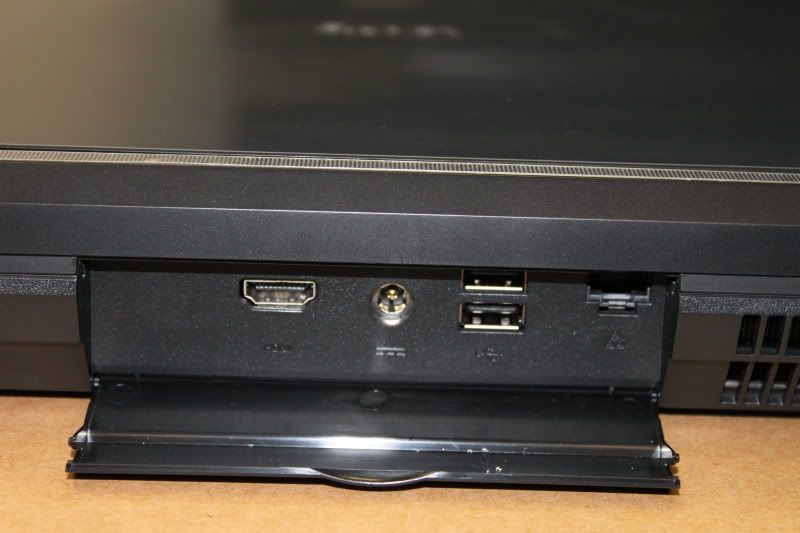 I saw this in the pictures before buying it but in the pictures where the door is open it doesn't really show what happens to the door; I had hoped that this meant that the door would slide into the body of the notebook, but really it just sits there open, which makes me worry I might break it off if I move it around too much or have the laptop in a position where the power cord would be resting on the door. The rest of the back is occupied by exhaust vents.
Bottom
:
On the bottom there are two main access ports. One of these ports is the battery, which, when removed, exposes the primary HDD bay and a few other items.
The second access port when removed, exposes the second HDD bay, fans, RAM modules, heatsinks, etc. I really like this for later on if/when I decide to upgrade parts. Essentially it exposes all of the pieces I might want to replace without having to take the entire base of the laptop apart (like I had to on every Dell I've owned). I've already removed this door to install my second HDD which was really easy.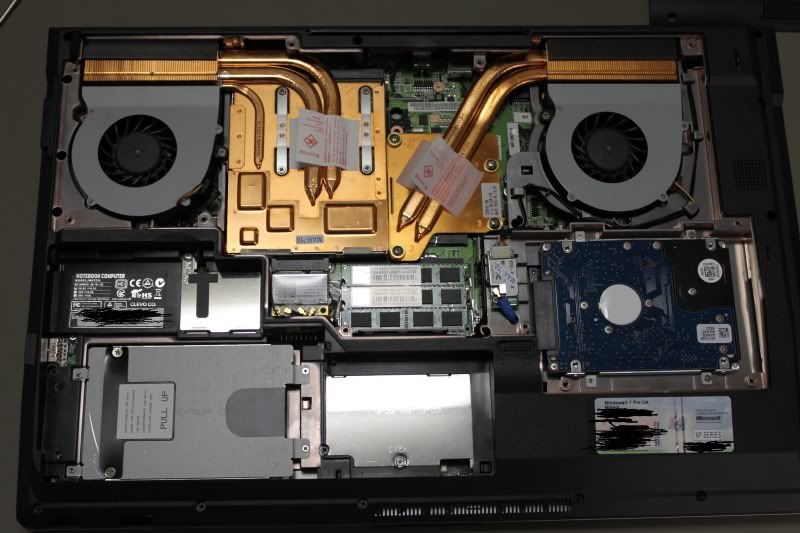 Benchmarks
Will post benchmarks later
Size and Weight
I think the wieght on this thing is fairly substantial, which odesn't make it ideal for lugging around all the time but then again it's a DTR so it's not really made for carrying around all the time.
Heat and Noise
As I said before I haven't had a whole lot of time to game on it yet I've been too busy installing stuff on it.
Battery Life
Will post more on this later though I'm guessing that I'm going to realistically get about 30 minutes-1 hour battery life on this max. Once again, DTR, Not really worried about having a lot of battery life because it will usually be plugged in.
Software
It came with drivers and utilities and the only real software I got with it was the Blu-Ray burner software by Cyberlink.
Accessories
I ordered it with only one HDD expecting that I would be upgrading it myself, it came with mounting hardware for the second drive. Also came with a DVI-VGA connector, which I'm wrestling to figure out a reason for. Seems like anyone who'd be buying this system and attaching it to an external monitor would have a high enough quality monitor that it would have a DVI port on it.
Pros
: Good solid Keyboard that I initially didn't like for purely aesthetic reasons but is starting to grow on me.
Very nice LCD panel, no dead pixels great contrast and brightness.
The fingerprint reader, while I initially thought that it would go completely unused, I've found that you can tie programs to your different fingers and just launch them by swiping your finger (nice)
With what little gaming I've had the ability to do on it in the last day, it functions phenominally and I haven't noticed much heat.
Looking forward to watching this thing cook on some benchmarks.
Cons:
LCD doesn't lay flat and it is limited to an open angle of about 120 degrees.
The flimsy door covering the back ports is probably going to break off.
Could use another USB port on either side.
16:9 aspect ratio on display.
Conclusion
:
Very solid system that should serve me well for the next few years. What gaming that I have done has been terrific. Overall I'm very pleased with this purchase so far. I'll post an update as I have more info and will be posting benchmarks as well.
Other thoughts:
I had a shipping nightmare with UPS. See
here
for more details.
After only a few hours of use...not even heavy use just re-installing windows and whatnot...I noticed that the unpolished metal or whatever on the palmrest really absorbs oils from your skin. I took a picture of it and you can see it if you look closely.