This is my first review so go easy on me! ( Images are small because Photobucket resizes them...)
PHASE 1: The Order & The Wait
Alienware is known for quality, customer service, and of course the infamous waiting period. Being that I am a previous owner of two Alienware computers (Area-51 & Area-51m), the waiting did not have a huge effect on me...or at least thats what I thought...
Placing my order went smooth as silk as always. I called them a few times to change my order and i've never been more pleased. They were extremely helpful and were so pleasant to talk to, you would swear they were on happy pills. I was calm and cool as ever after I ordered, not expecting my PC to ship until mid January. As the phases went on, my order "magically" jumped to phase 9 two weeks early:
Ordered: Dec. 13
Phase 3: Dec. 14
Phase 4: Dec. 18
Phase 5: Dec. 23
Phase 9: Dec. 27
Phase 13: Jan. 5
Shipped: Jan. 5
Received: Jan. 11
From then on I was on the edge of my seat. I'll say this to wrap up Phase 1: Nobody but Alienware can deliver a computer shopping experience as exciting as they do, period.
Phase 2: Shipment & Unpacking
Shipping went extremely fast, although I wish Alienware still used 2nd Day delivery like they did in the past. I waited all day the 11th for the Fedex guy only for him to show up at nearly 8 o clock at night, and did he know what he was delivering? He sure did, lol. He commented on the computer and I told him to leave so I could start using it (not really). I hauled, yes hauled, the thing inside and starting opening the beast. I was suprised at how well this thing is packed in there, and a sense of relief passed over me knowing my PC was in good hands on the way across the country. After getting the PC out of the box, i snapped some pictures and proceeded to set it up, this is where things got shady...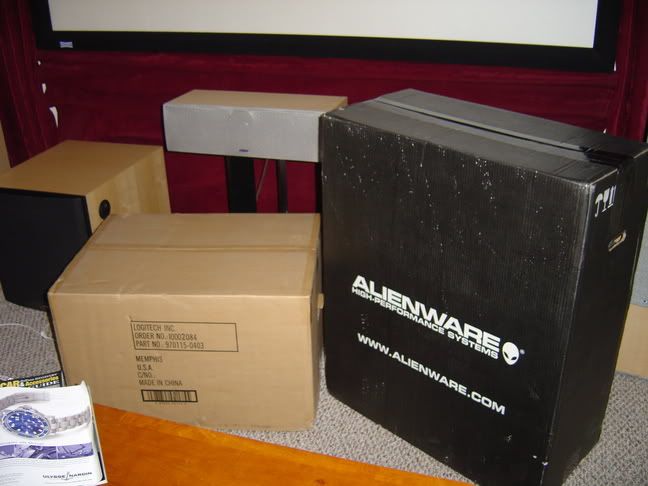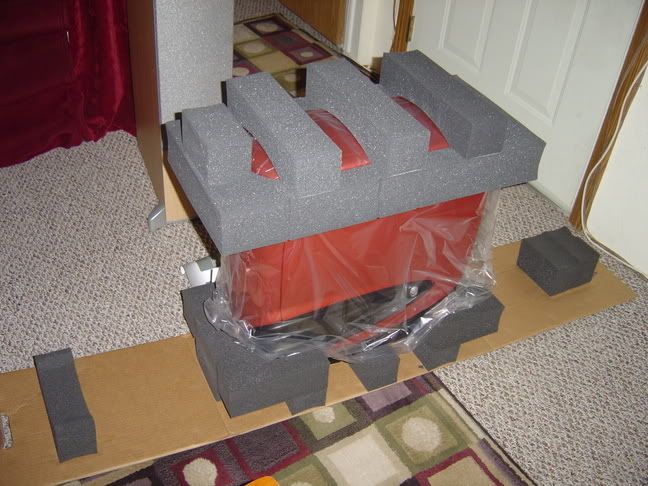 Phase 3: The Setup (small griefs)
Here is where my small griefs come in. After getting the case to my desk, I then spent about 10 minutes, yes 10, trying to open the front door. I still have trouble opening it every single time. The "push" latch on it absolutely sucks balls, like i said before, i struggle everytime i try to open the front. I previously had a 250gb storage drive from my last AW with all my Data on it that I wanted to migrate to my new Aurora. Thinking this would be easy, I then proceeded to struggle with the same type of "push" latch on the side panel of the case (poorly designed). Anyways, once I got it open I found there were no power connectors left for my HD, so I had to buy a splitter for it which I couldnt the night i got it because all the local places I could get one were closed. So, i didnt get to use my Aurora until this morning after I finally got things squared away with the HD's (Thanks to the great support offered by AW and Members of this forum!). After spending 130 bucks on a DVI cable that would reach my Aurora, I finally got it setup.
Powered by Xbox (i didnt have an extra power cable, so I used my Xbox to power my Storage HD i installed temporarily)
Phase 4: The Aurora City 17
This is my Configuration for my Aurora:
Aurora™ City 17™ System
Warranty: 1-Year AlienCare Toll-Free 24/7 Phone Support with Onsite Service
Operating System: Microsoft® Windows® XP Home Edition with Service Pack 2
Chassis: Alienware® Full-Tower Case (480-Watt PS) - Martian Red
Power Supply: Alienware® 480 Watt Power Supply
Processor: AMD Athlon™ 64 FX-55 Processor with HyperTransport Technology
Motherboard: ABIT AV8 - VIA K8T800 Pro Motherboard
Memory: 2GB Alienware® Dual Channel High-Performance Low-Latency DDR SDRAM at 400MHz - 4 x 512MB
Graphics Processor: NVIDIA® GeForce™ 6800 Ultra 256MB DDR3 w/Digital and S-Video Out
Video Cooling: AlienIce™ Video Cooling System - Astral Blue
System Drive: 74GB Western Digital® Raptor™ 10,000 RPM w/8MB Cache
Optical Drive One: Lite-On® 16x DVD / 52x32x52x CD-RW Drive
Optical Drive Two: NEC® ND-3500 16x Dual Layer DVD±R/W Recorder
Floppy Drive: 3.5" 1.44 MB Floppy Disk Drive - Black
Sound Card: Creative Sound Blaster® Audigy® 2 ZS High Definition 7.1 Surround Firewire (IEEE® 1394)
Network Connection: Integrated High Performance Gigabit Ethernet
Portable Storage : Alienware® 8-in-1 Digital Media Reader / Writer with FireWire
Now, i've always been an intel guy thinking AMD was mainly for "budget" users all these years. But this time, when choosing my PC, I wanted the best, and its obvious that the FX-55 has everything else beat in the benchmarks at the time. I dont know if my first impressions of the CPU are flawed because maybe I was expecting a HUGE leap in performance when upgrading. I upgraded from:
P4 2.53
1gb RDRAM
Nvidia geforce4 Ti 4600
I figured everything would be 100x as fast, but thats not the case. Sometimes when accessing files & folders it feels like my P4 was faster, but Im happy with the PC's performance so far, and im sure I will be more impressed as time goes on. I havent played any games yet, but will be installing BF: vietnam, HL-2, and UT2004 after Im done writing this. For those who are wondering, mine came with a BFG nvidia card (and yes it uses TWO power connectors). If i get enough request, I will update this with some benchmarks...
New Vs. Old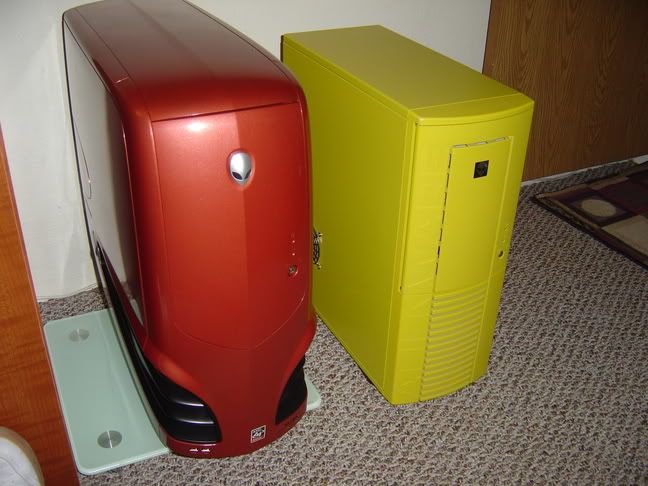 Old Setup
New Setup
Final Phase: Conclusion and more pictures
I really didnt want to write this review mostly because I feel like Im back in school writing essays..lol. But I appreciate your help and advice and felt it would help future AW buyers. After three Alienware purchases, I would definitely buy another one from them. I recieve nothing but excellent customer service and an excellent product. During my order I contracted Bronchitis and could barely talk Knowing this, Juan and the guys were nice enough to conduct business through PM's and Emails instead of making me call. I am very happy with the new design of the cases, although the latches could be WAY better. The only flaw with mine besides the latches, is that my door rubs on the lower left when opening and closing, so the door doesnt open smoothly, and its rubbing off the paint. And whats with the CPU branded sticker on the front!!!??? Are we turning into HP or Dell now?!
. The paint couldnt be more beautiful, which is a big plus for me because my first AW I had the paint was discolored and two toned. Wrapping it up, I love my new AW and am GLAD i didnt decide to build. If you would like any specific pictures or have any other questions I'll be happy to post/answer them! And thanks to Craig and the Mods for keeping these boards in shape...Later and I hope you enjoy!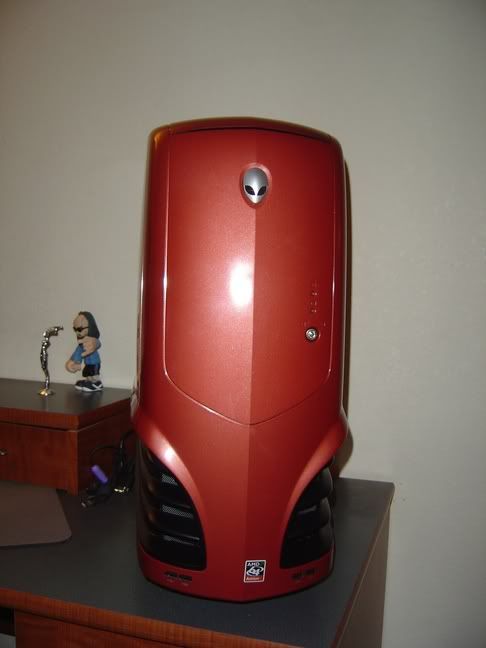 Yes, That IDE cable was like that! YIKES AW!!!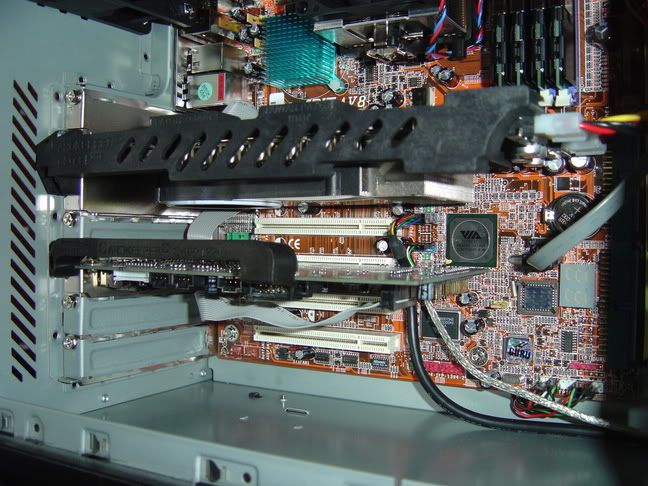 My HUGE game collection (next to the bible)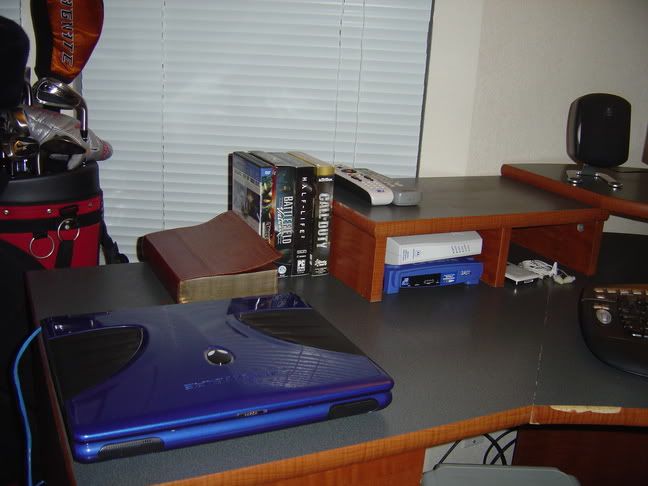 Alien Ice