Well, I finally have the time to type an in-depth review, post benchmarks, and post pictures of my new Dell Latitude D610. My system specs are in my signature. I'll start off with the review.
The chassis and overall design:
The chassis is very attractive for a buisness laptop. Dell used good quality materials that feel nice to the touch. There is absolutley no squeek, rattles, creeking, or flex. The system has a good latch, and the display hinges are sturdy. The keyboard has no flex in it at all and is very easy to type on. The touch pad has a nice feel to it with good sized buttons. The D610 also features a track stick in the middle of the keyboard. It is fairly easy to use, however I wish that it were raised up a little bit more. The mouse buttons for the track stick only click at the bottom instead of across the entire thing which takes some getting used to. There are dedicated audio controls which consist of volume up/down buttons and a mute button which are located above the keyboard. This thing is very light when compared to my old Inspiron 8600, weighing only 4.6LBS. It is also small enough to fit into any laptop bag without a problem. The system has just about all of the ports you would ever need except for a DVI port. It has front mounted speakers that sound suprisingly good and are LOUD, however they are not good enough to act as a standalone CD or MP3 player. The system also is very quiet. When the fan is on high, you can't even here it. And even though it only has one fan, this thing runs fairly cold even when under a full load.
The display:
My laptop features the 14.1" XGA screen which is perfect for me. The resolution is fine, the screen is very bright, and it also has a crisp picture. However, it does not have a reflective finish which would be a nice touch, but it really isn't necessary.
Battery Life:
I believe that it is pretty good. My laptop has the larger 6-Cell battery and I usually get about 4:20 when listening to music and using the internet simultaneously. I only bought the smaller 65-Watt AC adaptor and it can charge the laptop from 0%-100% in a bit under 2 hours. Recently, I have done the voltage mod as found in this thread:
http://www.notebookforums.com/showthread.php?t=70943
and my battery life jumped. I ran Battery Eater Pro and chose the reader's test and the battery died after the test in 4 hours and 58 minutes with the wireless turned off, and 4 hours and 34 minutes with the wireless turned on.
Performance:
Alright, hands down, this thing is fast. I have the 1.86GHz Pentium M and I can notice a definite speed boost over both my 2.4GHz Pentium 4 desktop and my old I8600 with a 2.0GHz Dothan Pentium M. Applications come up instantly and normal productivity tasks are easily tackled. Now gaming is a bit different. Although in games, ATI's Mobility Radeon X300 dosen't perform badly, it just lacks the extra punch to be able to turn on advanced features like Anti-Aliasing (AA), Anistropic Filtering (AF), and VSync. I would say that the card is a little slower than the ATI Radeon 9600 Pro Turbo, but not by a lot. I went and put a Hitachi 7K60, 60GB 7200RPM Hard Drive in it that I got off of
www.zipzoomfly.com
to help loading times, and it works perfectly.
Networking:
The integrated gigabit lan works well. I can't say anything about the integrated modem as I don't have a dial-up internet connection. My laptop has the new Intel Pro/Wireless 2915, and I must say that this is where the laptop really shines. This card is hands-down THE BEST wireless card I have ever seen. I own a Netgear WGT624 Wireless Router and the two work well together. This card does an outstanding job of filtering out unwanted interference, and it can pick up even the weakest signal. It picks up 3 different wireless connections in my neighborhood where my old I8600 with the Intel Pro/Wireless 2200 only picked up 1 and it didn't get a good signal strength. If you are looking into purchasing this laptop, definatley get this laptop.
The Headphone Issue:
This is a big problem. When you have a set of headphones plugged into the headphone jack, many people have complained of hearing noises from the hard drive, the touchpad, the keyboard, etc. I hate to admit it, but this is a big problem that Dell needs to fix. The registry tweek that someone came up with helps, but does not completely eliminate the issue. The sound goes away as soon as you start listening to music. It is still very bothersome to me. Other then that, the sound quality is crystal clear and it plays incredibly loud.
--------------------------------------------------------------------------
Benchmarks:
My system plays Doom 3 at 1024 X 768 with the graphics on high at 30FPS, however there is no AA or AF enabled. But I am suprised that it can even do that with only 64MB of video ram and an ATI Radeon X300. My Benchmark scores are as follows:
3D Mark 01 SE: 12,542
3D Mark 03: 2,082
3D Mark 05: 867
PC Mark 04: 3,579
Battery Rundown after volt-mod (Wireless off): 4:58:37
Battery Rundown after volt-mod (Wireless on): 4:34:22
--------------------------------------------------------------------------
Pictures:
An open view (Yes, I am running Microsoft Windows XP Media Center Edition 2005).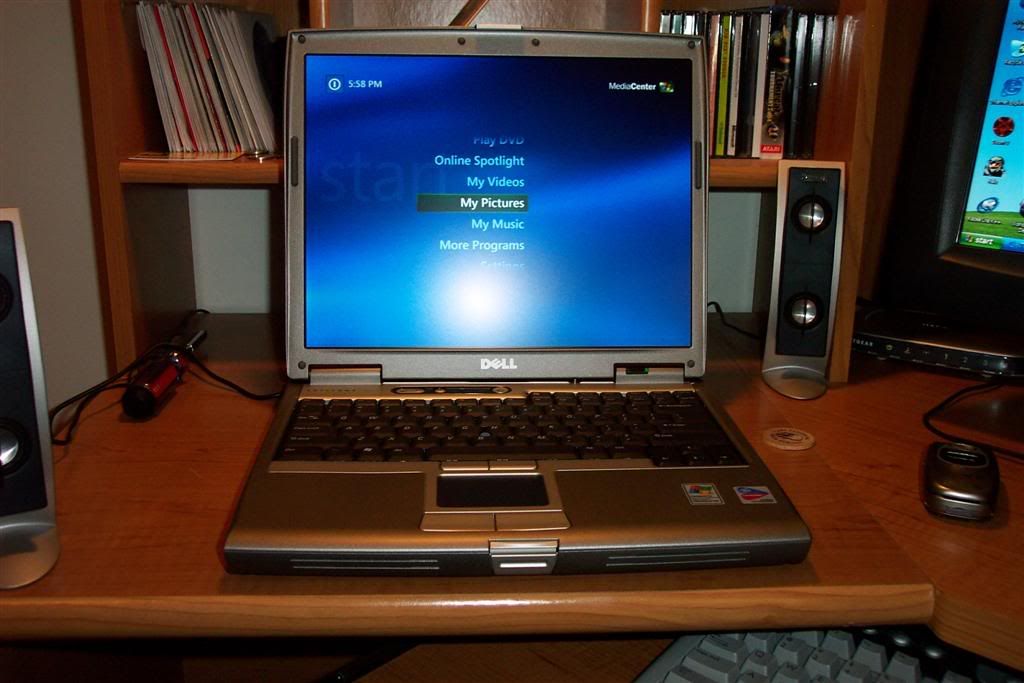 The keyboard and touchpad.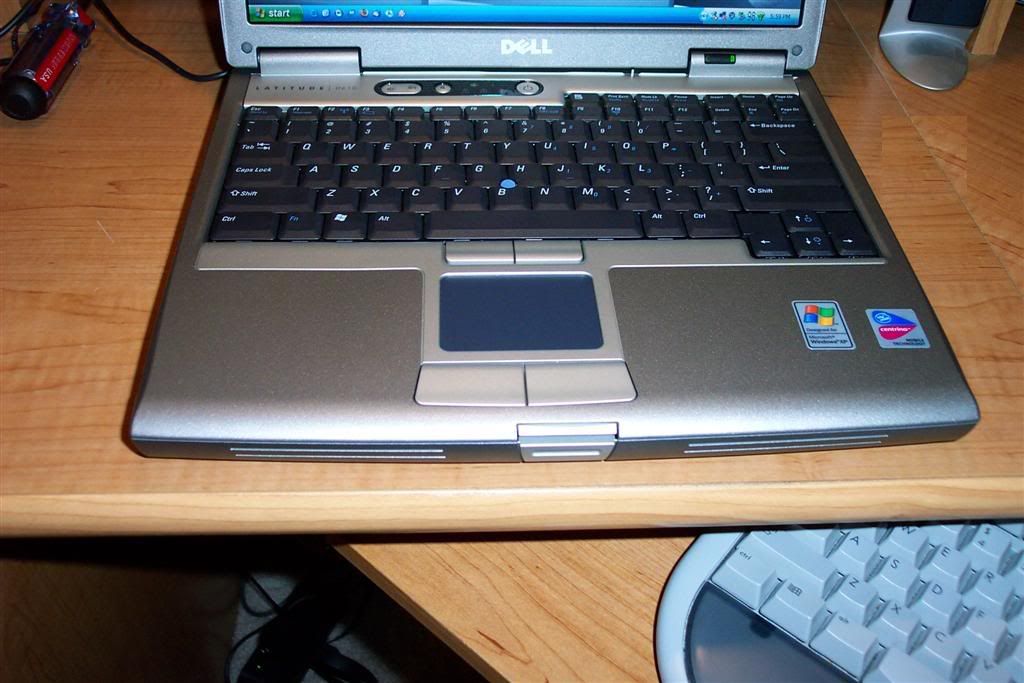 A top view.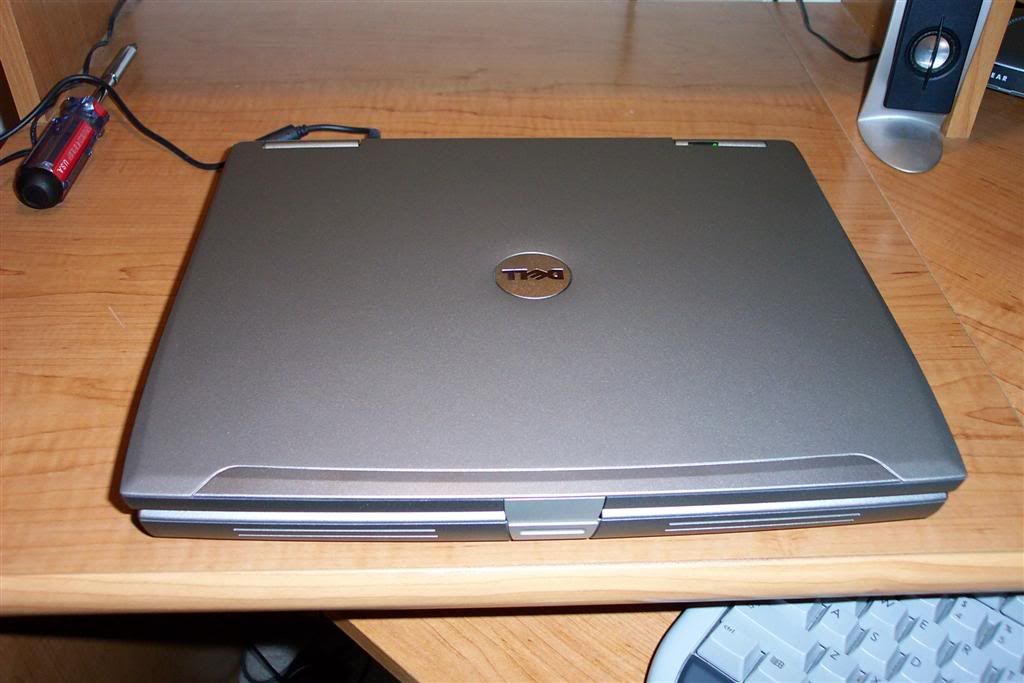 Front view.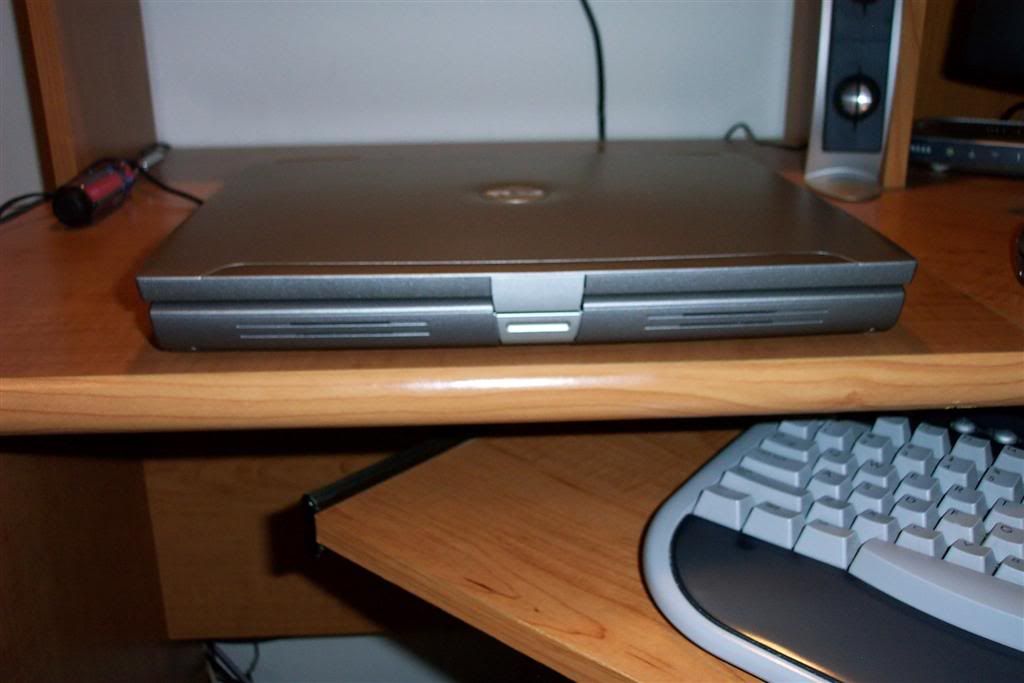 Right view.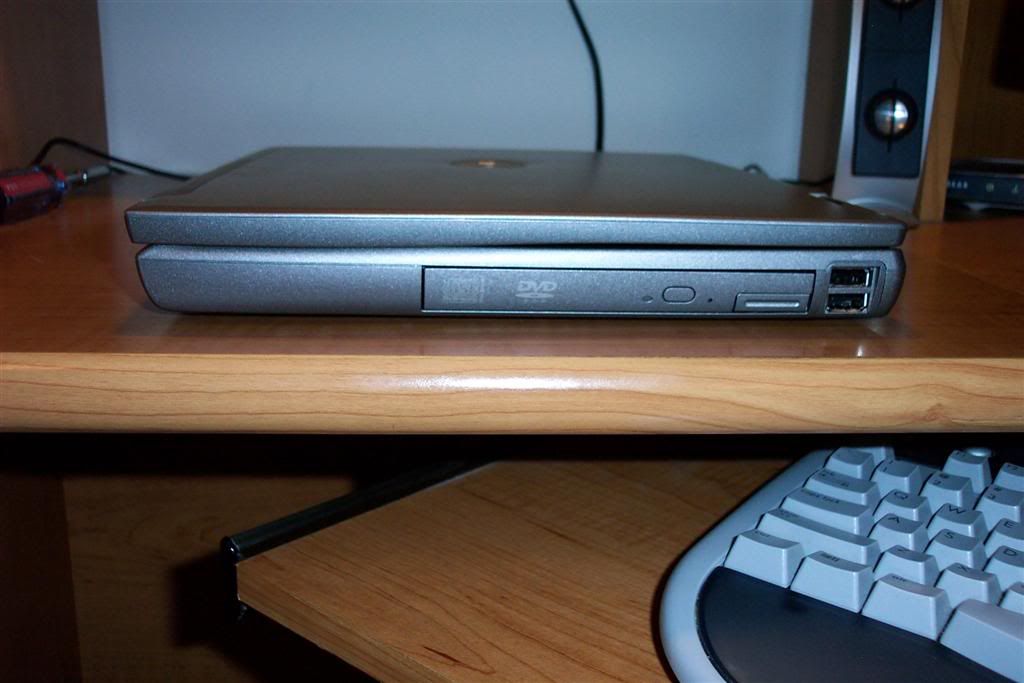 Back view.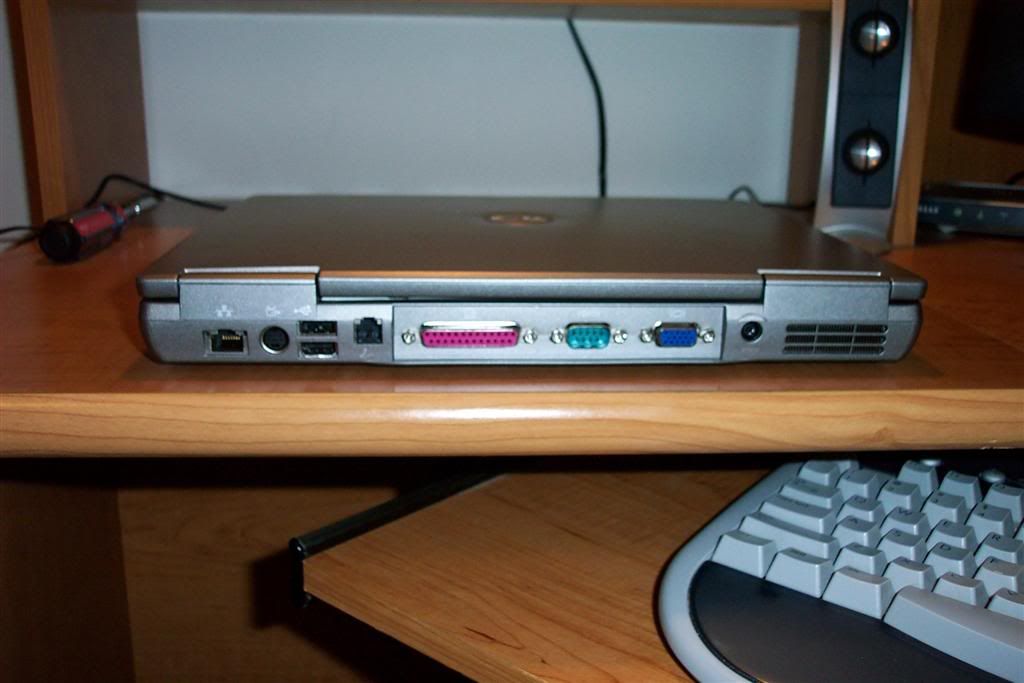 Left view.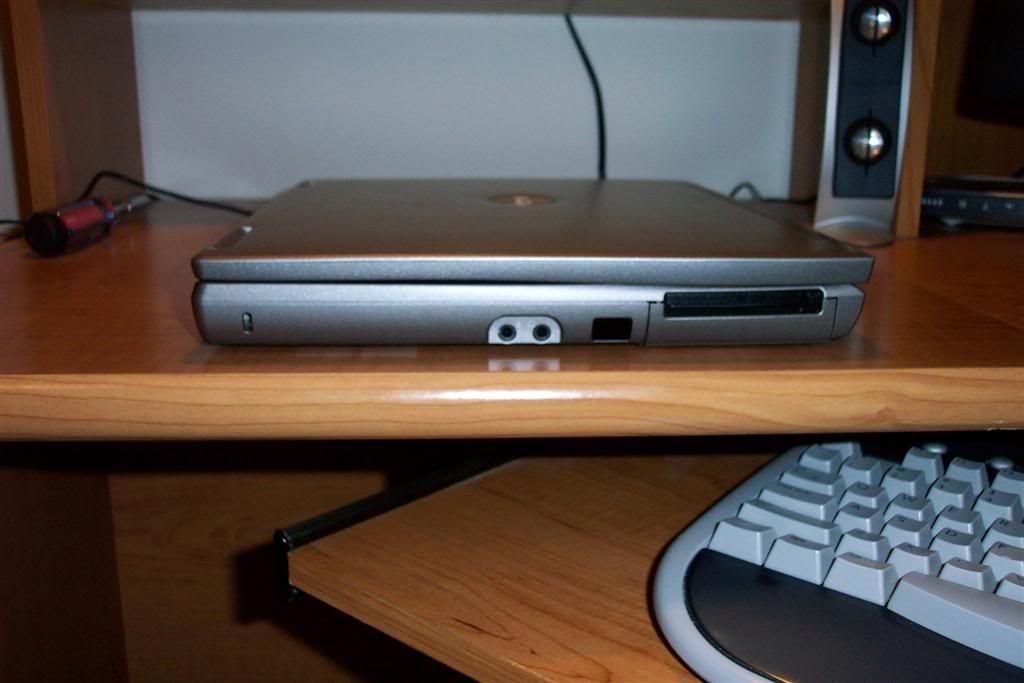 Bottom view.
Thickness compared to my cell phone (Verizon Wireless Samsung SCH-A670).