I got this from Payless Digital for $2,300 including insurance/shipping, and a 3-year extended warranty (totaling to 4 years, counting the factory warranty).
NEVER
buy from there. They have the most horrendous customer service, and will not be willing to work with you even if they're at fault.
But the computer is wonderful.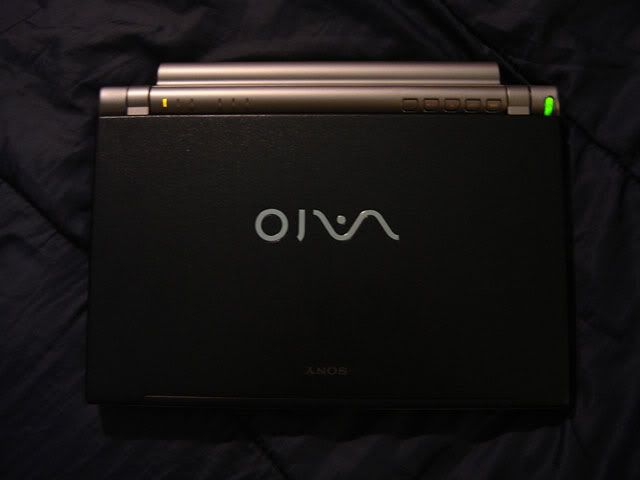 As you can see, the cover is carbon fiber. It's called Navy Blue. Dunno, looks pretty black to me, don't you think? I didn't like it much at first, cause it felt a lot like the old cheap Dells, but...the texture of it adds to the style of the computer. It's also a lot easier to get a good grip of the lappy that way.
The keyboard is one of the BEST that I've ever used on ANY computer -- not just laptops. And I'm used to full-sized ones. This is 90% the size of a normal keyboard, and I've made no typos on it (none that weren't my fault anyway
) I
don't
like the buttons on the touchpad though. My old computer (Sony FRV)'s buttons were easily 3 times the size of this one, so sometimes I'll reach to click and end up meeting the touchpad. I'm scared that I might scratch the touchpad (as I've done many times with my previous one and had to get it replaced), but it's showing no signs of that so far.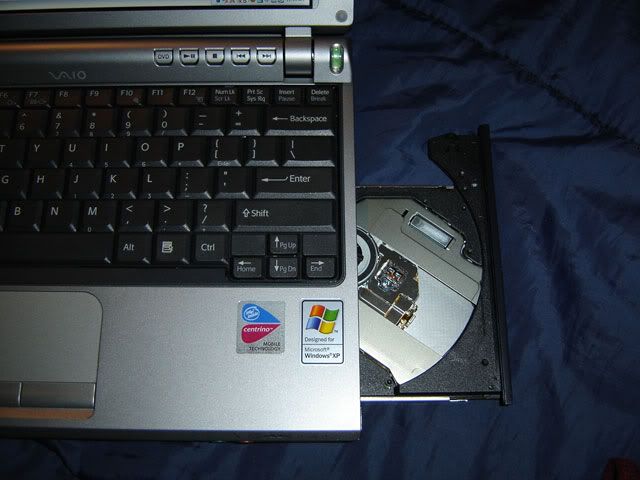 This computer is. so. small. Look at the dvd tray. It's almost the whole computer. I think they probably should've gone with a slot-tray, maybe? It would've been a nice addition.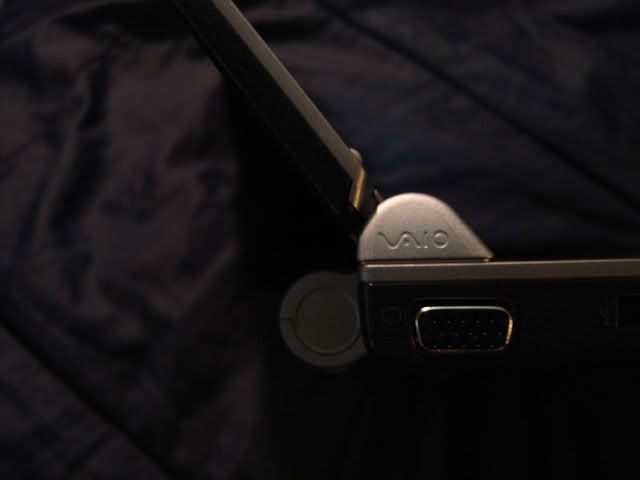 I was concerned about how far the battery sticks out, but you barely notice the weight or size addition. First off, weight, because it weighs barely anything, and since the computer is so small already, it kind of balances the the whole thing out. I've gotten at LEAST 6.5 hours of battery life on this so far. That's -with- Wifi turned on, and me procrastinating and downloading Firefox and its plugins/extensions in my Geography class.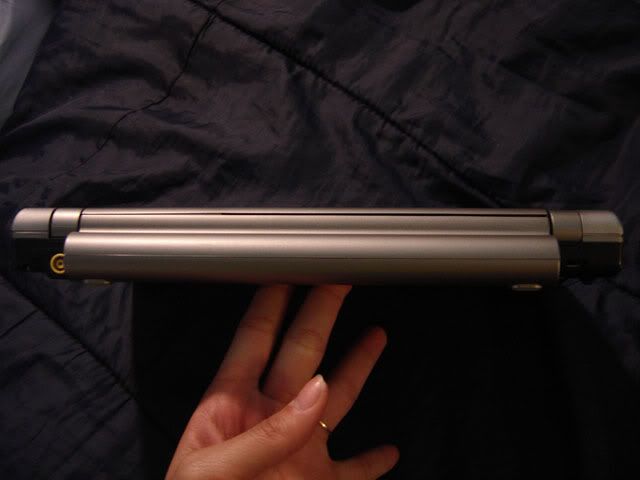 Another view of the battery. It has little rubber thingies on the bottom to keep from getting scratches.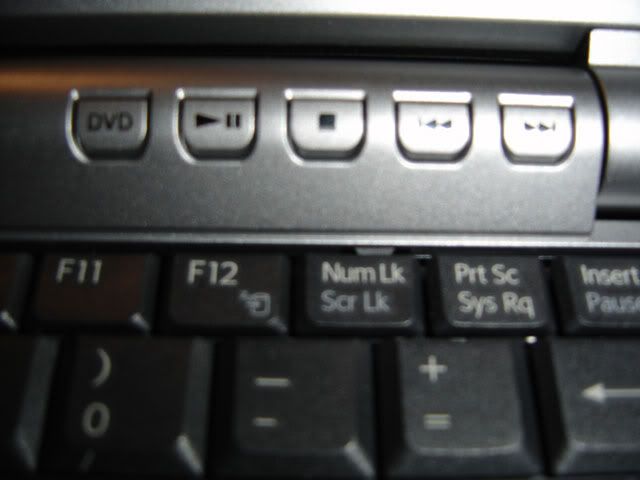 DVD playback buttons. Haven't tested them out yet. They have a nice feel. They're like the buttons on your cell phone, as in...they're smooth and aren't raised. It feels nice.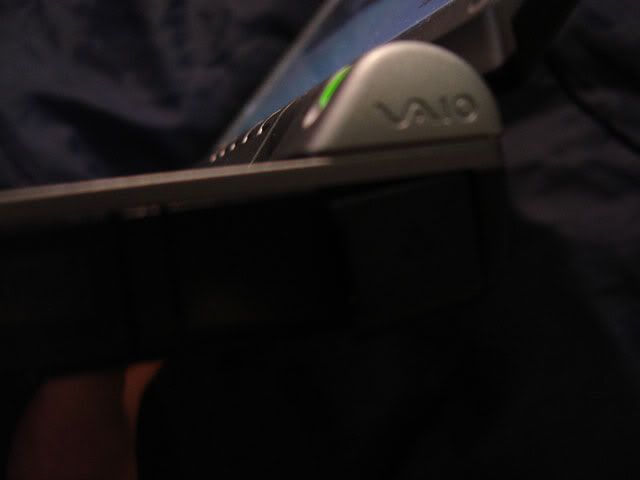 Dark picture, I'll see if I can get a better one later. But this is what the ethernet and modem port covers look like. It's...scary to use, because first off, the side that the cover is connected with is the side that the ethernet jack goes into (if that makes any sense). Like...the flap hinge is attached to the right side...and...it's pressing against the ethernet ...tab thingy. .........I'll just take pictures later. But also, if you've had a Sony product before (Digicam or Digital Camera), you know about the little flaps they have to cover the ports. They feel flimsy, but they -STAY-. I've had a digital camcorder of theirs for a few years now, and haven't been the kindest person to it, but it's still in perfect condition.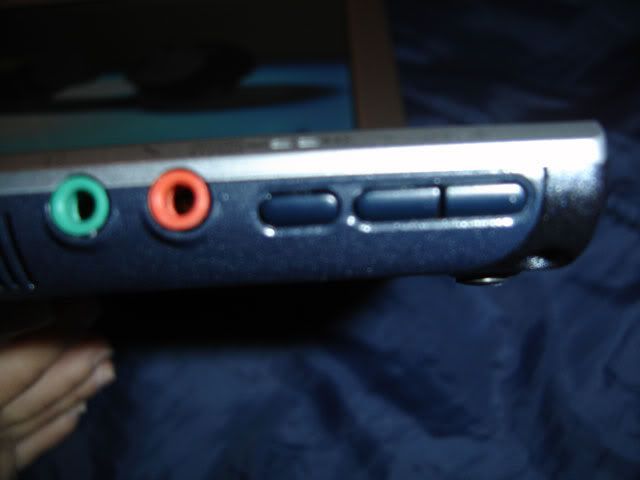 I
love
this. Sony never has volume control You always have to Fn + F3, then go to the arrows and bump up or down. Now, they actually have dedicated buttons. And if you hold the button on the left of the volume control, you can turn Bass Boost on. (Just pressing mutes or ...unmutes.) It has pretty clear sound, nothing spectacular, but you can hear everything ok. I love that the headphone jack is right on the front. My old compy (Sony FRV. I'm a Sony fangirl.) had its jack on the left side ALL THE WAY NEAR THE BACK and it got in the way with the USB ports, etc. So this is very nice.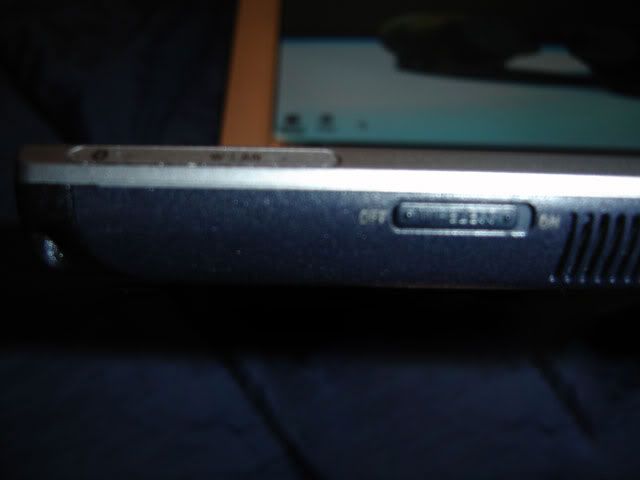 Wireless and Bluetooth. Pretty lights.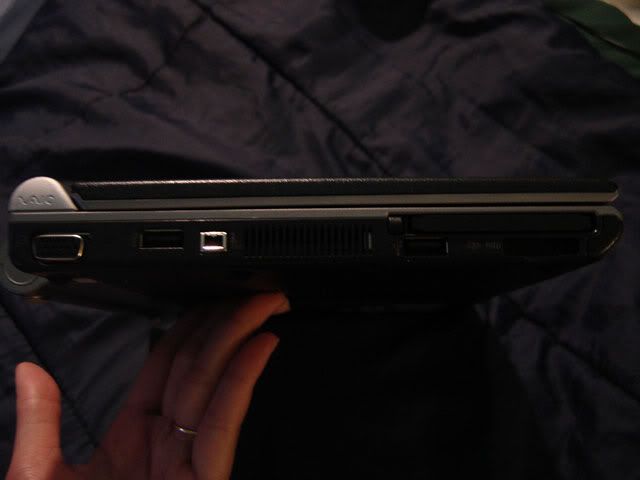 Left side view. USB ports are spaced apart. Memory stick...slot thingy is in a very convenient place. Easy to locate without looking.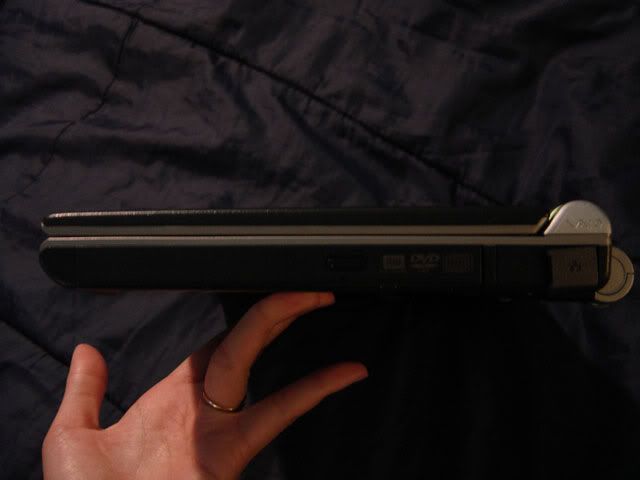 Right side. Not a lot of things here. Note burner comparison with the rest of the compy.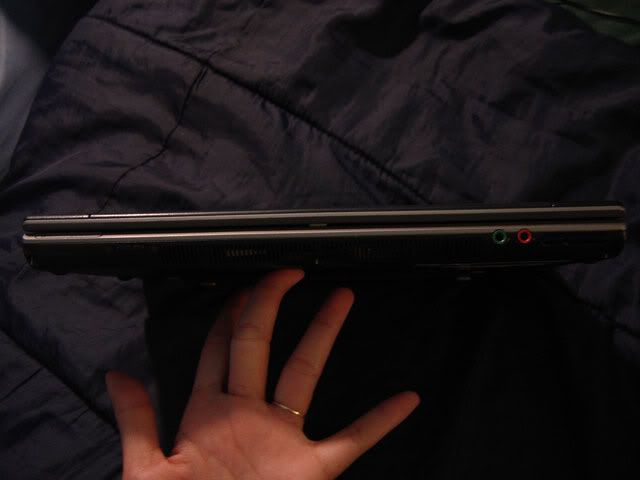 Front side. Yay.
See all the fans? (left and front, along with bottom.) I've yet to hear it. This thing is
so
so quiet. It also has never gotten remotely "hot". I keep it on the desk most of the time, but it sits on my stomach when I'm slothing around in bed, and it's comfy-ly warm.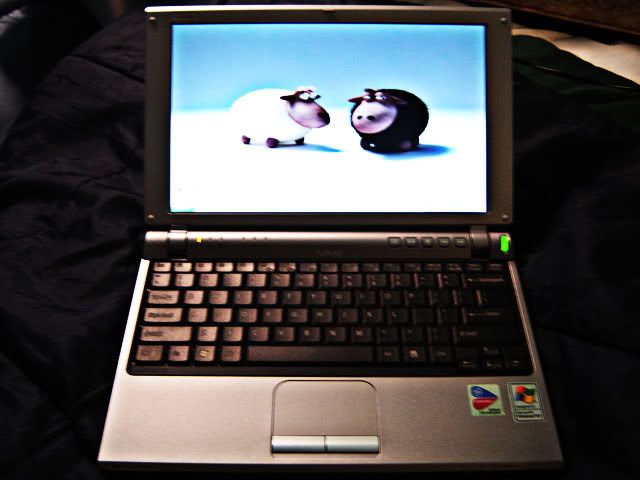 Compy shot. Yay.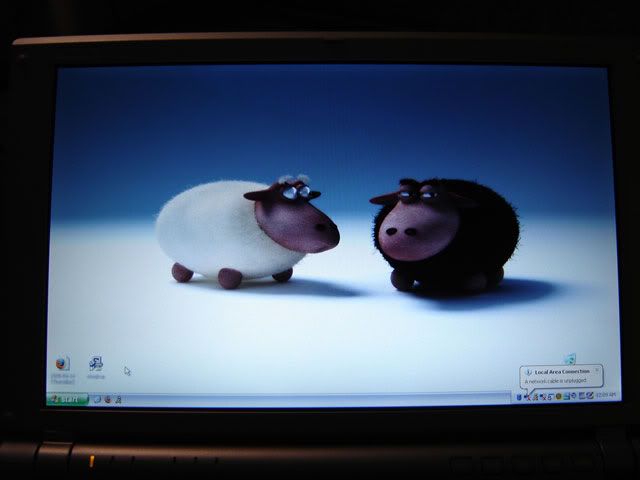 Screen. Default text and everything looks perfect. I've no problem reading on it. It picks up fingerprints and dust like insanity though, so you MUST get something for it. I picked up a little cloth thingy from GameStop for $1. It's used to clean the Sony PSP and I figured it's the same screen type, so I got it. Works wonderfully. It's on a keychain, so I just clip it to my bag.
...Speaking of which!
Waterfield Designs
I absolutely love this company, and would recommend it to any and everyone. Even the people unwilling to listen to anything I say!
But yeah. They have amazing customer service. The. most. amazing. customer service.
Anywho, pics: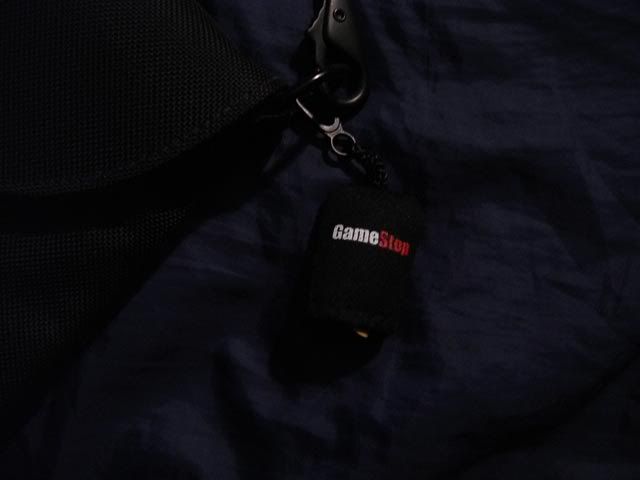 This is the little cleaner cloth thing. Well, ...the little pouch that it comes in. It's tiny. The size of from the tip of your thumb to the first knuckle.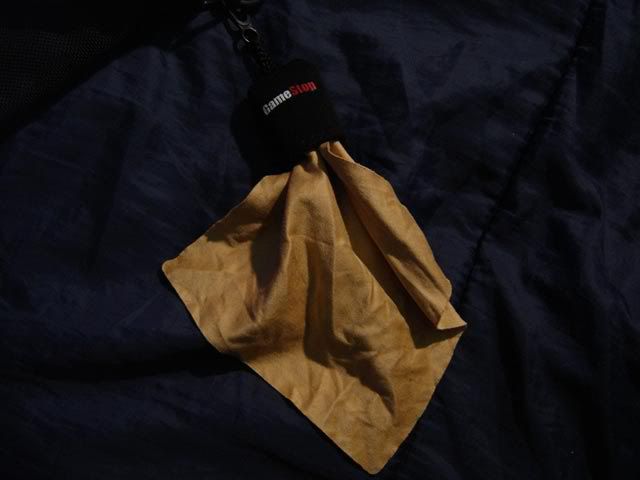 And this is the cloth inside...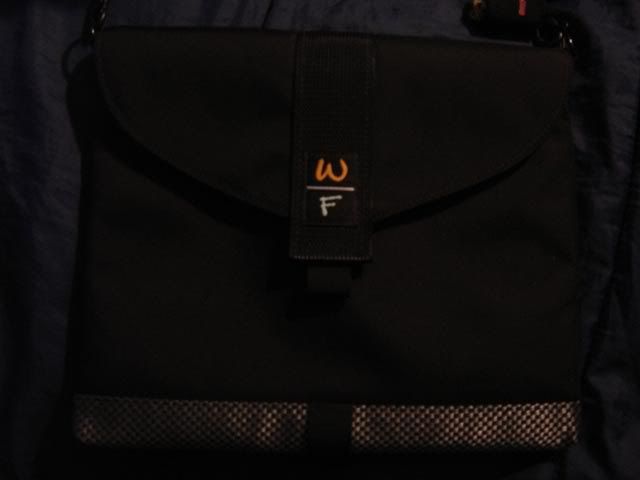 This is the
SleeveCase
from Waterfield Designs. I got it with a flap (as shown), strap, and the PiggyBack, so it ran about $92, but it is so worth it. This thing is so well-made. The width is perfect for the computer. It's snug, and...yeah, just very well-padded. I feel safe carrying it around.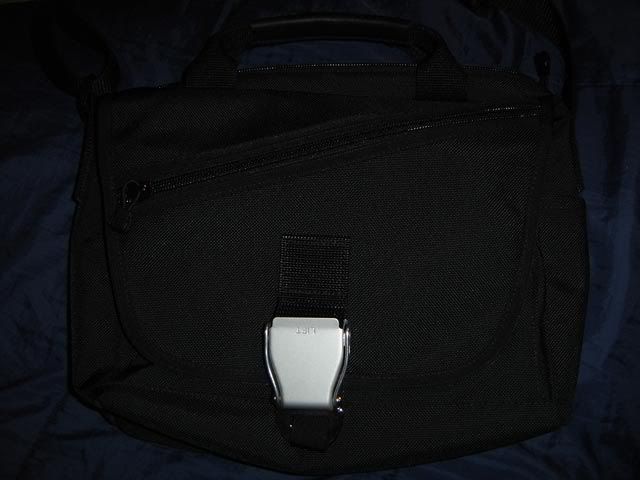 I also got their
Cargo Bag
(shown in Black Ballistic). That's a small, and it holds SO many things. Like holy crap, I crammed my computer (in the Sleevecase), comfortably in there, along with everything that I normally have in my backpack, including 2 books, and everything fits fine. It has.
So.
Many. Pockets. The problem is (maybe it's just me) that even with a -Small- Cargo Bag, due to all the stuff I crammed into it, it did start weighing down quite a bit. So I don't use it much. The sleevecase works just fine for a 3 lb notebook anyway. This is very high quality. I'd recommend it to anyone. Also, if you're interested in it, you better decide if you want just the sleevecase, or if you plan to get other things later on, because they have the Cargo Combo deal on that site, and had I known that I was going to get one, I definitely would've gone with the combo. Save a few bucks. o_O
But yeah, that's my review. Any input/feedback/questions would be awesome.