Continued:
http://www.anandtech.com/cpuchipsets...spx?i=2397&p=1
Benches:
Keeping in mind that the test sample was a 4400+, two speed ratings slower than the fastest that will be available this quarter, the 4800+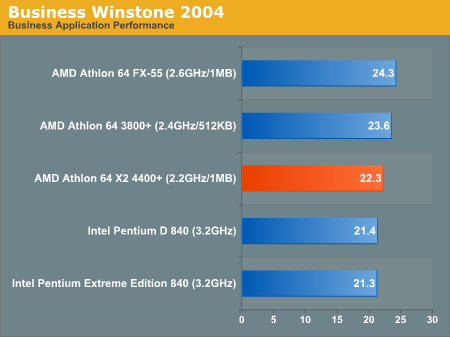 ....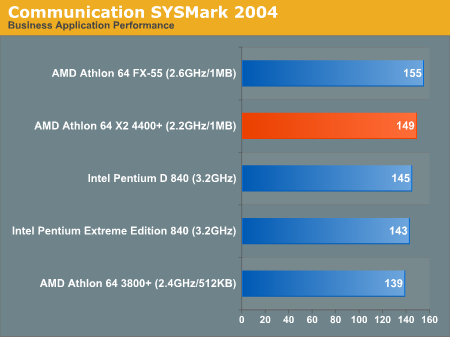 ....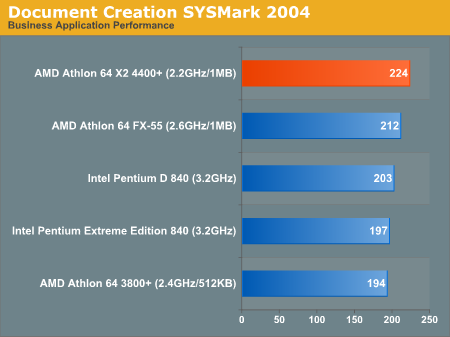 ....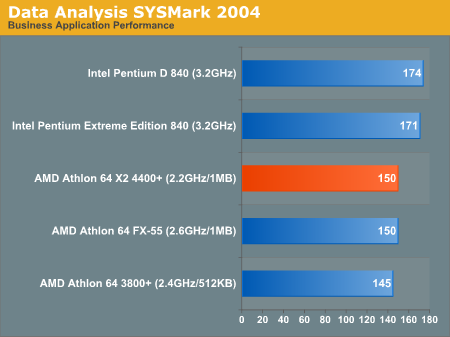 ....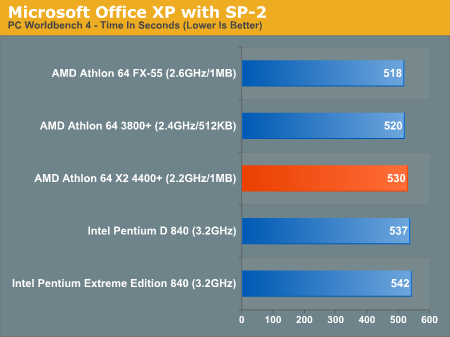 ....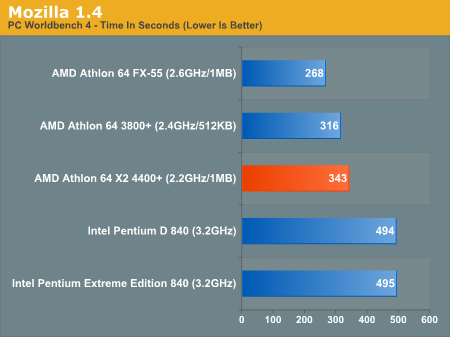 ....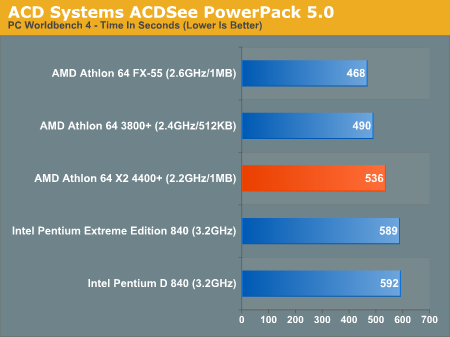 ....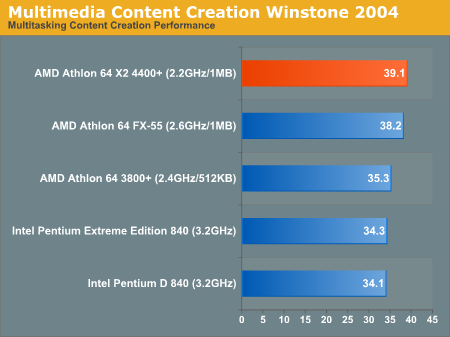 ....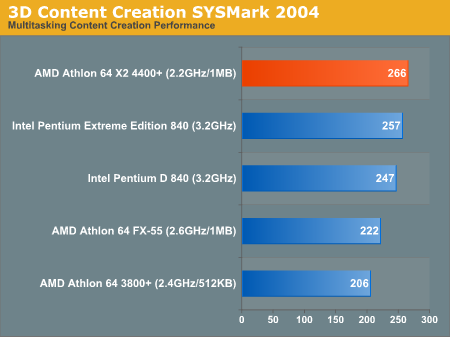 ....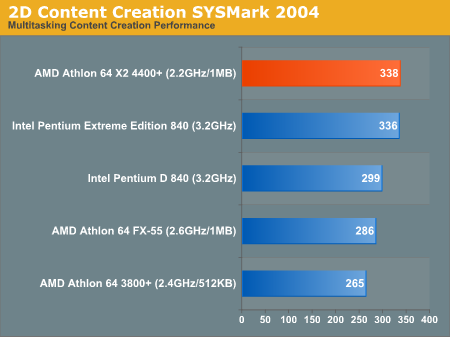 ....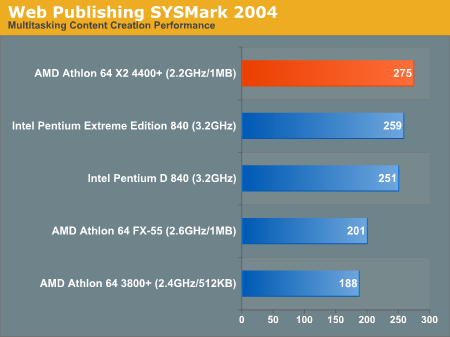 ....
Beating Intel's best chip even in media encoding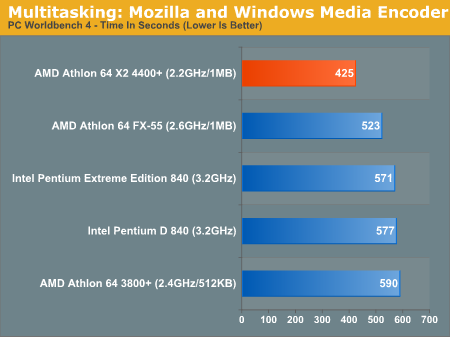 ....
And in Content Creation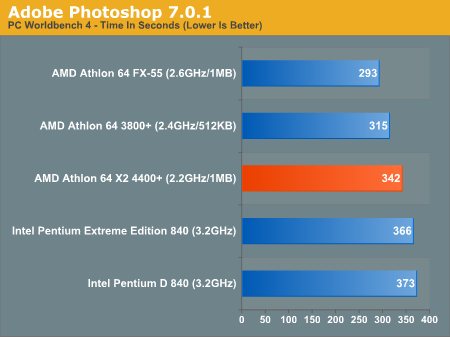 ....
Although loses out on MovieMaker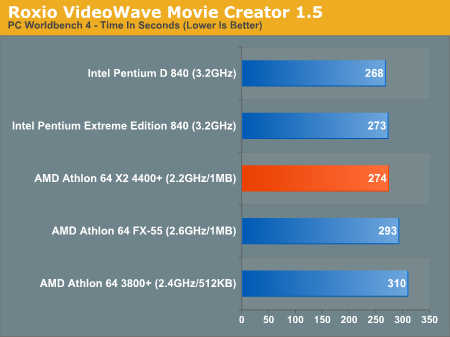 ....
But Reigns supreme in Audio and Dvix Encoding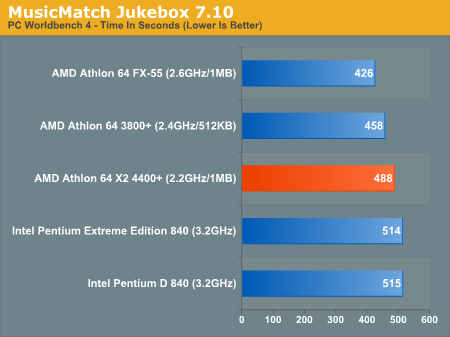 ....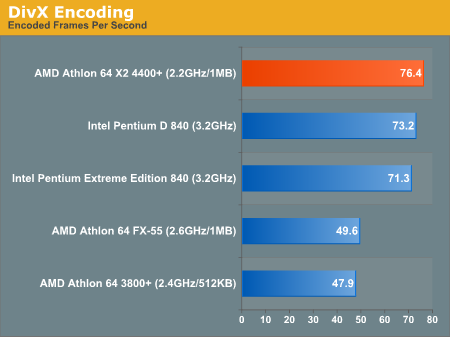 ....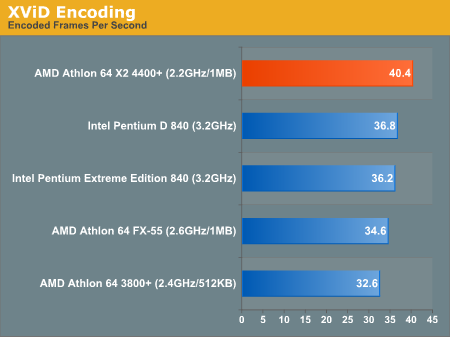 ....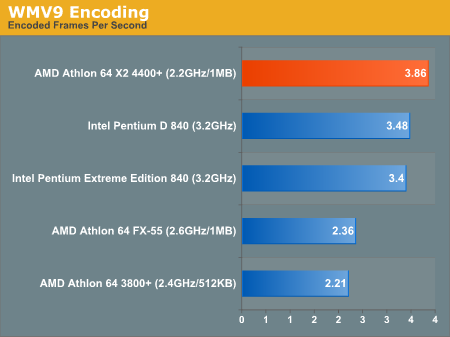 ....
Still lags behind single cored FX in gaming: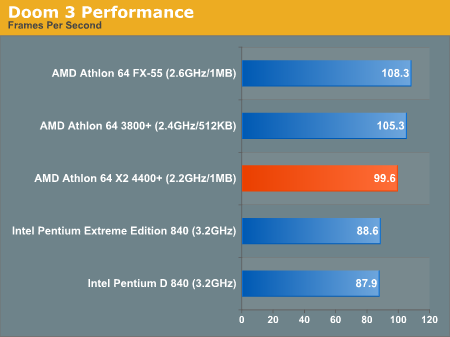 ....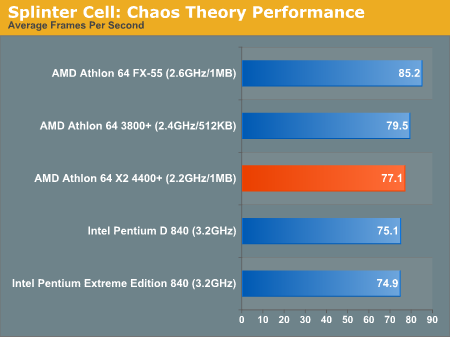 ....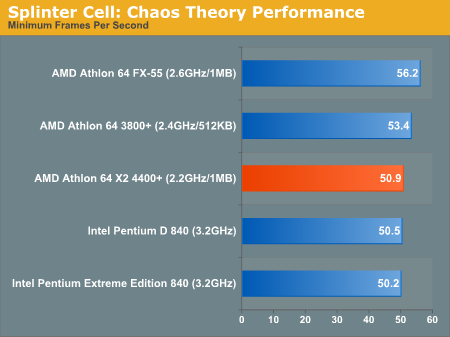 ....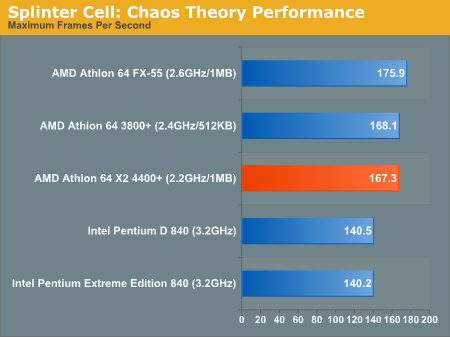 ....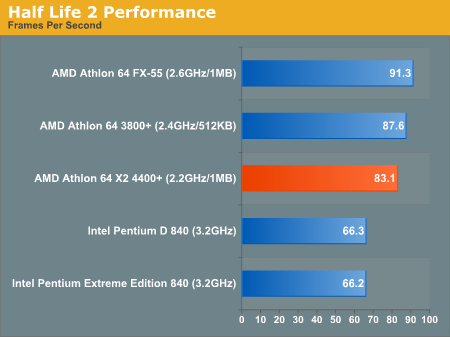 ....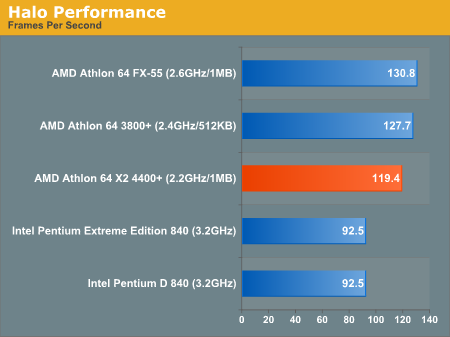 ....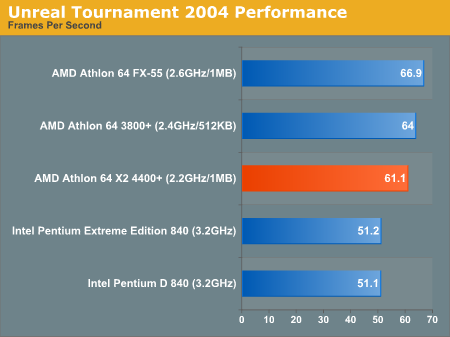 ....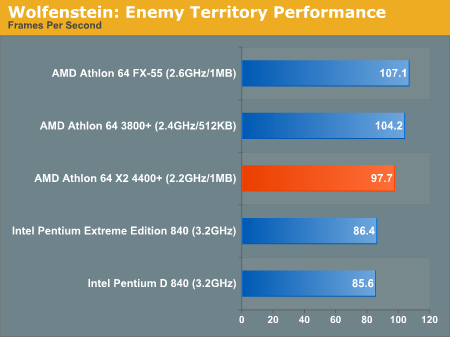 ....
The P EE 840 still leads in most rendering apps.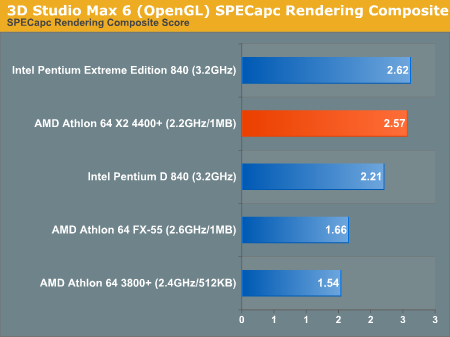 ....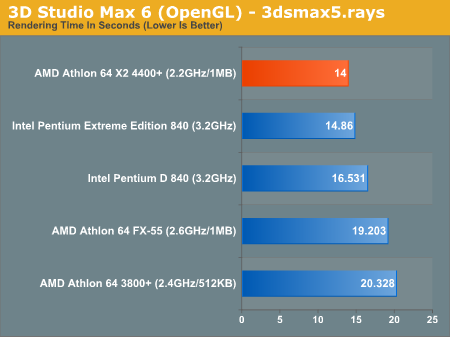 ....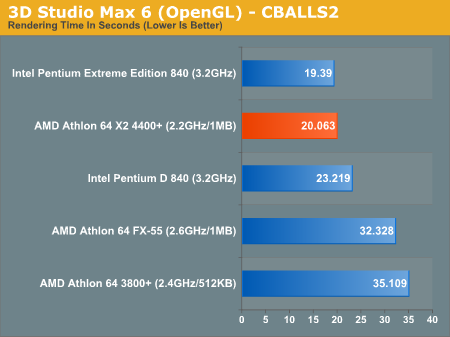 ....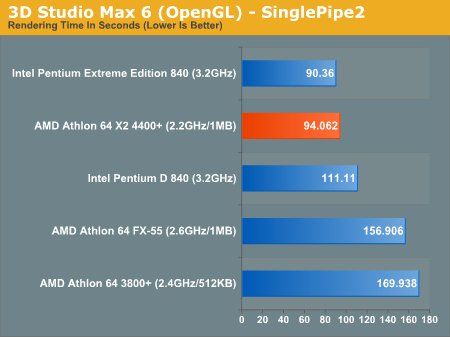 ....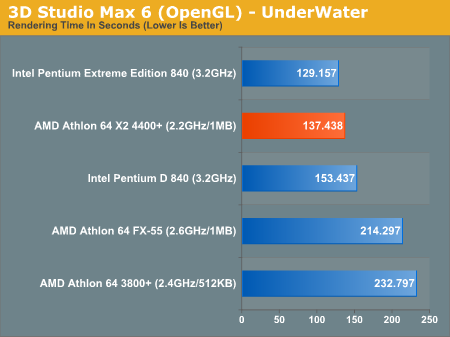 ....
In code compiling, it absolutely owns the P EE 840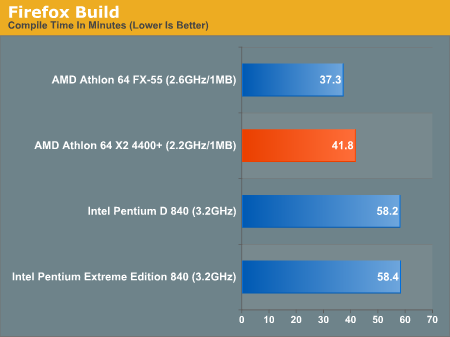 ....
In multitasking, the Pentium EE and the 4400 trade off leads, but with the 4400 taking the majority: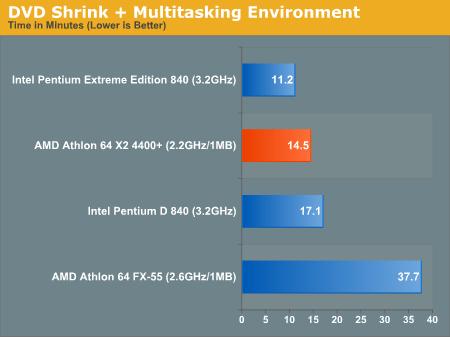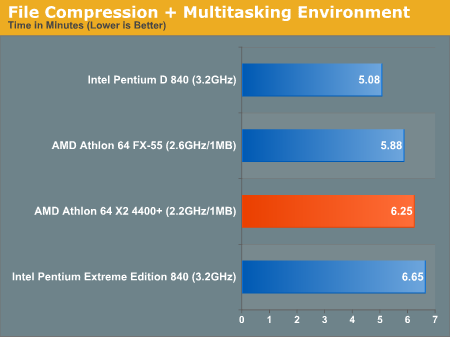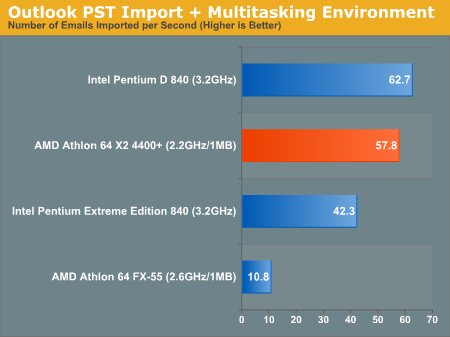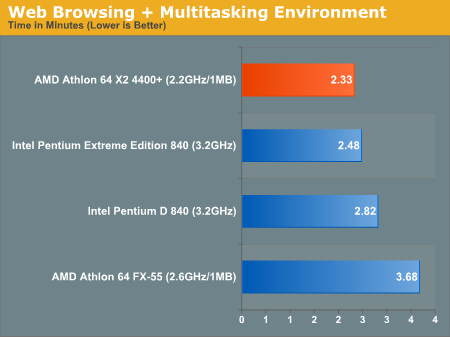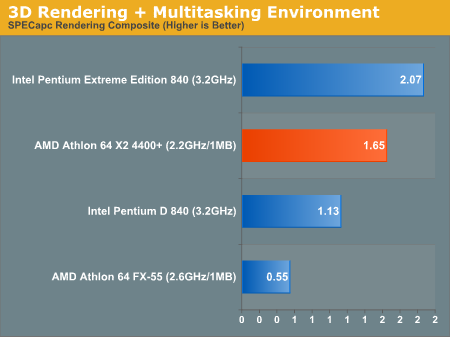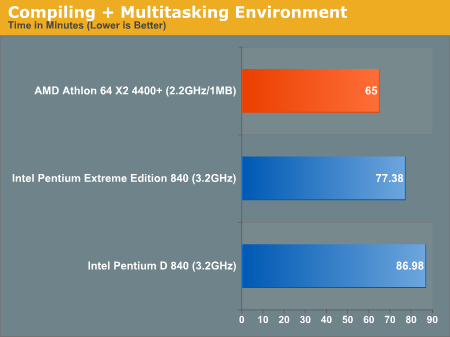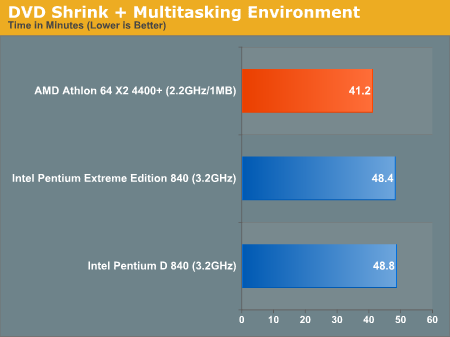 Quote:
Originally Posted by anandtech
On the desktop side, we are extremely excited about the Athlon 64 X2. The 4400+ we compared here today had no problem competing with and outperforming Intel's fastest dual core CPUs in most cases, and at a price of $581 the 4400+ is the more reasonably priced of the X2 CPUs. That being said, we are concerned that availability of the lower cost X2 CPUs will be significantly more limited than the higher priced models. At the ~550 marker, your best bet is clear - the Athlon 64 X2 will be faster than anything Intel has for the desktop.

What's quite impressive is how competitive the Athlon 64 X2 is across the board. With the Pentium D we had to give up a noticeable amount of single threaded performance (compared to Intel's top of the line Pentium 4 CPUs) in order to get better multithreaded/multitasking performance, but with AMD you don't have to make that sacrifice. Everything from gaming to compiling performance on the Athlon 64 X2 4400+ was extremely solid. In multithreaded/multitasking environments the Athlon 64 X2 is even more impressive; video encoding is no longer an issue on AMD platforms - you no longer have to make a performance decision between great overall performance or great media encoding performance, AMD delivers both with the Athlon 64 X2. Also keep in mind that the performance preview we gave of the Athlon 64 X2 today is actually a very conservative estimate, the shipping Athlon 64 X2 CPUs will run with regular DDR memory and with much faster motherboards - meaning you should be prepared to be impressed even further down the road.
But all this won't come cheap:
Quote:
Originally Posted by anandtech
The real problem is that AMD has nothing cheaper than $530 that is available in dual core, and this is where Intel wins out. With dual core Pentium D CPUs starting at $241, Intel will be able to bring extremely solid multitasking performance to much lower price points than AMD will.
So it remains to be seen, how the X2 will do in the real market, but in tests, they certainly seem to be world beaters.